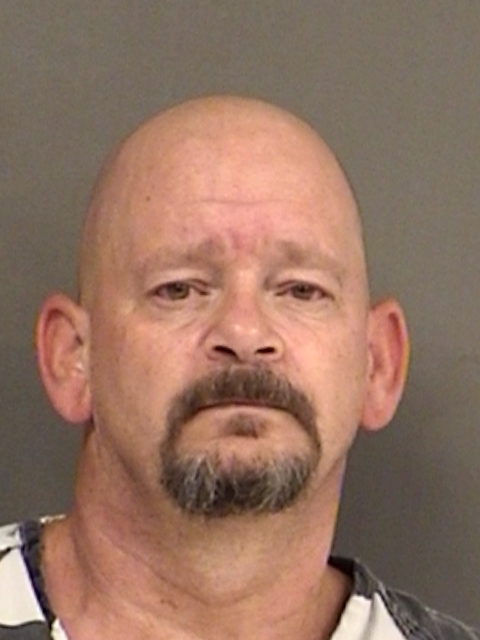 A 55-year-old Sulphur Springs man was jailed early Thanksgiving morning after deputies found suspected marijuana, methamphetamine, pills and drug paraphernalia during a traffic stop.
Hopkins County Sheriff's Deputy Nicholas Marney and Sgt. Scott Davis stopped a Nissan Altima at 12:15 a.m. Thursday, Nov. 28, on SH 19 south at County Road 1106 for a traffic violation.
The driver allegedly showed signs of bruxism and the passenger exhibited signs of nervousness. Both to the deputy seemed to avoid eye contact and didn't answer questions directly, as if they were trying to be deceptive, the deputies alleged in arrest reports.
When the driver refused to let officers search the car, the deputies called for Deputy Colt Patterson to bring his canine partner to the location. The police canine gave a positive alert on the car, so the deputies conducted a probable cause search of it, according to sheriff's reports.
The sheriff's officers alleged finding a glass container with a green leafy substance believed to be marijuana in it between the passenger's seat and the console; a chip bag with a small clear bag containing a green, leafy substance believed to be marijuana inside of it and a small cardboard box with another small bag with different colored pills and a bag with a crystal-like substance believed to be methamphetamine inside of it , all in the passenger's side floorboard; and a bag with a large amount of white crystal-like substance suspected to be methamphetamine and a small pipe of the kind commonly used for smoking marijuana in a container of food in the passenger's seat. Allegedly found in the trunk was a syringe that appeared to be loaded with methamphetamine ready for injection. One syringe each was found outside of the car in the grass next to the passenger's door and in the passenger's jacket pocket, the deputies alleged in arrest reports.
The passenger, identified in arrest reports as 55-year-old Timmy Dean Scott of Sulphur Springs, reportedly claimed ownership of all of the contraband and was taken into custody. At the jail, the suspected methamphetamine was reportedly field-tested and weighed. The crystal-form of the substance weighed over 10 grams, including packaging, and also tested positive for meth; the suspected meth in the syringe also field-tested positive and weighed more than 1 gram but less than 4 grams, including packaging, Marney and Davis alleged in arrest reports.
Consequently, Scott was booked into Hopkins County jail at 3:53 p.m. Thursday, Nov. 28, for possession of 4 grams or more but less than 200 grams of a Penalty Group 1 controlled substance, according to arrest reports. He was also found to be wanted on two warrants for not taking care of open container charges, and one warrant each for not taking care of failure to maintain financial responsibility and no driver's license charges; those charges were added to the list of offenses he was charged on, according to jail reports. He remained in the county jail Thursday evening, Nov. 28; his bond was set at $30,000 on the controlled substance charge, according to jail reports.