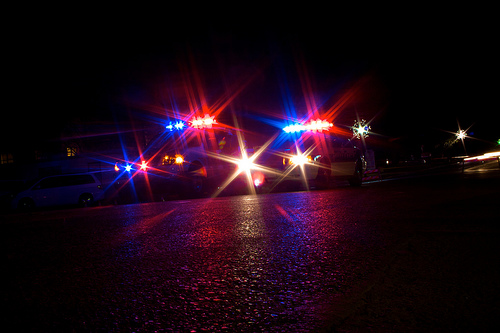 A 55-year-old Como woman was arrested on a controlled substance charge following a one-vehicle rollover crash on Interstate 30 Tuesday night, according to arrest reports.
Hopkins County sheriff's deputies; EMS; Hopkins County, Cumby and Brinker firefighters; and Cumby police were dispatched at 9:20 p.m. Nov. 5 to a crash in which a vehicle reportedly rolled over into the median, landing on its top, near mile marker 114 on Interstate 30 east. Initially, two people were reported to be trapped in the vehicle
Upon arrival, officials reported seeing an orange Dodge Avenger upside down in the median between the eastbound and westbound lanes of traffic on I-30. The woman was reportedly seated and was reluctant to exit the car, but eventually did get out with her purse. She allegedly told the officers her wallet was inside the car. Officers, in arrest reports noted multiple wallets visible throughout the vehicle.
Hopkins County Sheriff's Sgt. Scott Davis and Deputies Zack Horne and Nick Marney alleged one of the officers saw a clear broken glass pipe of the kind commonly used to smoke methamphetamine with a white, crystal-like substance suspected to be methamphetamine resting in the door ledge and window, visible from the rear passengers side of the car.
The 55-year-old Como woman, identified in arrest reports as Gayle Lynn Walker, reportedly refused medical treatment from EMS personnel and was placed into custody.
Deputies then searched for the woman's wallet inside the car. The deputies allegedly found a chewing tobacco can with her name scratched onto the side of it and a small amount of marijuana inside of it, a first-aid box containing suspected methamphetamine residue and a small mint can with a folded dollar bill with suspected methamphetamine on it, two small bags of suspected marijuana and additional baggies of suspected methamphetamine and other drug paraphernalia, according to arrest reports.
Walker was transported to jail. The substance field-tested positive as meth and weighed over 8 grams, resulting in Walker's arrest for possession of 4 grams or more but less than 200 grams of a Penalty Group 1 controlled substance, according to arrest reports.
Walker was released from jail Wednesday morning, Nov. 6. Her bond was set at $25,000 on the charge, according to jail reports.