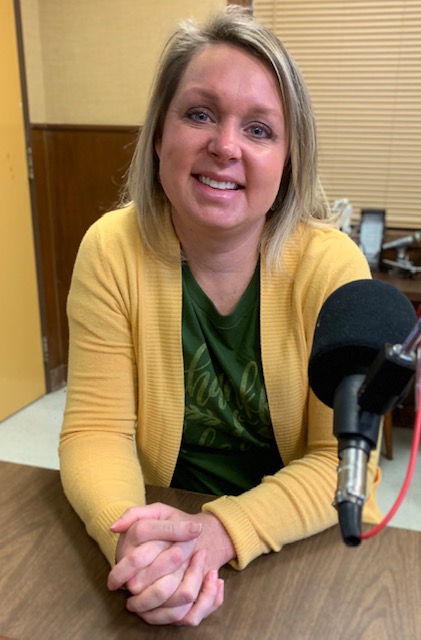 A career in the medical field had always been attractive to her as she grew up in Rains County, and fifteen years ago, Shelbi Cooper had achieved that milestone. She was working as a Registered Nurse in a major hospital in Dallas. But she wanted something more, and found it, with a specialty degree earned at Texas Women's University as a Nurse Practitioner/Internal Medicine. For the past twelve years, Shelbi has been working as an NP at Tyler's Mother Frances Hospital, for a time at an Urgent Care clinic in Sulphur Springs, and most recently at an Internal Medicine clinic in Winnsboro. But when she heard that Dr. Arneke of Sulphur Springs was looking for an NP to share his office, she responded immediately and one month ago, she was hired. Today, Shelbi appeared on the KSST Good Morning Show to say she is looking forward to getting to know everyone and to serving the needs of the Hopkins County community.
"As you may know, Dr. Arnecke's office has been closed to new patients for several years. However now, the practice is accepting new patients with myself and Dr. Arneke seeing patients", stated Shelbi. "More and more so now, rural communities are experiencing a short supply of doctors. Nurse Practitioners can become like a primary physician, as they work in an established practice under a supervising physician. We can treat, prescribe and diagnose as well as supervise a patient's continuing care. So, along with Dr. Arnecke. I can now see patients age 18 and older Mondays through Thursdays for conditions like chronic disease, diabetes, hypertension and congestive heart failure. I can also see patients for acute care, like sinus, bronchitis, the flu and allergies, as well as give joint injections for arthritis and other causes of pain. Additionally, I will be seeing some of Dr. Arnecke's patients who reside at Carriage House Manor". Shelbi resides in Sulphur Springs with her husband Derek Cooper and their two small children. She hopes her work will become an asset to the community.
Below is her interview on The Good Morning Show with Enola Gay.