The term 'Nurse Practitioner' may be rather new to some, but it's the important title of a very important job in medicine today. Lydia Amartey is one of six Family Practice Nurse Practitioners now on staff in the clinics of CHRISTUS Mother Frances Hospital in Sulphur Springs. The term refers to 'a nurse who is qualified to treat certain medical conditions without the direct supervision of a doctor'. We learned more about her job as Family Nurse Practitioner Lydia Amertey visited the KSST studios along with CHRISTUS Clinic Operations Manager Brad Burgin on November 1, 2019. Her first day of practice is November 4, 2019 in the CHRISTUS clinic which serves patients along with Dr. Coker, at 111 Medical Circle in Sulphur Springs.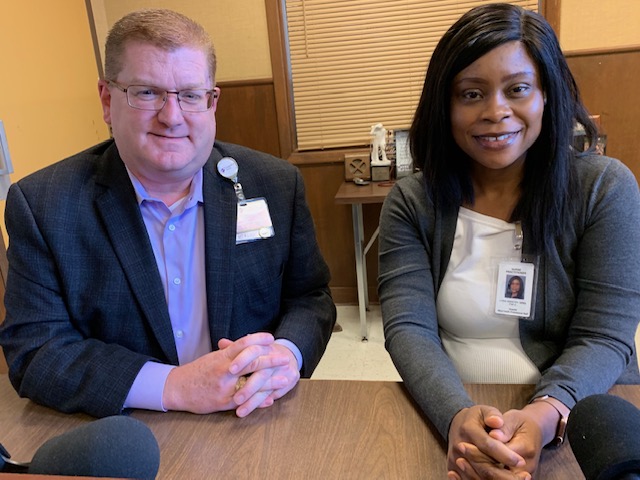 According to Lydia, a Nurse Practitioner is a nurse who is also trained as a teacher. As a Registered Nurse working in a large Metroplex hospital, Lydia was noticed by her peers and superiors as someone who was especially good at imparting information to patients and nurses about diagnosis and care. She decided to go back to school to pursue the specialty of Nurse Practitioner in the Family Practice field. Now, she will begin seeing current and new Clinic patients, consulting with Dr. Coker and assisting in their care. She will also assist in their education about managing their medical issues, with a view to attaining the best results for that individual patient. Lydia stated that 'connecting with the patient and helping them individually understand and participate in their treatment toward healing is the ultimate goal. Good communication between staff and patient is vital. Our goal is always to serve the patient in the best ways possible"
Burgin added that Nurse Practitioners are a real benefit to the CHRISTUS staff. He noted that remainders of an old stigma may exist, where patients might say that they want to see "their doctor, not a nurse". Truthfully, the Nurse Practitioner is a vital link in patient care, bringing the same information to a patient that their doctor would, and is often more quickly and easily accessible than the doctor. In addition to being highly trained, NP's also have full access to the patient's records and history, and will become part of the personal patient care relationships that develop. Burgin feels that bringing Nurse Practitioners into a patient's care team is a real blessing, which has been brought about through CHRISTUS for the people of Hopkins and the bordering counties who come to Sulphur Springs for care, as Rains, Delta and Franklin counties no longer have hospitals of their own. Burgin stated "we now have highly qualified Nurse Practitioners working and assisting doctors in many of the specialty fields, such as Orthopedics, Urology and G.I. as well as Family Practice. And we hope to get more in the coming year."
Lydia is originally from Ghana in West Africa. She came to the United States during her high school years and attended college and medical training in Texas, largely in the Dallas/Ft. Worth Metroplex. She first attended Navarro College in Corsicana, then transferred to UTA, followed by higher nursing studies at Midwest State University in Wichita Falls and Texas Women's University in Dallas. She later earned her Doctoral degree as a Family Nurse Practitioner. Most recently, she was hired by CHRISTUS Mother Frances Hospital in Sulphur Springs, and she now makes her home in Greenville, Texas.