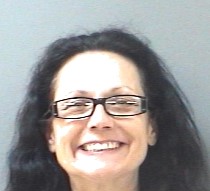 One of two Winnsboro women arrested in Como on a drug paraphernalia charge ended up with three additional felony charges after methamphetamine was allegedly found in her mouth by a member of the jail staff, who she also was accused of assaulting.
Hopkins County Sheriff's Sgt. Michael Russell, Deputy Chris Baumann and Investigator Wade Sheets reportedly stopped a Nissan Sentra at 4:04 p.m. on State Highway 11 east in Como for a traffic violation.
The car was reportedly driven by a 44-year-old Winnsboro woman. The passenger, identified in arrest reports as 61-year-old Marlene Abbott Johnson, reportedly showed signs of nervousness and possible criminal activity, the Baumann and Russell alleged in arrest reports.
The driver reportedly gave the officers permission to search the car. The officers in arrest reports reported finding drug paraphernalia in the car. Consequently, both women were taken into custody and transported to jail for possession of drug paraphernalia.
Upon arrival at the jail, a white, crystal-like substance was reportedly found in the seat of one deputy's vehicle and on the floor of the sally port at Hopkins County Law Enforcement Center.
Johnson was reported escorted by a jailer into the jail, where she reportedly found to have a bag with a crystal-like substance in her mouth and assaulted the jail staff member while being searched. The jailer was checked out at the hospital following the incident, according to arrest reports.
The substance was seized as evidence. It later tested positive as methamphetamine and weighed 1.44 grams, Baumann alleged in arrest reports.
Johnson was also charged with possession of 1 gram or more but less than 4 grams of a Penalty Group 1 controlled substance, tampering with or fabricating physical evidence and assault on a public servant, according to arrest reports.
Both women remained in Hopkins County jail Friday morning, Oct. 4, according to jail reports.