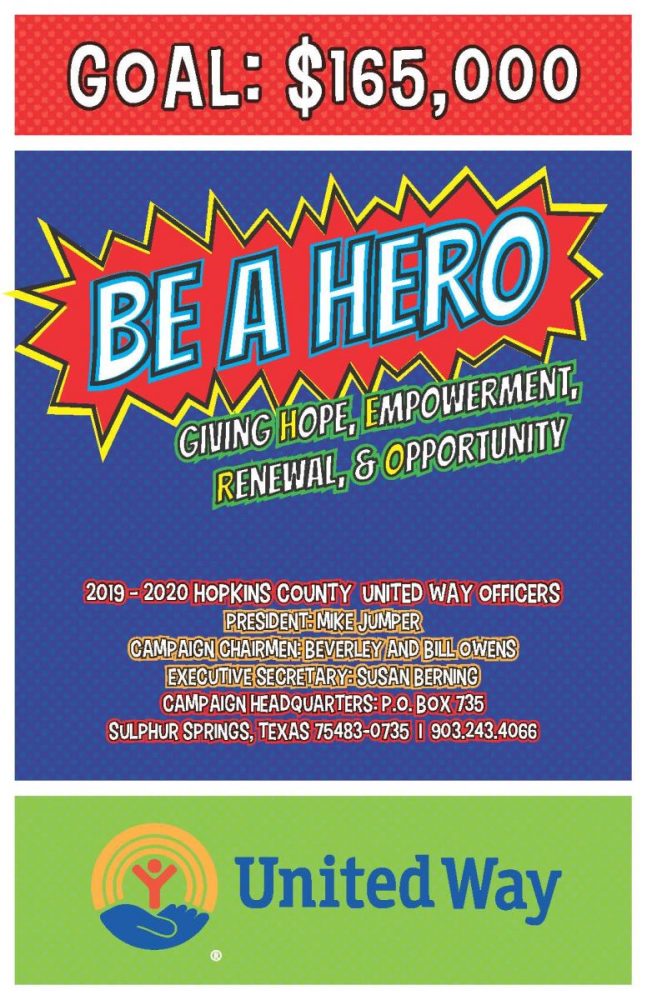 Hopkins County United Way officers each week following a campaign workers report meeting reported how much has been collected that week and total toward the annual fundraiser, which businesses and organizations met or exceeded the posted goal set for their group, and details for the next meeting.
This week, even after the meeting ended, funds kept coming in, with an additional $440 in donations turned in later Tuesday.
"We are very pleased to report the campaign total to date is $41,850.54, taking us to 25 percent of the campaign goal! This amount includes a few donations brought in after the meeting yesterday," HCUW Executive Secretary Susan Berning.
The Hopkins County United Way 100% Club, composed of companies meeting or exceeding the posted goal, for Oct. 8, 2019, includes:
Hopkins County Food Locker
Brumley's Uniforms
The Blackland's Railroad, Inc.
APEX Supply
The Plan Shop
Joe Bob's
Commercial Glass and Mirror
Larry Vititow Trucking
West Oaks Funeral Home
Interstate Body Shop
East Texas Line X
Circle E Western Store
M & F Western Products
Miss Behavin
Wayne Cooper Construction
Triple Crown Roofing
Rail 19
Pilot Club
Chad Cable
Constable Bill Allan
County Clerk Tracey Smith
County Judge Robert Newsom
District Judge Eddie Northcutt
County Auditor Shannah Aulsbrook
District Judge Will Biard
District Clerk Cheryl Fulcher
County Court at Law Clay Harrison
County Tax Assessor Debbie Pogue Mitchell
Juvenile Probation Office
JP Brad Cummings
District Adult Probation Office
County Treasurer and VSO Danny Davis
JP BJ Teer
Constable Norman Colyer
Berning offered thanks to the Chamber of Commerce for providing a location for Oct. 1 and Oct. 8 meetings. The next meeting will begin at 9 a.m. at Southwest Dairy Museum.
A Give Back Event will be held at Panda Express next Thursday, Oct. 17, from 10:30 a.m. until 10:00 p.m. Customers must present the giveback flyer in paper or digital form, or mention HCUW for the agency to receive credit for the purchase.