Senator Bob Hall Recognizes County For Efforts In Oct. 3 Pipeline Rupture Response, Sends Congratulations On Grant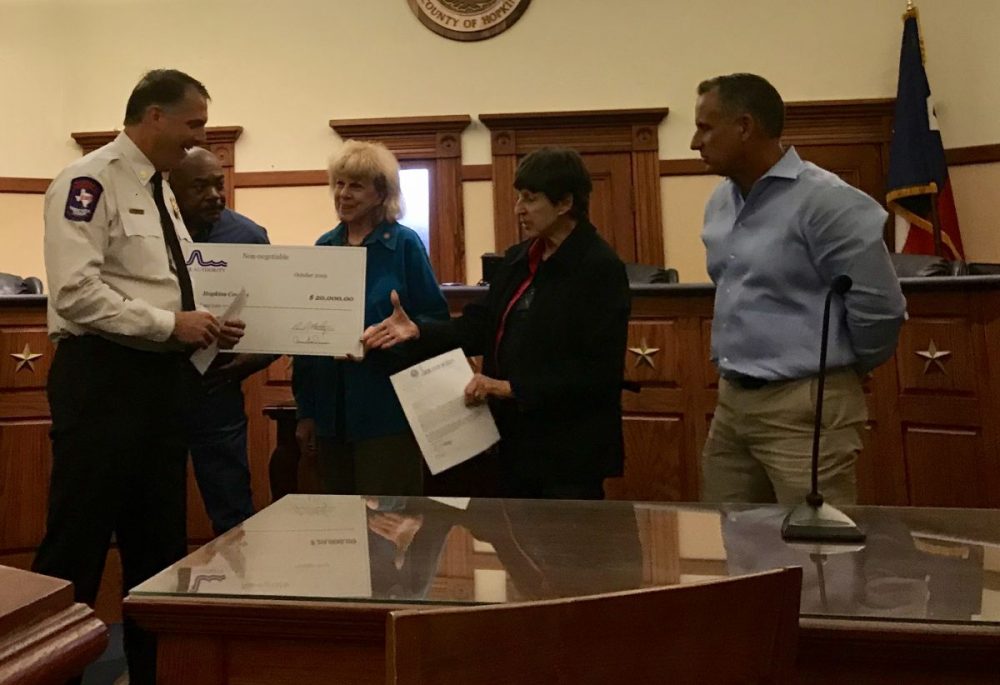 Hopkins County's quick response to a pipeline rupture, spilling diesel fuel into Turkey Creek off County Road 1130 Oct. 3 caught the attention of Sabine River Authority of Texas's Board members, who awarded the county a $20,000 Community Assistance Program Grant Thursday afternoon.
The check was presented by SRA Board members Jeanette Sterner, Jeff Jacobs and Janie Walenta, and staff members Troy Henry and Terry Wilson, to Hopkins County Fire Chief Andy Endsley, who also serves as the county's emergency management coordinator, during Hopkins County Commissioners Court's afternoon work session Thursday.
"When Troy [Henry, Sabine River Authority staff] called me, wanting to give us appreciation, it was very unexpected, but we are very grateful for it," Endsley said.
Endsley noted when the county found out about the pipeline rupture it was already dark. The impacted areas was only 14.1 miles from the intake at Lake Fork for local drinking water, which is spread would have had a huge impact on the ecosystem.
Emergency management officials, including Hopkins County Fire Department and Precinct 1 Commissioner Mickey Barker and his staff, sprang into action. The county employees immediately went down stream of the dry Turkey Creek and built an earthen dam to contain the spill 1.7 miles down Turkey Creek, which was mostly dry aside from a few water pockets.
Hopkins County Sheriff's Office was heavily involved as well. The entire county pulled together, working along side numerous agencies, including SBA, and contractors to get the job done, Endsley noted.
EPA officials told KSST News that the quick response to contain the spill and remove the product so quickly, will result in no long term damage to the creek and surrounding environment. An area of soil around the pipeline leak will have to be replaced, but the creek itself will not have to be re-mediated.
While many agencies were involved in the cleanup and response effort to the pipeline rupture Oct. 3, SRA opted to present the $20,000 grant to Hopkins County to thank them for their quick and continued response, which limited exposure.
"We are here today to thank Hopkins County, chief and your guys, your employees who were out there in the guard throughout this process," said Troy Henry, SRA staff.
Henry said it was fortunate the area received no rains and that diesel didn't get into Lake Fork.
"It ended well. We've seen similar incidents in the past where it didn't go so well. So, we can't thank the chief and his guys, Kristy [Springfield, Hopkins County assistant emergency management coordinator], for the response, and not only the response, but hanging in there. You're still monitoring things. We appreciate that," Henry said Thursday.
Hopkins County had emergency management representatives from the fire department and sheriff's office round the clock during the clean-up effort, with staff sleeping on a cot in a borrowed trailer. Endsley offered special thanks to Hopkins County Sheriff's Communications Administrator David Ray.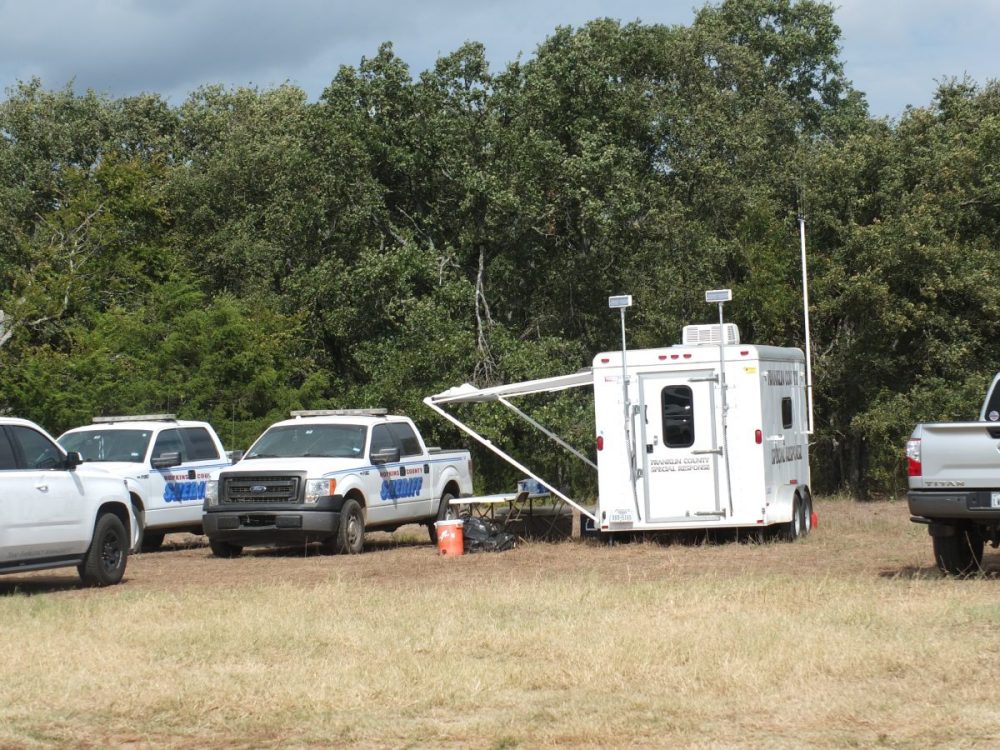 "I'd also like to say a special thank you to you and Kristy …. also the sheriff's department and sheriff's posse," Barker told Endsley, adding appreciation for all who helped in the community operation.
Henry said SRA Community Assistance Grants are typically awarded or water lines, water meters and waste water systems. However, they are also awarded for water conservation and water quality, and sometimes for special projects categorizes simply as "other."
Typically, governmental entities, districts or non-profit, member-owned water supply corporations, or sewer service corporations within the Sabine River Basin of Texas apply for funding for water resource projects supporting SRA's mission of conservation and reclamation.
Henry talked to SRA's general manager about the situation that'd occurred in Hopkins County on and immediately after Oct. 3. They then discussed it with SRA's Board of Directors.
"Typically, we do these grants to the community," Henry said. "This didn't really fit into our formal category of grants, but this incident could have potentially impacted Lake Fork Reservoir."
"We appreciate all the work you did. Our main function, when it was brought to us, we thought that we need to talk about this situation and give you some money to help offset some of these costs. It's a $20,000 check. I know there's a lot more to be spent than that, but hopefully this will assist you all in this project. That is what the Sabine River Authority is all about, is to help our water customers with projects that are helping the community and ultimately benefit everyone," said Sabine River Authority Board member Jeanette Sterner.
David Montagne, SRA's executive vice president and general manager, in a letter to the county, wrote, "the County's project to acquire emergency management and environmental response equipment and supplies such as that needed for a response to a recent diesel spill in the East Fork of Turkey Creek, a tributary of Lake Fork Reservoir, is an initiative that SRA supports in its efforts to help provide services to assist citizens throughout the Basin."
"These dollars can be used for the department, replenishing supplies, buying new equipment that you all may need to help in the future," Henry said.
"This will be a great deal to Hopkins County emergency management," Endsley said. "We are very grateful and very fortunate to get in there and do the things we did."
"This is simply unexpected but special for Hopkins County, and we are appreciative. We are a county that's on a budget and, of course, we went way over our budget because of all the work that went into this. This will really help us in the future help others. That's what we do and what you do, so thank you once again," said Hopkins County Judge Robert Newsom
John Vick, district director for District 2 Senator Bob Hall, presented a certificate of congratulations from Hall's to Endsley for the county for "your prompt and efficient response to the ruptured pipeline of petroleum into a Hopkins County creek and the gracious grant to assist the emergency management and first responder equipment and supplies."