Planners Receive Rudy Bruner Award of Excellence For Downtown Revitalization
City To Use $10,000 To Provide WiFi Downtown
The city manger, designer, business alliance, veterans memorial committee, city officials and county judge were recognized over the weekend for their innovative work in revitalizing downtown, making it a thriving destination for tourists and community events.
Earlier this year, the city was notified the Sulphur Springs Downtown was selected as on of five finalists, then named a silver finalist for a Rudy Bruner Award of Excellence which provides $10,000 for continued efforts.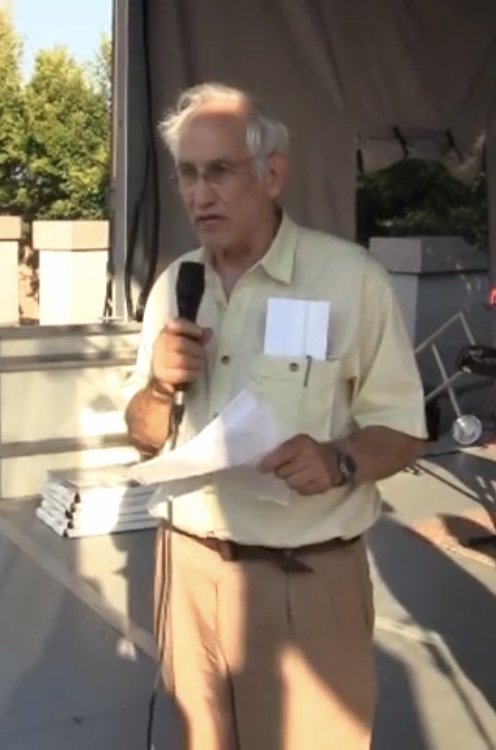 The Rudy Bruner Award for Urban Excellence is a national design award that recognizes transformative urban places distinguished by their economic and social contributions to America's cities. Founded in 1986 by architect Simeon Bruner, the award promotes innovative thinking about the built environment by celebrating and sharing the stories of creative and inspiring urban development," according to Rudy Bruner Award website.
The city was nominated for the national award by Ian Lockwood of Toole Design Group, the design engineer behind the downtown revitalization project.
Each applicant is evaluated through an extensive process. Committee members spend three days in finalists' cities checking things out, then report their findings. They compile case studies about the winners, which are made available in a book for people across the country to read and learn from. This year's finalists also included New Orleans, Memphis, Houston and Lynn, Massachusetts, according to Bruner.
On Saturday, Oct. 5, Simeon Bruner presented awards to and recognized "key players" in the downtown revitalization effort for "re-imagining the core of your city as a pedestrian friendly space for businesses and events; the use of urban design and community development principles to bring back the heart of the city; the visionary and proactive government … which leads rather than follows," providing a road map for all small towns across America.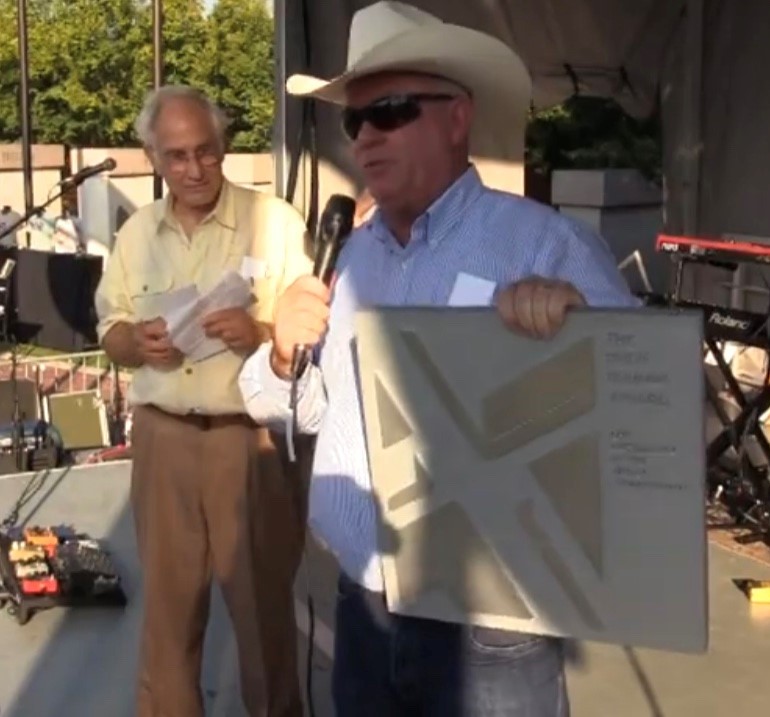 Sulphur Springs City Manager Marc Maxwell was commended on a "great job" for his role in the project.
"As many of you know, there's a whole lot that goes into a project like this. I want you to know how proud I am of this. It's amazing to be mentioned in the same sentence as New Orleans, Houston and Memphis — wow– and by the Rudy Bruner Foundation. This is a huge national honor y'all. I've got an office with lots of stuff on the walls of things that have been done in this town that I'm very proud of and the walls are very crowded. I'm telling you this much, I'm making room for this one. Thank you," Maxwell said, upon receiving an award Saturday during a special presentation on Celebration Plaza.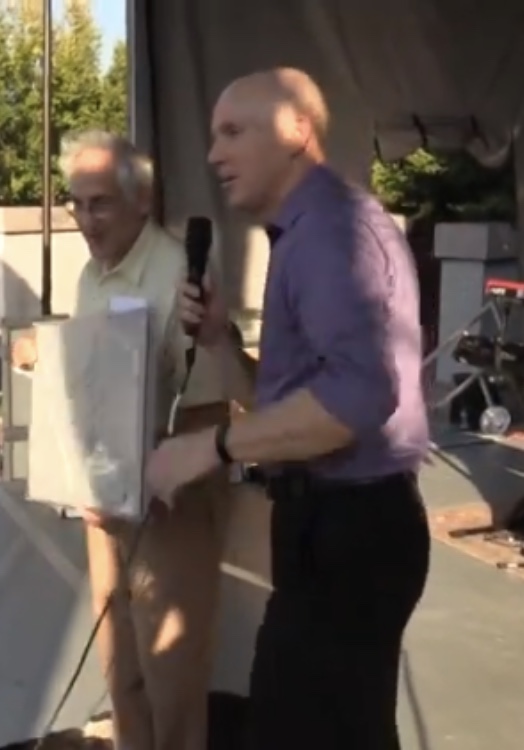 Ian Lockwood, project designer, also receive a plaque from Bruner.
Lockwood and the Toole Design Group were brought on to help shape the project. Back in 2005-2006, when community members began working toward a design, Clay Walker suggested bringing in someone with revitalization experience. Toole Design Group was selected from among the preeminent experts considered. Lockwood quickly explained the plan as it was would not work. He helped the planners find out what was most important in such a project and taught them the principles of successful urban design, Maxwell explained.
"When we were drawing this plaza on a piece of paper this was a parking lot. I'm just overwhelmed to see the real life, the kids enjoying it, everyone enjoying it, the food and everything. I can't express how gratifying it is to see it in three dimensions, getting used by all generations. It's just terrific. I just want to accept this award on behalf of the whole design team," Lockwood said, noting that a project the size of the revitalized downtown doesn't happen through the work of just one person, but many.
Lockwood offered credit to the city staff, commission and mayor who "did a great job" building it, as well as the merchants, business people, business association, Texas Department of Transportation with their jurisdiction over streets allowed them to be made of brick and flush so people in wheelchairs can navigate without having to go up and down curbs. He offered thanks to Maxwell for his leadership and being the "glue that held this whole thing together."
"Terrific job to all of those folks — and mostly to the public. I just want to offer thanks to all of those people who came out to the meetings and expressed your views about what you wanted to see happen in you public space. What we did as a design team was we took your ideas and your values and we drew them. There's no other public space like this in the country. I hope everyone enjoys this space," Lockwood said, upon receiving recognition from Bruner.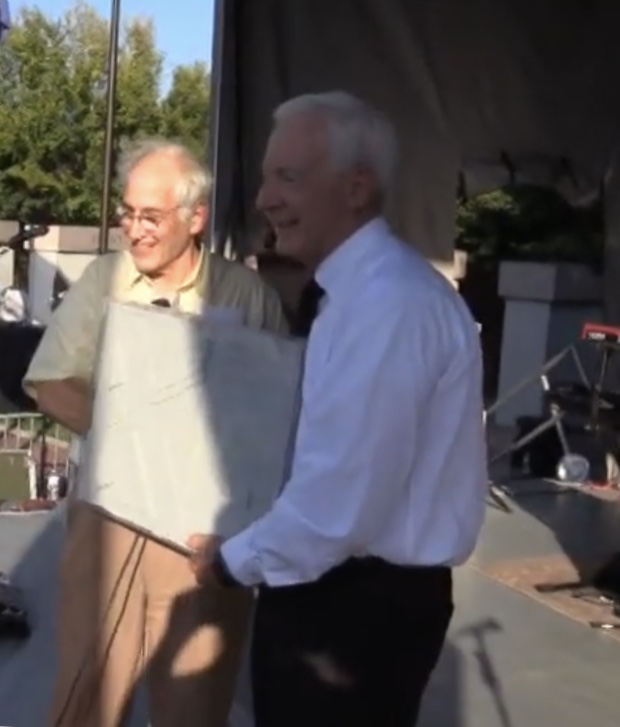 County Judge Robert Newsom also accepted an award on behalf of the county.
"I have to admit, when we started turning the downtown upside down a few years ago, I could never have imagined what was going to come out. I want to first commend Marc Maxwell and the city of Sulphur Springs, everybody agreed on this, the merchants, the citizens, TxDOT — everybody worked together on something that is truly special," Newsom said.
Newsom said in his travels and conversations with officials from other cities and counties, he's often told they wish to be like Sulphur Springs with it's downtown.
"The county puts more money into this than the city does every year. And, it's done through the TIF district because they participated. So, your contribution is actually about 20 percent more to the TIF than the city's is," Maxwell pointed out.
Hopkins County Veterans Memorial Committee too was commended for the creation of the memorial wall and area, including kiosk to look up veterans names.
Pam Elliott accepted the award for the HCVMC, offering thanks to the people and city who "put in more than $250,000, and continues to give with the water, the electricity, the upkeep," as well as all of the private donors and all of our private donations.
The memorial committee raised $900,000 of private money to build the Veterans Memorial, which anchors downtown, and members added lots of enthusiasm to the project, Maxwell noted.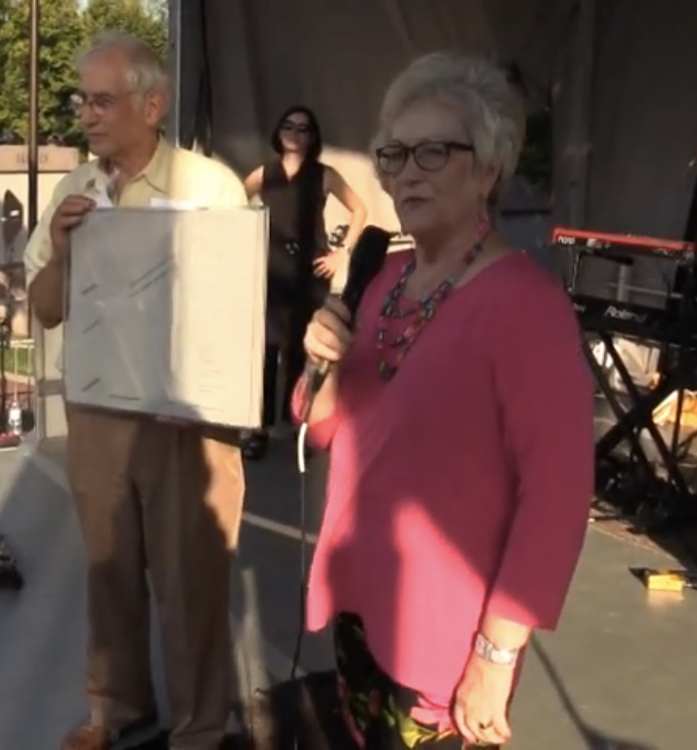 Sulphur Springs Downtown Business Alliance too received an award from Bruner for their role in the downtown revitalization.
"I've lived here all my life and I never thought I'd see it so beautiful, and the square so full of people and not one car parked in the very middle. I proudly accept this for the Downtown Business Alliance," said Joy Wilson.
"The Downtown Business Alliance really got the fire started. They are the ones who said let's do something downtown," said Maxwell, adding that they "held my feet to the fire" when he wanted to "change direction a little bit" and held him to "what I said I was going to do."
Maxwell also accepted on behalf of the City of Sulphur Springs a cast plaque to be placed on a post under a tree, marking the entry from one corner of Celebration Plaza.
He noted that most of the work on the downtown, with the exception of the bricks themselves, was performed by city staff, not contractors.
"I want to thank the Rudy Bruner Foundation for even thinking of us. It is an honor to be mentioned with those other five projects. It is just an incredible honor. Thank you very much," Maxwell said.
Bruner at the conclusion of the ceremony presented Maxwell with a $10,000 award given for being a silver finalist.
"We told them we would use it on public WiFi. As turns out, its going to be enough. We think in a month or two we're going to have WiFi on the Plaza, on Connally Street and on Main Street. Pretty soon you're going to be able to come downtown and plug in. Thank you very much," Maxwell said.
"Congratulations to all the winners and Sulphur Springs," Bruner said.