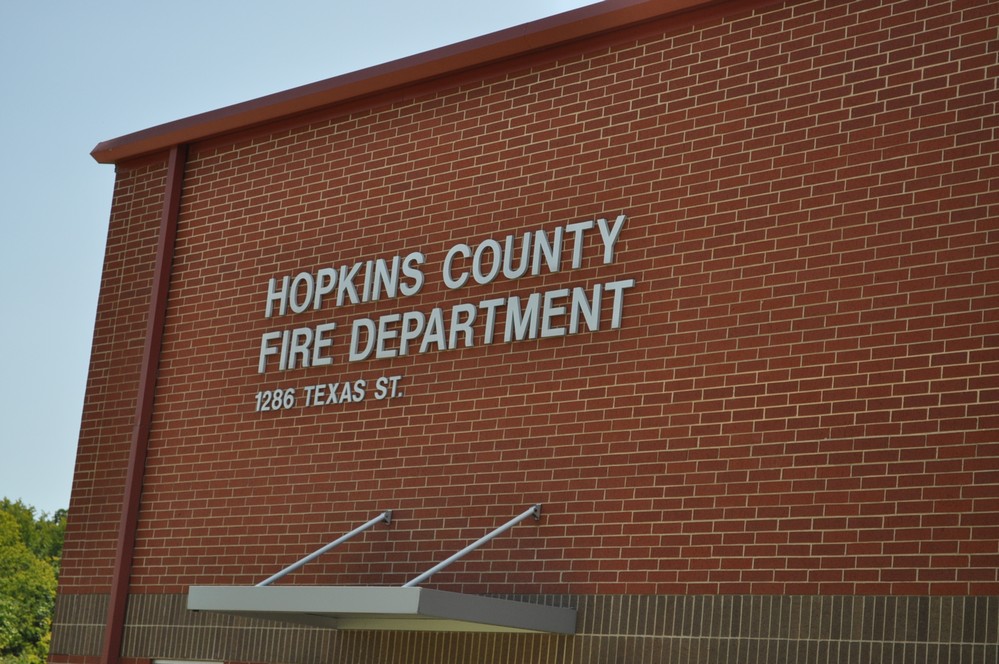 Hopkins County Commissioners Court, during the regular court session Monday morning, formally accepted two grants to benefit the fire department.
County officials were notified earlier this fall that Hopkins County Fire Department has been selected to benefit from SAFER grant and Thursday was presented with $20,000 Sabine River Authority Community Assistance Program Grant. County officials had to formally accept the grants in court for official record purposes.
SAFER Grant
The federal Staffing for Adequate Fire and Emergency Response Grant, referred to as a SAFER Grant and provided through FEMA, will allow HCFD to hire three more firefighters. One would be assigned to each of the three on-duty shifts, for a total of three full-time firefighters on-duty each day, according to County Judge Robert Newsom.
Currently, the department's shift includes two full-time firefighters daily, and one part-time firefighter for a 12-hour shift on week days. Sometimes, the department has to operate one firefighter short, as part-time firefighters aren't always available to fill that third slot, especially the first 12 hours of the shift when they are getting off work at other full-time jobs. Having a third full-time firefighter on shift should help with that staffing issue, the judge noted.
The SAFER Grant will cover 75 percent of the cost of salary and benefits for new position for the first two years of the grant cycle, and 35 percent the third year. The county would be responsible for the full cost of salaries and benefits the fourth year, according to Newsom. The county by accepting the grant has committed to maintaining the salary and benefits for the three firefighters for three years then, Endsley noted.
Precinct 1 Commissioner Mickey Barker commended Endsley and officials on seeking the grant not only to meet current needs but in preparation for future growth in the county as well.
After the county notifies officials they accept the grant, it will go into affect in 180 days, which would see the new firefighters installed in their new positions in April 2020.
Newsom said certified firefighters interested in the full-time position should contact Texas Work Force Solutions to apply. Minimum requirements are a high school diploma, Department of State Health Services EMT- Basic and basic Texas Commission on Fire Protection certifications, and structural firefighter IS-100, IS-200, IS-700, IS-800 training.
Sabine River Authority Grant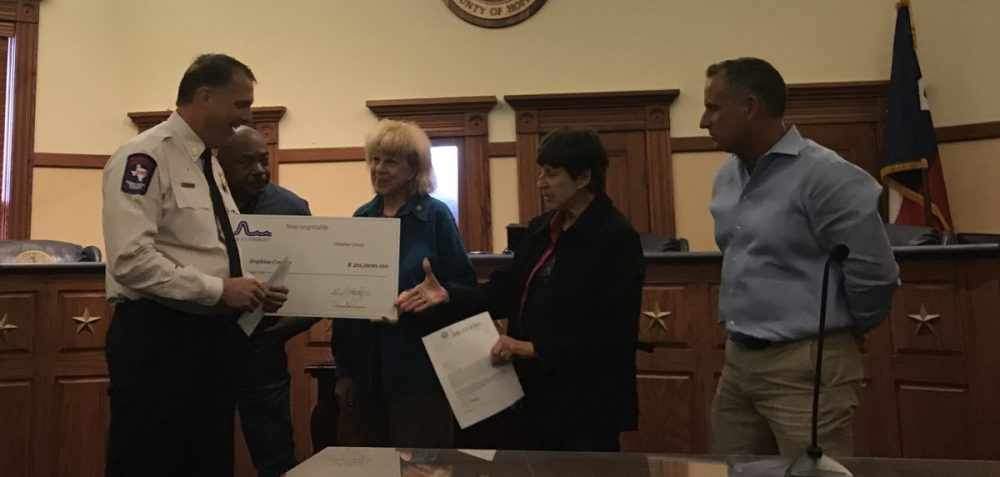 The $20,000 grant SRA Board members and staff presented to HCFD Chief Andy Endsley Thursday afternon was twice the usual amount of Community Assistance Grants awarded. The grant was a show of appreciation for the quick and continued response of Hopkins County employees and emergency management officials, which limited exposure, when diesel spilled out of a ruptured pipeline into Turkey Creek on Oct. 3.
Hopkins County emergency management officials were on site for the cleanup effort 24-hours a day for 13 days straight, and daily continue to check and monitor the process.
The commissioners and judge offered recognition to Endsley, the county's emergency management coordinator, and Kristy Springfield, assistant coordinator, for an "outstanding job" during the event.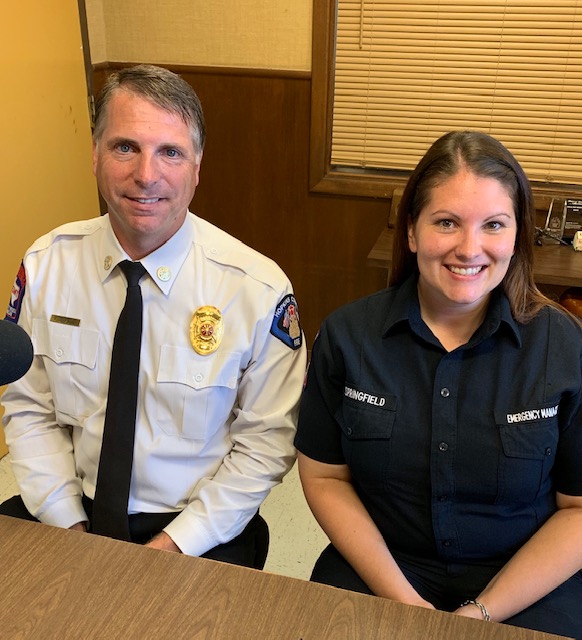 Newsom offered appreciation to Barker and his staff, for their swift response in building an earthen dam to contain the spill 1.7 miles down Turkey Creek. That stopped the flow 14.1 miles from the intake at Lake Fork for local drinking water, which is spread would have had a huge impact on the ecosystem.
Endsley noted the response was a collaborative effort among local authorities, hired subcontractor and multiple agencies, who pooled resources to get the job done.
The funding was awarded to help the county replenish supplies and buy new equipment that may be need to help in the future.
Budget Amendment
The commissioners approved a budget amendment adding a line item for emergency management. Auditor Shannah Aulsbrook explained Hopkins County Fire Department previously had an emergency management budget, but no funding has been allocated for that function in recent budget. The amendment put the line item back in the budget, with the funding designated for emergency management purposes. The SRA grant will go into that line item function.