Community members and veterans filled the second floor courtroom at Hopkins County Courthouse Thursday to recognize Rick Flanary and Jerry Hanna of Sulphur Springs, Earl Stubblefield of Bogata and Marvin Cherney of Mineola who have been selected to participate in DFW Veterans Honor Flight.

Hopkins County showed appreciation for their service with a send-off event Thursday that included the pledge to the flags lead by Veterans Service Administrator Danny Davis and the singing of the National Anthem lead by Sulphur Springs High School choir student Hope Williams, to music played by the SSHS Jazz Band.
Clayton McGraw, who served in the Army in Korea, retold the Johnny Cash favorite "That Ragged Old Flag" which struck a cord with many a veteran as well as community members. First Baptist Church Pastor Dr. Jeff Graves recited Psalm 100 and offered a prayer of thanks for those who have and continue to serve, and a closing prayer by Hopkins County Judge Robert Newsom.
A recorded Military Salute featuring each branch of service's song, provided by Lonnie Fox, was played with those who served asked to stand and be recognized with applause of appreciation.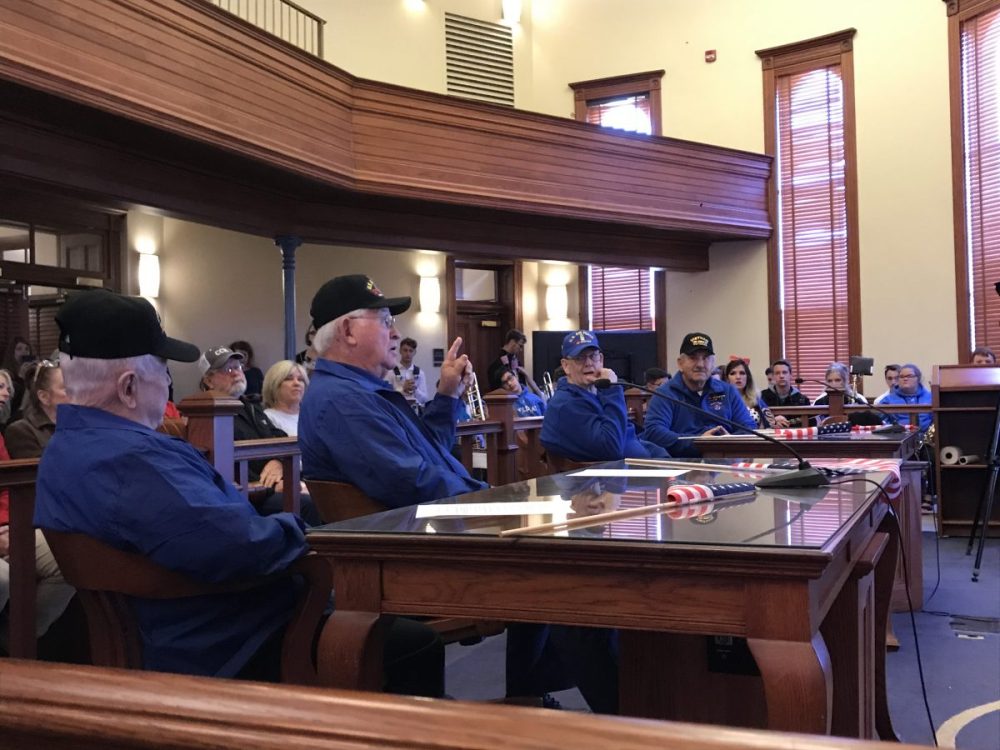 Honorees Hanna, Flanary, Stubblefield and Cherney were recognized for their service. They will depart Friday morning from Dallas Love Field aboard DFW Veterans Honor Flight 43 for a whirlwind 2-days in Washington, D.C.
"You have no idea what it means to me, and I'm sure all these others, for all of you, your hard work and the community doing what it's doing here today to honor us, not only us but our country. Thank you so much," said Stubblefield.
The Honor Flight veterans will attend a special event hosted in their honor and tour numerous veterans memorials and monuments. They will be accompanied by their "guardian," a person designated to go with them to assist in whatever way they can, whether to carry or keep up with their belongings or help medically or otherwise.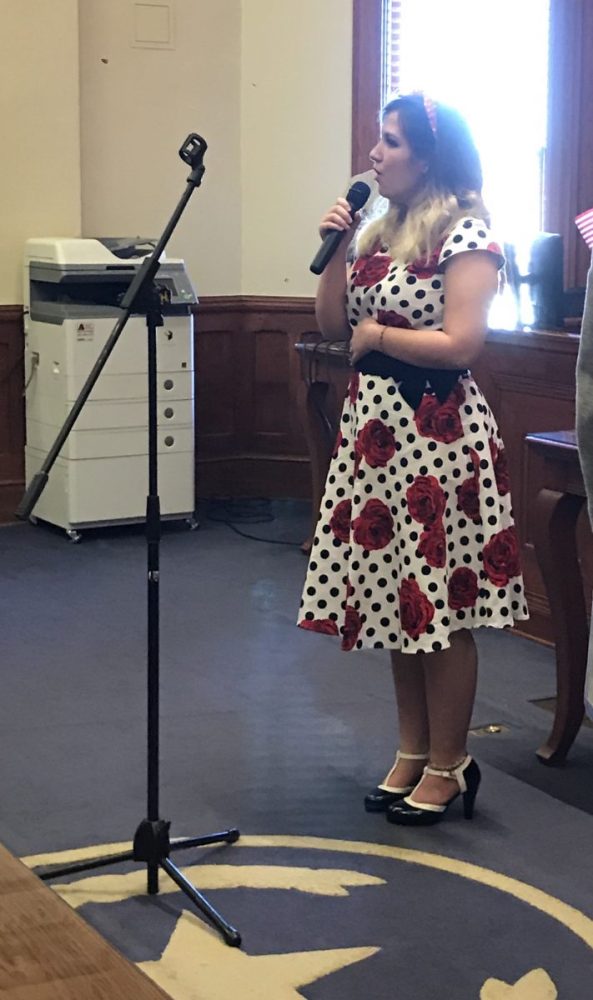 The veterans were selected for the Honor Flight by a board, which includes Secretary Judy Rawson Heaps. The Honor Flight mission began in 2009, to take as many World War II veterans as possible to see the memorial in Washington, D.C., and continues today with Cold War, Korean War and Vietnam veterans to the list of honorees designated to participate in an Honor Flight.
Heaps said growing up, she knew what patriotism was, but didn't fully understand what it means be a veteran and to be in a country "where we get to live and express ourselves the way we do" until she accompanied her dad on the first DFW Veterans Honor Flight in 2009.
She challenged the young people attending the sendoff to meet the veterans who have participated in a Veterans Honor Flight and spend time with veterans within their own families, so they too can learn what it truly means to sacrifice and to be willing to sacrifice everything.
Heaps offered thanks to all veterans who for their sacrifices to provide the freedoms we enjoy in this country every day, and the opportunities to be free.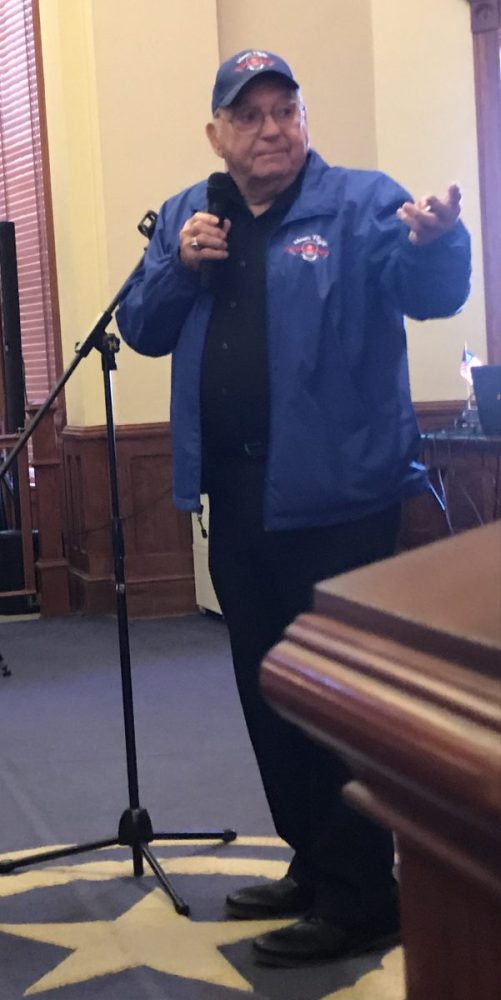 "I hear stories over and over that these men and women have never shared before, and I look forward to hearing so many from you four this time. I look forward to this trip and getting to know you four, and getting to honor you," Heaps said.
She said each flight has it's own "personality" much the same a school classroom filled with young people does.
Heaps said this trip is the "youngest" trip, with 29 Vietnam veterans among the group, the youngest age 66. DFW Honor Flight 43 also include nine Korean War veterans and four World War II veterans, the oldest 98 years.
Earl Stubblefield served in the air Force, in the strategic Air command. He said he was trained to carry a nuclear weapon to the Soviet Union in case that was needed.
"During the Korean War, they were in need of spare parts. My bomb wing at Barksdale air field in Shreveport, Louisiana, the 301st, loaned a bunch of us gunners, flight engineers, radio operators to the 307th Bomb Wing at Kadena Air Base, Okinawa. We flew combat missions over North Korea. We bombed targets there with 500 pounds bombs. Sometimes, we flew in support on the front lines using 100 pound bombs," Stubblefield said.
After the war, Stubblefield returned to his Barksdale, and continued practicing hitting targets in Russia. Shortly after that, he was sent to England, Tripoli, Libya and other places.
"It wasn't long before they began replacing our old Wold War II B29s with the B47 jets. I didn't have enough time in the service left to be retrained. They sent me on to Randolph Field as an instructor in a combat training school. They had about 20 guys like me that they didn't know what to do with. Finally, they said one day all that want to get out can," Stubblefield said.
From there, he took advantage of the GI Bill, which allowed him to major in math at college. He became a coach has had "a wonderful life."
Stubblefield is to be accompanied on the trip by his son-in-law Monte Dain.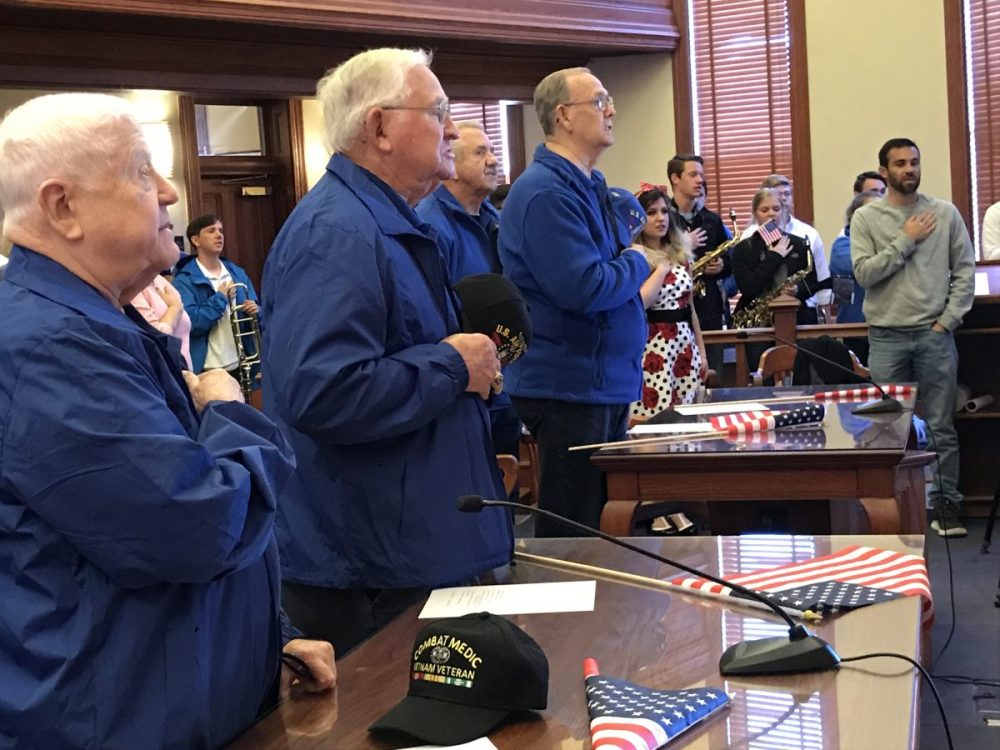 Rick Flanary served three tours in Vietnam, flying air evac for the Air Force. He was over a two-corps hospital, NCOD there. He served during the Tet Offensive. In 1968, he flew with the Army.
Flanary recounted being in a helicopter that was shot down and sustaining a gunshot to the leg. In all, Flanary served 6 years, 8 months. He was a staff sergeant.
Flanary will be accompanied on the Honor Flight by his daughter, Nikki Flanary.
Jerry Hanna is an Army veteran. He served two tours and was enlisted for three years, including in Vietnam. When he got out, he went to school.
He then went back in with a direct admission as a second lieutenant, then served for over 27 years of active duty. He received his training and college while in military, graduating from TCU.
Hanna is to be accompanied on the Honor Flight by his son Patrick Eady.
Marvin Cherney, a North Dakota native, served in the Army for three years, including during Vietnam. He entered service with his cousin anticipating the 'buddy system" but got separate orders. Cherney went to medical school in Fort Walters, Texas out of training. He received orders to go to Vietnam in January of 1968.
Cherney was an infantry medic, serving 3 months and 25 days; he was shot while in Vietnam, underwent operation at a field hospital then was sent to Japan, then the United States. He was unable to return combat at that time\, but says the "good Lord let me come home." He was sent to a hospital in Denver and received discharge papers, then orders to return to Vietnam. He was sent to Oregon, where it was determined he'd received the wrong orders and was sent to Fort Hood. He was discharged in October of 1969. He married a Texas resident and has called the Lone Star State home ever since.
"The Lord was with me. I got to come home. Others didn't get to come home. They are heroes," Cherney said.
Accompanying Cherney on the Honor Flight as his "guardian" will be his daughter Brandy Young.