A 60-year-old Cooper man was arrested Friday night at a gas station on what reports show is at least his fourth DWI charge.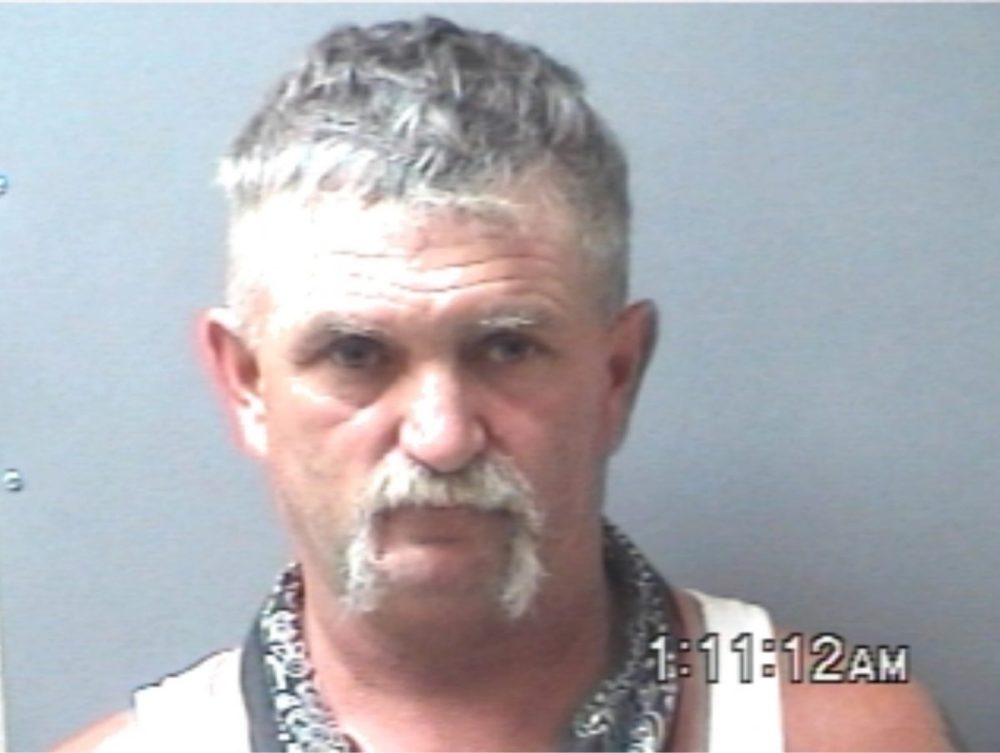 Terry Wynn Grant reportedly caught Texas Department of Public Safety Trooper William Gillentine's attention with his less than stellar parking job and behavior in the E-Z Mart parking lot in the 1500 block of East Shannon Road around 9 p.m. Friday.
Gillentine reported he was at the gas station recording his fuel purchase when he heard a horn and turned. He observed two vehicles that hadn't been int he parking lot when he started pumping gas into his vehicle. He note a sedan in the eastern-most parking space with a Dodge Dakota facing the sedan, but it was perpendicular to the parking spaces and the sedan.
The Dodge Dakota backed up, rapidly accelerated, causing the back tires to lose traction, producing steam and smoke, on the extremely wet ground. The pickup was driven around the sedan and parked, straddling the parking line, according to reports.
Gillentine alleged he saw the pickup driver, identified in arrest reports as Grant, toss his head around and throw his hand in the air "as if he were upset." Grant appeared to the trooper to have difficulty standing and maintaining his balance as he exited the store, then stumbled toward the store, Gillentine alleged in arrest reports.
Gillentine, in reports, stated he called the man toward him out of concern that he was intoxicated and would gain access to more alcohol in the store, and given his prior display of aggressive behavior toward the people in the sedan, to prevent him access to more potential "victims" in the store. Grant complied.
When asked where he was coming from, Gillentine reported Grant "slurred he was coming from Cooper, where he lived. It was confusing."
When asked how much he'd had to drink, Grant allegedly admitted to drinking nothing that night but that he'd drank earlier in the day. He also claimed to have eaten last earlier in the day, but had slept well the night before and was not sick or injured, Gillentine alleged in arrest reports.
The trooper as he had the man walk to the covered area by the store, Gillentine reported noticing a disabled license plate and asked him why he had it. Grant allegedly claimed he'd been hurt in 2018 at work and had a back and hip injury. Suspecting such an injury might be a source of the man's balance issues, Gillentine also, in reports, noted the alcohol the man had consumed also appeared to have an impact.
When Gillentine asked Grant to submit to standard field sobriety tests, Grant refused and was advised he was being arrested for DWI. When the trooper began attempting to put the man into handcuffs, Grant allegedly attempted to pull away and argued with Gillentine. He warned him not pull away and eventually the man complied, according to reports. When read his warnings, Grant allegedly advised the trooper he would not provide either a breath or blood sample for analysis, then repeatedly called the trooper names on the way to jail and demanded to see his sergeant.
Grant was jailed shortly after midnight and remained in the county jail in Saturday, Oct. 26, for driving while intoxicated, third or more offense; his bond was set at $10,000, according to jail reports.
Jail records also show Terry Wynn Grant was arrested locally in 1991 for DWI and on a warrant for violating probation which he was on for third or more DWI offense in July of 2008.