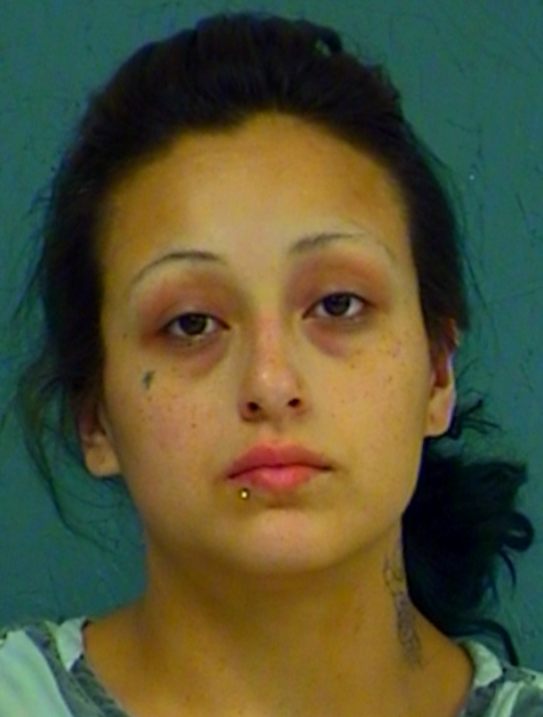 A 27-year-old Sulphur Springs woman was arrested early Tuesday morning on East Shannon Road on a controlled substance charge after deputies reported finding more than 13 grams of an unknown substance in her bags during a traffic stop. She allegedly compounded her trouble by initially identifying herself by a false name, according to arrest reports.
Hopkins County Sheriff's Deputies Drew Fisher and Tanner Steward stopped a silver Chevrolet at 3:19 a.m Sept. 3 in the 100 block of Shannon Road after noticing it didn't have a front license plate. The vehicle had four occupants, including a driver who allegedly did not have a valid drivers license. The driver was asked to step out of the car and agreed to let officers search the car, the deputies alleged in arrest reports.
All four occupants were removed from the vehicle and separated during a search. Two black bags were located in the back seat behind the driver. The passenger, allegedly claimed the bags but refused permission to search them. Deputy Jason Lavender was requested to bring his canine partner to the scene to perform a sniff search of the vehicle and bags. The dog alerted on both bags. A search by Deputy Tanner Steward revealed a clear plastic bag with a crystal-like substance suspected to be methamphetamine and a glass vial with a clear liquid substance in it, several syringes and an empty bag were found inside the black bags, Fisher and Steward alleged in arrest reports.
The back seat passenger, 27-year-old Sulphur Springs woman, was arrested and the suspected contraband and paraphernalia were seized. Both tested positive for a controlled substance. The bags and glass containers with the substances weighed a total of 13.05 grams, resulting in the woman's arrest for possession of 4 grams or more but less than 200 grams of a Penalty Group 1 controlled substance, the deputies alleged in arrest reports.
It was later determined, by the deputies alleged in reports, that the woman had given a false name during the course of the traffic stop and initial book-in proceedings. She told sheriff's officials she lied because she thought she had warrants for her arrest. Kelsey Devon Carrillo was also charged with a failure to identify by giving false or fictitious information as well as warrants for failure to maintain financial responsibility, expired registration and failure to appear, according to arrest reports.
Carrillo remained in the county jail Wednesday morning, Sept. 4. Bond was set at $45,000 on the controlled substance charge and $1,000 on the misdemeanor failure to ID charge, according to jail reports.