Street Maintenance Doubled In Sulphur Springs In Spring
Waste Lift System Repairs Begin Sooner Than Originally Planned
The street maintenance fee program implements in 2019 has been successful, doubling the amount street surfaces that received repairs this year, thanks to the $5 street maintenance fee Sulphur Springs residents pay on their utility bills.
Plans for another major repair project had to be started immediately due to the precarious state of the system; the Cantex sewer lift system overhaul wasn't scheduled to begin until the next budget year, but are already in progress due to the serious problems already experienced along the line, according to city officials.
Street Maintenance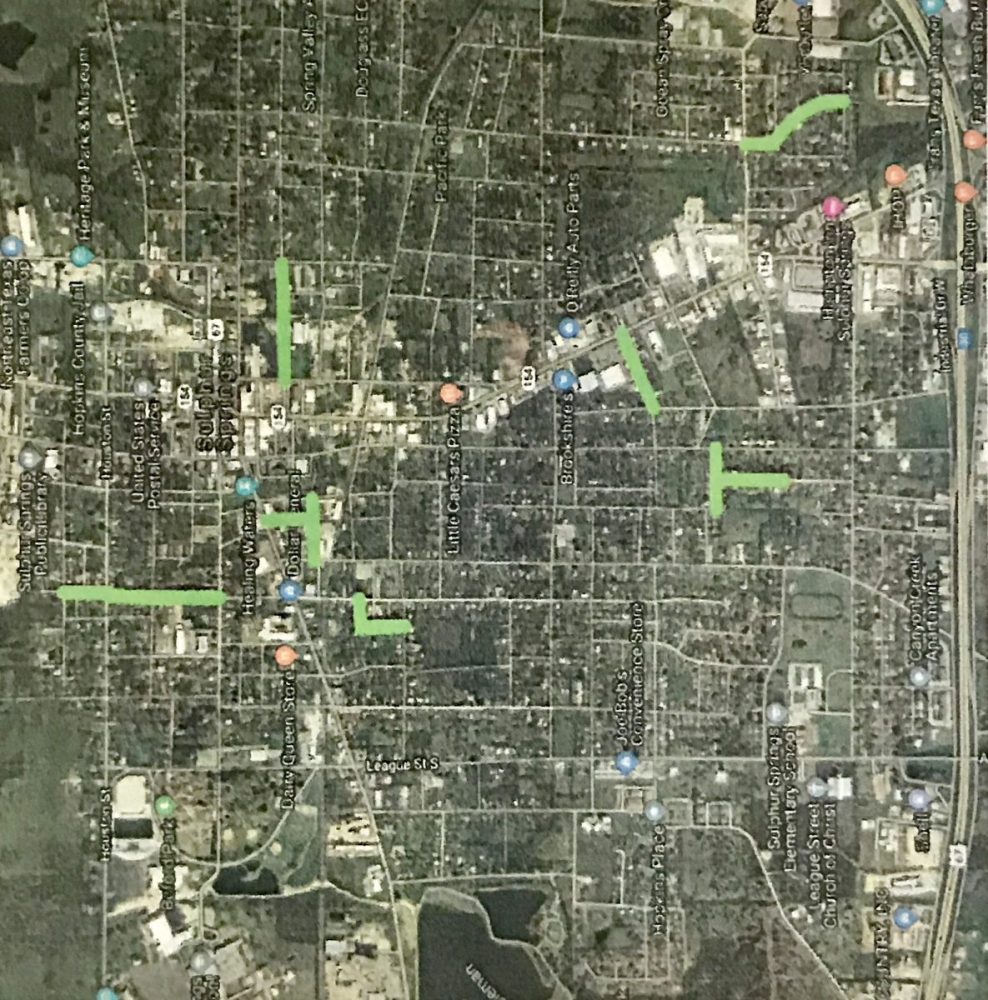 Sulphur Springs crews were able to repair a total of 3.59 miles of city streets this year, including 1.53 mile more than approved in the regular summer paving program. That's thanks to the street maintenance fee collected since January. That's part of seven additional street repaired using the street maintenance fee, according to Sulphur Springs Finance Director Lesa Smith.
As of Aug. 31, the city had billed $339,332 in street maintenance fees, collected $306,064 and expended $360,231 in street maintenance fees. Collections should be a little bit higher as reports are 20-25 days behind.
In 2020, the first full year for SMF collections, the city anticipates spending $489,500 to pave more than 2.5 miles of city roads, parts of nine different streets with the SMF revenue, although the actual area paved will depend on bids at the time of paving, according to Smith.
Streets paved with a Type D asphalt overlay (along with the project's size and cost) since the street maintenance fee was implement in January include:
Peach Street/Georgia Street – 0.25 of a mile (1,331 feet), at a cost of $65,383.02.
Putman Street – 0.22 mile (1,150 feet), $44,965.50
Ashcroft Street/Town Street – 0.21 miles (1,110 feet), $37,100.65
Brewer Street – 0.14 mile (750 feet), $26,273.50
Carter Street – 0.22 mile (1,141 feet), $74,797.05
Hodge Street – 0.19 mile (1,029 feet), $62,187.53
North Locust Street – 0.3 miles (1,600 feet), $49,523.46.
In fact, the finance director noted, North Locust Street was not originally on the SMF repair plan this year, but were able to add later.
City Manager Marc Maxwell asked Smith in future reports on the street improvement fund if she could include also the cost per square
Sewer Lift Station
Maxwell also advised Sulphur Springs City Council during their meeting Tuesday evening that the timeline for one capital improvement project had been moved up due to the precarious situation it presents.
In the city's 2013-17 capital improvement plans, 2,400 linear feet of aging sewer 2 force mains and 2,900 feet of gravity main were replaced with a Canex force main, which was routed to pass around instead of going through the middle of the hospital complex. The final segment of sewer main was connected to the new Cantex lift system on Oct. 1, 2018, according to city records. A lift station, a low point where sewage run through the system.
"In this case, Cantex handles about one-third of the sewage for the city. We're starting to have a lot of problems with the Cantex lift station. In the last 60 days, we replaced pumps 4-5 times. It's a combination of problems. One, the internal mechanical works of the lift station are worn out. Two, we were having a problem somewhere up stream with a manhole," Maxwell said.
The manhole was an old brick manhole. Bricks were getting into the system, sending them down the line into the pumps, destroying them. City officials began looking for the manhole, and believed they've found it, however, there's no way of knowing at this point, how many bricks are already in the system, and when they'll flow down the line to the pumps again, according to the city manager.
City officials included $130,000 in the 2019-2020 budget to rebuild the lift station in a way that it will last for a couple of decades and so it won't be affected by the bricks.
"But, we can't wait for the budget year to do the work, so I authorized building director James Jordan to go ahead with the expenditures in this year to do work to build the station," Maxwell told the council Tuesday night.
"In our current year budget, we have a certain amount set aside for our water and sewer line repairs, replacement – all of that. We won't use all of that this year, so there's plenty of money in the budget, as it stands, to make those repairs," Smith said.
"We will need to do a budget amendment to accommodate this expenditure," Maxwell told the council "I just wanted you to know what's going on. We are still bypassing it. We've got temporary pumps out there for pumping around the lift station. It's a very precarious situation."