Sulphur Springs Elementary students and staff Monday night demonstrated and explained to the school board the positive impact teachers' training in and implementing of Capturing Kids Hearts program is having on that campus.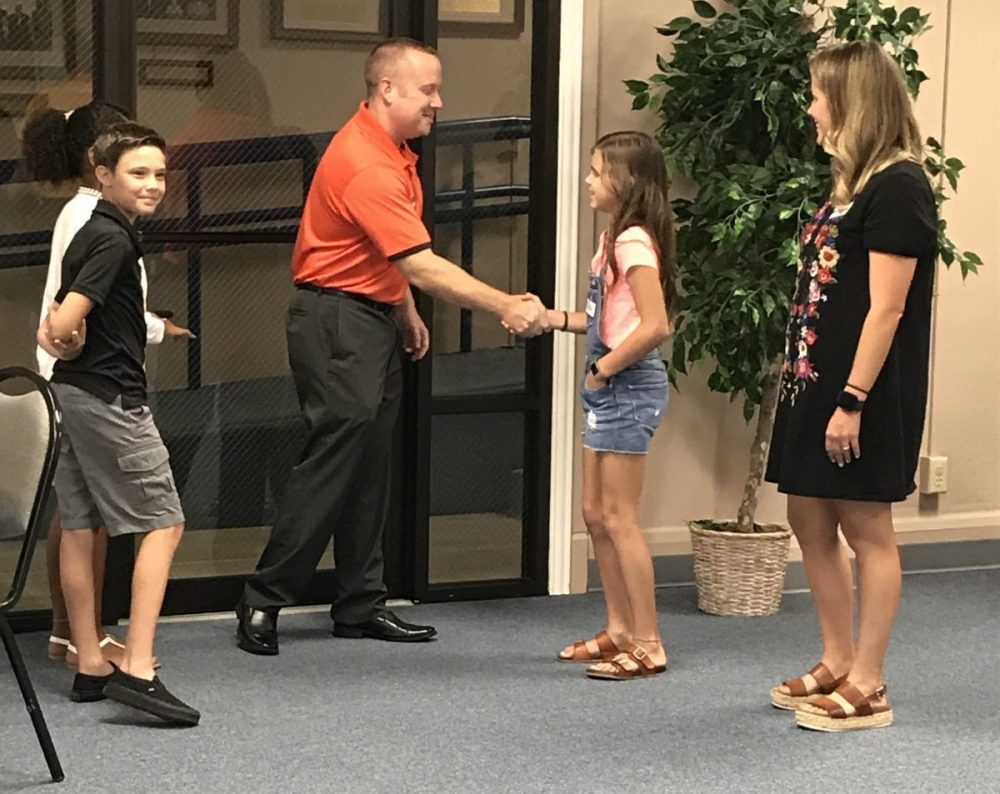 Teachers Megan Wiggins and Whitney Vaughan asked the school board members and staff to reenter the building, so the five students with them could demonstrate how students start their days. They shook hands and welcomed the school officials with positive greetings and eye contact.
Then, they engaged the school staff and officials in a game of "heads down, heads up." The teachers explained they used this game to introduce students new to the camps to each other and to become better acquainted with their classmates.
Vaughan noted classes often start the day with "good things," a time for students to share good things that happened to them in the last day, week or weekend. This gives teachers and other students a better idea what's important to each student, while making them feel good by remembering and sharing. It allows the students and staff to learn much about each outside of traditional journal writing, which they still do some too.
Each class has a social contract. The teachers had the kids break into groups and come up with words for character traits and actions for them to be held accountable for and abide by. For instance, loyalty, honesty and respectful are admirable traits students aspire toward. Those words were placed on a poster to remind them the behavior to which they should strive.
Students are encouraged to offer praise, positive comments and encouragement for which a high five could be given, when the opportunities present themselves.
If a student is thought to not abide by the social contract, the youth can be asked four questions: what they are doing, what they are supposed to be doing and what they are going to do. This holds the students accountable, and can redirect negative actions. Students may first be given warnings. And, students can respectfully "check" each other for their behavior; this is not a confrontation, just a friendly reminder about the contract before a teacher must intercede, the SSES teachers noted.
Students may give a "foul" hand sign if someone has hurt another's feelings or otherwise not lived up to their contact. However, when that's done, the person given the foul then is to give two "put ups," two affirmations or verbal high fives designed to encourage the hurt student. Students are encouraged to look more inward than surface compliments, such as having a nice dress. This is helping build a community.
Consequence are clearly established for failure to live up to the contract, including a "behave out" to the office or a "break," students explained.
Another SSES student explained that each week the class rates the contract from 1-10 to see how they've done as a class, how they can improve.
Ultimately, they are reminded daily to keep in mind they learned from "Mr. Peabody's Apple" by Madonna: "the power of your words."
Wiggins said she and fellow teachers who participated in during Capturing Kids training were asked to bring a sentimental and tell about it. This was a successful ice breaker for the educators and was successful in helping students continue building their sense of community with their classmates too. Students were asked to tell why the sentimental item means so much to them. They were encouraged to bring something more sentimental than a gaming system or cell phone.
The teachers said the students did an awesome job, and learned that many of them have the same types of things going on in their homes that they deal with. It built a "family in class," making the students more comfortable sharing information with classmates they might otherwise only share with family members or very close friends.
"You spent a lot of money getting us trained," said SSES Principal Holly Folmar of the Capturing Kids Hearts workshops all elementary teachers were required to attend. "We are appreciative. It's making a difference for a lot of kids. Thank you very much."
The SSES students also lead those present at the Sulphur Springs ISD Board of Trustees meeting in the pledges to the United States and Texas flags.