Sammy Lewis Lee Tatum was born in September 1939 in Chitra, Oklahoma, the second among five siblings. His 80th birthday was observed at Sulphur Springs City Hall on Sunday September 8, 2019 with pulled pork sandwiches and picnic sides served buffet-style to the many dozen friends who came to wish him well. Afterward, a beautifully decorated birthday cake was sliced and shared with everyone. Sam's sons Darrin and Lewis and their families helped host the party.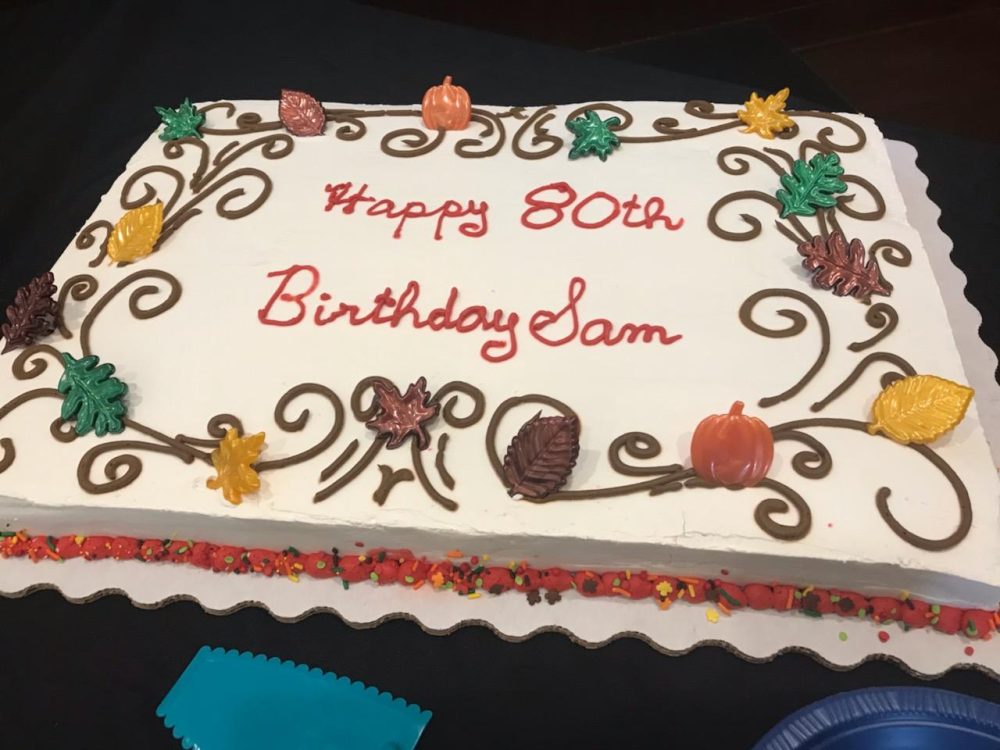 Sam greeted everyone with a handshake as they came through the door, and a memorable time was had as friends reminisced and shared stories, laughter and fellowship. Sam's brother Dub Tatum and his wife Peggy of Holdenville, Oklahoma were in attendance as were fellow members of the Hopkins County Sheriff's Posse. Many long-time friends from the Hopkins County Sheriff's Department, Texas Rangers, Texas Department of Public Safety and the Texas and Southwest Cattle Raisers Association were also present to wish him well.
In addition to Dub, they have another brother, Billy Joe Tatum, and two sisters Jewel and Carolyn who were not able to attend. According to Dub, their father was an Oklahoma farmer and rancher, and at one time, a deputy sheriff. Sam, Dub and siblings were raised in the country and rode a bus eight miles to school at Gertie, near Allen, Oklahoma. As a youth, Sam learned to work their team of mules, and the family raised corn, peanuts and cotton. Like many of their neighbors, the family made part of it's income by raising a big crop of cucumbers which they could sell to a pickle canner in a nearby town. According to Dub, their two acres of cucumbers had to be picked all the time, it seemed. They could fully pick half the entire field in one day when cucumber production was highest, and the other half the next day, then start over, and so on. They stacked the cucumbers in vats near the railroad tracks and the vats would be picked up and taken by train to Calvin, not far from McAlester.
Sam married Linda Collier in Sherman 1960 and moved with their two sons to Hopkins County in 1981. Darrin Tatum and wife Michelle and family also live nearby. Lewis Tatum became Hopkins County Sheriff in 2017. Lewis married Michelle Orrick in Denison in 1981 and they have 3 children and 7 grandchildren. Sam's career was with TXU, and when he retired 1993, he began working for FEC Electric in Greenville. He is still working there and also has a yard service. Besides his more than 25 years of volunteer service in the Hopkins County Sheriff's Posse, Sam also does leather repairs and likes to make saddle accessories and tooled leather goods.