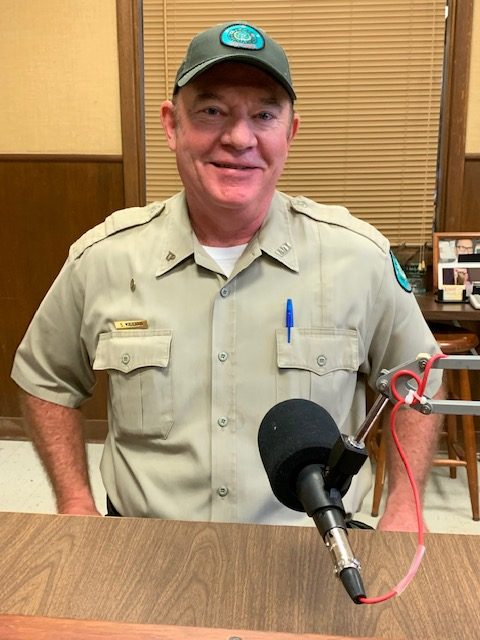 Steve Killian, Complex Manager for Cooper Lake State Park, carries the banner every day for an active lifestyle, and hopefully one where you get fresh air and sunshine! During his work and on his own, this active park employee walks or hikes every day, logging 4-5 miles and resulting in 10,000-12,000 steps per day or more. He reminds us that natural sunlight builds Vitamin D right on the surface of the skin, and unlike Vitamin D supplements, provides many other health benefits and ways to just feel better! And, breathing fresh air deeply is a simple, free, and health-giving habit that anyone can take advantage of!
Killian just returned from a 9-day international trip, specially arranged for outdoor experiences in some of the National Parks systems. He visited England and climbed the highest mountain in the country, 'Scaffold Pike' which is 3,200 feet above sea level. The 6-hour hike actually gained him over 4,000 feet of vertical climbing however, as a smaller mountain had to be covered before reaching the foot of Scaffold Pike. He said the climb and the view made it an entirely exhilarating experience. Listening to the BBC on the radio, he was favorably impressed with the nation's initiative to get England's students outdoors more during their school day. Next, on to Scotland where Killian visited the University of Glasgow and got to walk extensively on the grounds of the ancient campus, which is actually the fourth-oldest university in the world. Following that, he took a boat cruise up and down Loch Ness. Parties aboard the 2-hour cruise searched the water by sight and by sonar in hopes of seeing 'the monster' but no sightings were reported. KIllian's theory is that the very dark waters and a particular undulation of waves made by passing boats can fool the eye into seeing 'sea monsters' on top of the water! Other wildlife and breathtaking views were captured by camera. Over in Ireland, lots of walking through the streets and pub areas yielded great sights as well as conversation with locals for Killian on this, his first International trip for cultural and natural studies.
Killian reports that Cooper Lake water is still warm and there are at least a few more weekends to enjoy swimming and other lake experiences, and that the hiking trails on both sides of Cooper Lake are actually quite inviting year-round. Cooper Lake State Park encompasses both the Delta County 'Doctors Creek' Unit and the Hopkins County 'South Sulphur' Unit. You are invited to a free outdoor concert on Saturday October 5, 2019 at the Lone Pine Boat Ramp area at Doctor's Creek. This will be a 4-hour music festival starting at 5pm, featuring a number of different bands and acts like Birthright Blues Project, Janice Diane, and East Texas Mood Shine. Nature programs and information will also be offered free to everyone who attends the festival. Bring your lawn chairs, or bring your boat and enjoy the music out across the water.
Killian will return for another KSST Good Morning Show interview on November 21, 2019. Be sure and tune in!