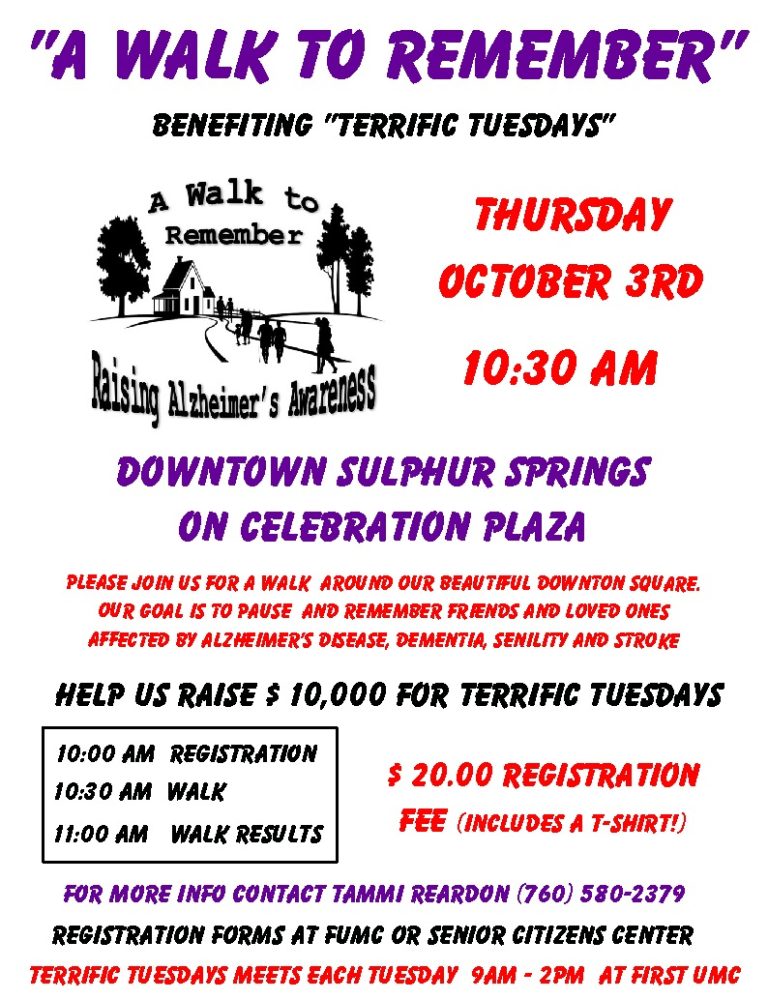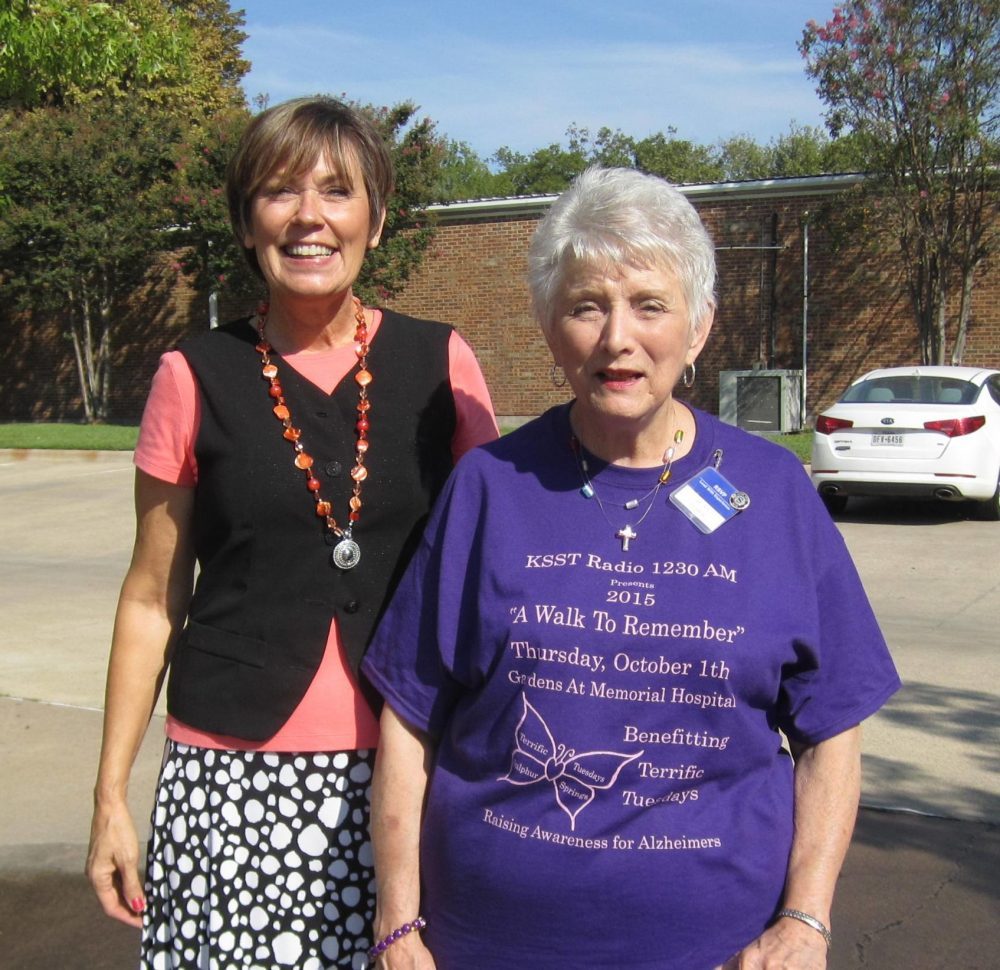 The Terrific Tuesdays Respite Program for caregivers of Alzheimers and dementia victims is entering it's annual fundraising season. There are a number of 'mini-walks' planned starting with the first one on Tuesday September 10 at 10am from the home base of Terrific Tuesdays, First United Methodist Church on Church Street in Sulphur Springs. Anyone who would like to register to come and make the leisurely stroll around the parking lot with the Terrific Tuesday "club members" is welcome to do so, in a show of support for the loyalty and dedication on the part of caregivers of this disease as well as appreciation for the weekly respite program.
Here are other opportunities you have to take the "mini-walks": Wednesday September 11 at 10:30am, Sulphur Springs Health and Rehab Thursday September 12 at 9:30am, Sulphur Springs Seniors Center Friday September 14 at 10am, Wesley House Assisted Living Wednesday September 18 at 10:30am, Pioneer Crossing Wednesday September 18 at 2pm at Hopkins Place Monday September 23 at 10am, Carriage House Manor Wednesday September 25 at 10am, Rock Creek Health and Rehab Thursday September 26 at 10am, Sulphur Springs Imaging Center Friday September 27 at 10:30am at Sunny Springs Nursing and Rehab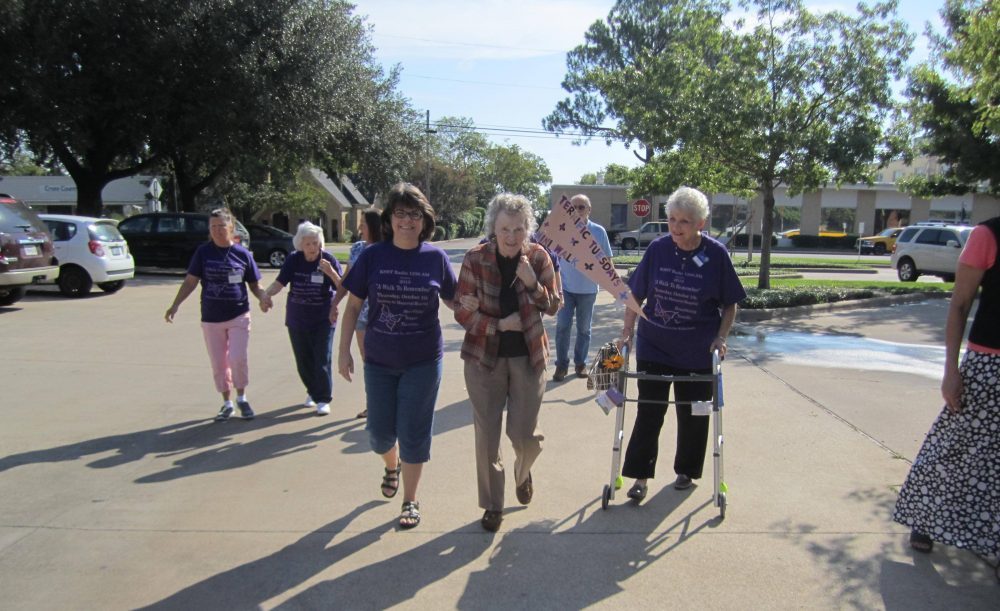 The final walk, the major 'Walk to Remember' will be a festive occasion on Celebration Plaza on Thursday October 3 starting at 10:30 am. Alzheimers and dementia patients, their caregivers, family and friends will be there to participate in the fundraising walk. More than 17 prizes and spirit awards will be handed out. Walk to Remember T-shirts are available now at $20 each at the Seniors Center, 150 MLK Drive, or by phoning Tammy Reardon at 706-580-2379. Donations for the Terrific Tuesday program can be mailed to FUMC att: Terrific Tuesdays, 301 Church Street, Sulphur Springs, Tx 75482. The 2019 goal is $10,000 to fund the local Terrific Tuesdays program during 2020.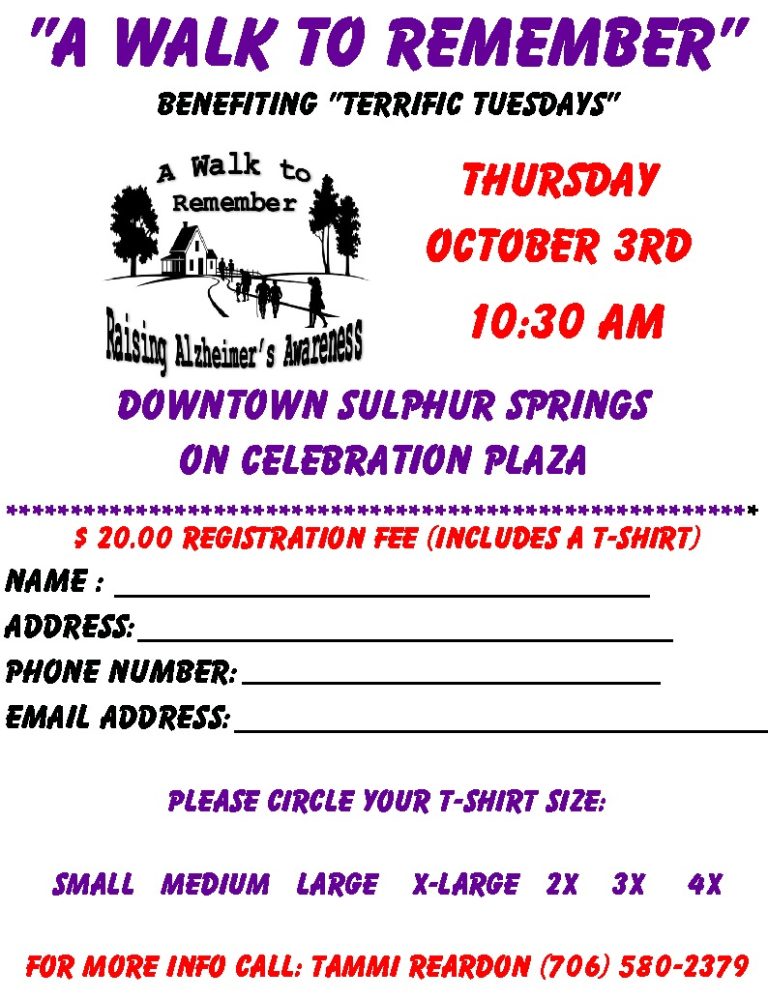 T