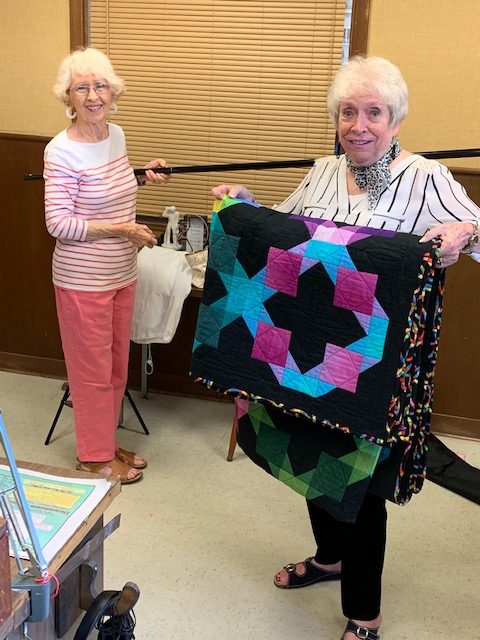 Amidst a busy week of final preparations for the annual Quilt Show, Billie Ruth Standbridge, a charter member of the Lone Star Heritage Quilt Guild, shared some interesting details on it's growth and development. "It's nothing short of amazing that we went from a small group of ladies who simply liked to sew to a club that produces beautiful works of art and is recognized by other groups across the state. From the ground up, by pooling our resources and knowledge, we learned how to organize and put on a successful 2-day quilt show that quilters want to come to, and will drive a long way to see". The 20th annual Lone Star Heritage Quilt Show will be held in downtown Sulphur Springs at FBC The Roc, 115 Putman Street, on Friday September 20 and Saturday September 21, 2019. Admission is $5 per day for adults, and free for children under age 12.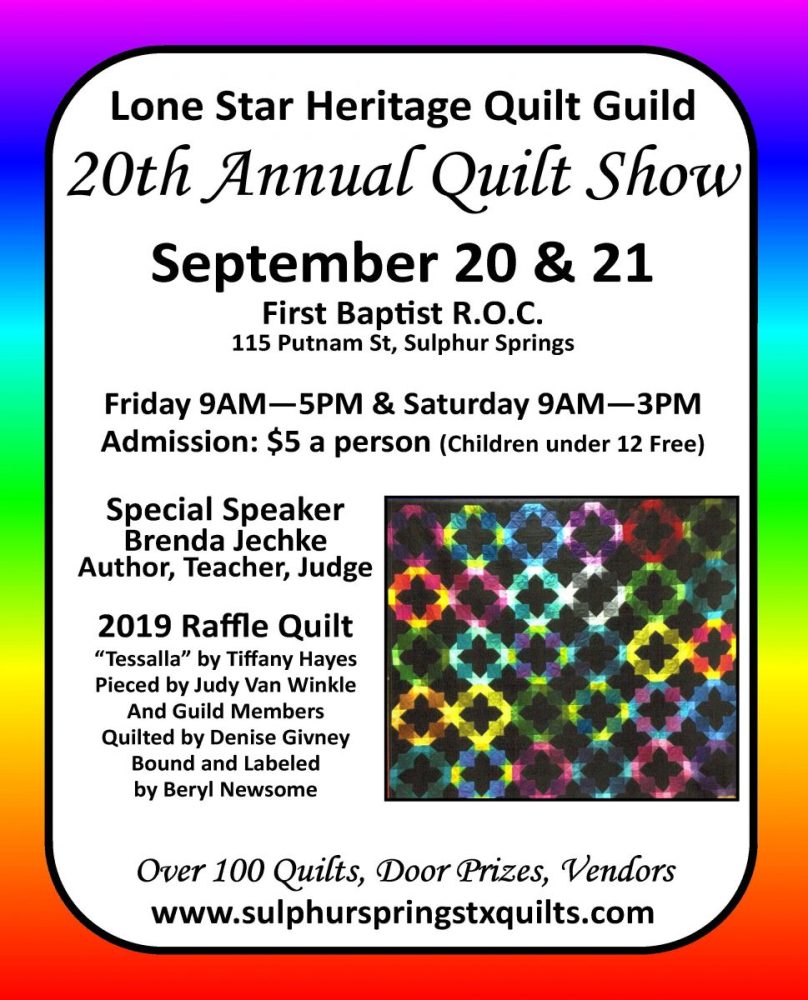 Visitors can expect to see over 120 handmade quilts, displayed in rows you can browse as you walk past. By the time the show opens on Friday at 9am, judging will have been completed and the winning quilts will be easy to spot because ribbons and awards will be pinned on them. Look for this year's Featured Quilter, Cecilia Anderson. A separate Special Exhibit has been arranged by the Sharon Feldt Family Foundation. Enjoy programs by Brenda Jechke, an author, teacher and quilt judge. Vendors will be selling quilting fabrics, notions and supplies, and even some quilts. There will also be some light concessions offered during the show. Local businessman Craig Johnson will offer a welcome to visitors at the 9am opening each day.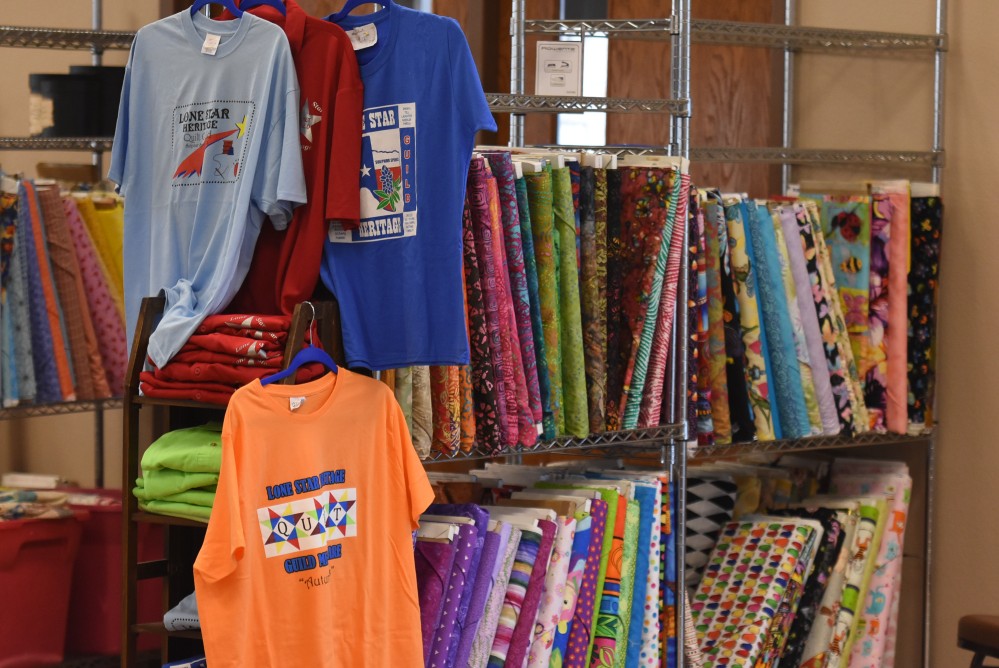 Billie Ruth and long time member Deanna Hasten enthusiastically agree that the Lone Star Heritage Quilt Show can compete quality-wise with other bigger shows, including the Houston's 'Quilt Festival' and Paducah's 'American Quilt Society Festival' and compares size-wise with the Tyler show. "Our September date was strategically selected to fit in well with the Texas circuit of quilt shows. This year's fundraising showpiece is 'Tessella', a quilt designed, pieced and quilted by four of our members. All year long, most of us are personally putting in hours and hours of individual work on this hobby. We re-create vintage patterns we like and we design modern ones. New and unusual ways of combining geometric shapes and color have yielded stunning visual effects. Guild President Wilma Moss' articles on this art have been published. We've each learned a lot since we began and some have become quite professional on the long-arm quilting machines! We each have our own projects going at home, we volunteer for group projects like making lap quilts we donate to babies and children in the hospital, and we help teach new members who are getting started with this art. Our annual Quilt Show has acquired a following, bringing people from all over the state, boosting tourism for Sulphur Springs. That's gratifying for us!".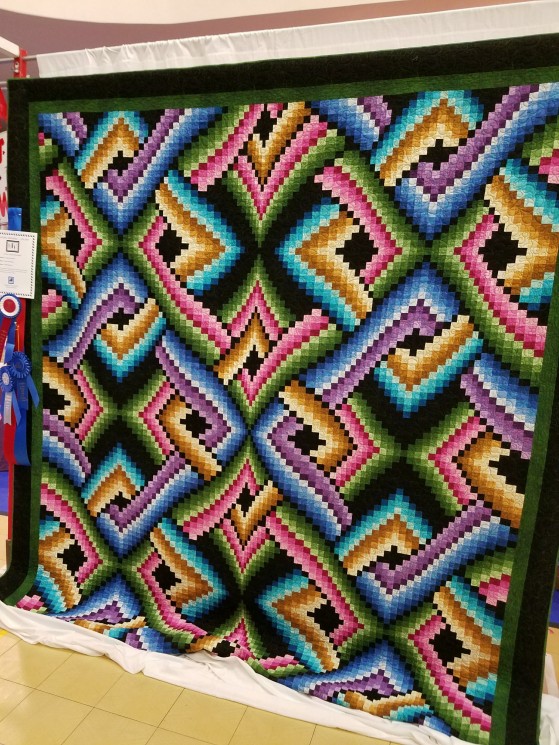 I asked Billie Ruth how the successful quilt guild got started. "Elise Brewer was the one with the vision in 1998. She put an ad in the newspaper asking for interested persons to join her in a quilting club, and at first, she got no response. But tried again and membership slowly began to grow. That first year, we held monthly meetings and some of us didn't even have experience quilting! But gradually we realized that we wanted to connect with other clubs and individuals, so we came up with the idea of putting on a show to attract other quilt lovers. Our first fundraising project involved each member being assigned a swatch of fabric by color, and making a block at home using the entire piece….with no particular rhyme of reason to the theme! Well, we got a lot of variety, and when I looked at the collection of blocks we had, I couldn't picture it as ever being attractive. But Elise took the blocks home, made them uniform in size and formed an attractive handmade quilt top. After it was quilted and bound, we decided to raffle it off, and we did! An early member, Cecilia Anderson, won it and still owns it. That was the first of our fundraising quilt projects and we still raise money for the show in that way, plus assistance from our sponsoring donors".