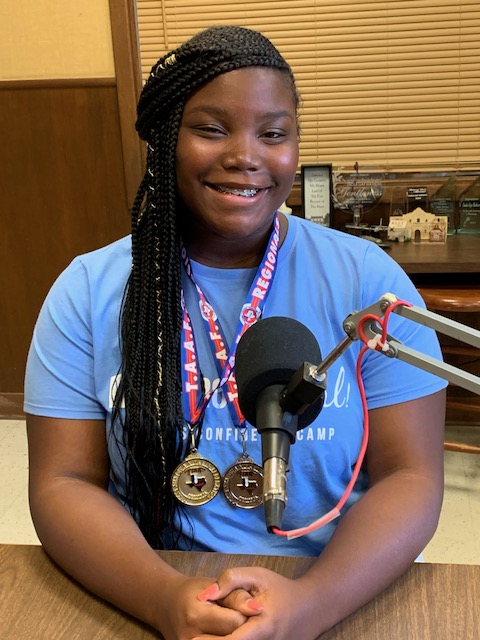 Although she has many family members and friends in the area, Miss Jayden Holly will be entering the Sulphur Springs School District for the first time in the Fall as a student athlete. In a follow up story on Jayden's trip to the Texas Amateur Athletics Federation Games this summer where she participated in shotput and discus, here is her report in her own words.
"I PARTICIPATED IN TEXAS AMATEUR ATHLETIC FEDERATION "GAMES OF TEXAS" IN JULY. THERE WERE HUNDREDS OF YOUTH THERE AT THE GAMES, AGES 6 TO 18, FROM ALL OVER TEXAS ON SATURDAY JULY 28 AT BRYAN COLLEGE STATION.
MY SPORTS ARE SHOTPUT AND DISCUS. I COMPETED IN THE 13 AND 14 YEAR OLD DIVISION.
IN SHOTPUT, THERE WERE 52 COMPETITORS. I GOT FOUR TRIES TO THROW MY LONGEST SHOTPUT. MY LONGEST THROW WAS 33.7. MY ACTUAL COMPETITION ONLY TOOK ABOUT 20 SECONDS EACH TIME BUT THE WHOLE SHOTPUT CONTEST TOOK OVER 2 HOURS. THEN WE WENT TO DISCUS.
IN DISCUS, I HAD 49 OPPONENTS IN THE 13 AND 14 YEAR OLD DIVISION. I GOT THREE TRIES TO THROW MY FARTHEST. MY BEST DISTANCE WAS 80.5. SO I MADE THE PRELIMINARY FINALS. LATER, I GOT TO THROW ANOTHER THREE TRIES, AND MY LONGEST THERE WAS A 77.2, SO I DIDN'T DO AS WELL AS I HAD HOPED. WE WERE TIRED AND IT WAS VERY HOT ON THE FIELD! WE DID HAVE MIST FANS TO STAND UNDER AND THAT HELPED! SO I ENDED UP WITH 7TH PLACE OVERALL IN DISCUS AND I WAS PLEASED WITH THAT.
THAT SAME NIGHT, THE RECOGNITION CEREMONY WAS SET UP LIKE AN OUTDOOR OLYMPIC STAGE, AND THE TOP THREE COMPETITORS IN EACH SPORT GOT TO RECEIVE THEIR MEDALS. AS 7TH AND 9TH, I RECEIVED A RIBBON FOR EACH SPORT. THEN WE ALL TOOK PART IN THE AWARDS PARADE THROUGH THE TOWN OF BRYAN COLLEGE STATION.
WHEN SCHOOL STARTS, I WILL BE A LADY WILDCAT PLAYING VOLLEYBALL AND I HOPE TO PLAY BASKETBALL AND CONTINUE IN TRACK SPORTS. AT SCHOOL. AND NEXT SUMMER, I PLAN TO BRING HOME A MEDAL IN TEXAS AMATEUR ATHLETIC FEDERATION 'GAMES OF TEXAS'!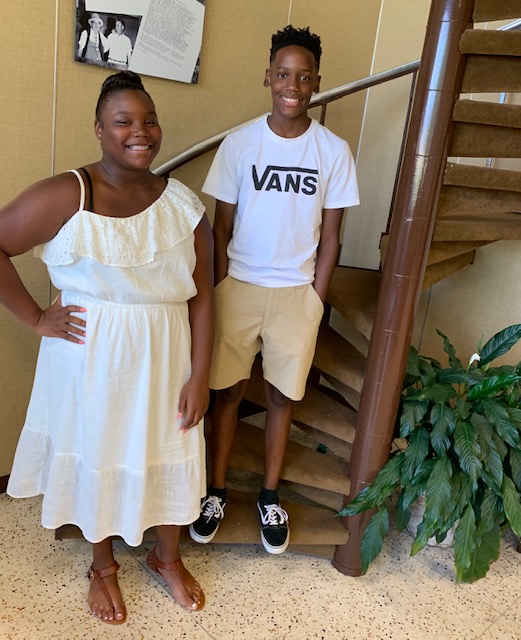 Jayden will be a Freshman who, along with participating in sports, hopes to become a Sulphur Springs Blue Blaze during her high school tenure. Also, along with Cadyn Spigner, Jayden has been a student intern at KSST for a portion of the summer through Morning Chapel Missionary Baptist Church' youth program started by Reverend H.B.Nash and Deacon Pete Nash.