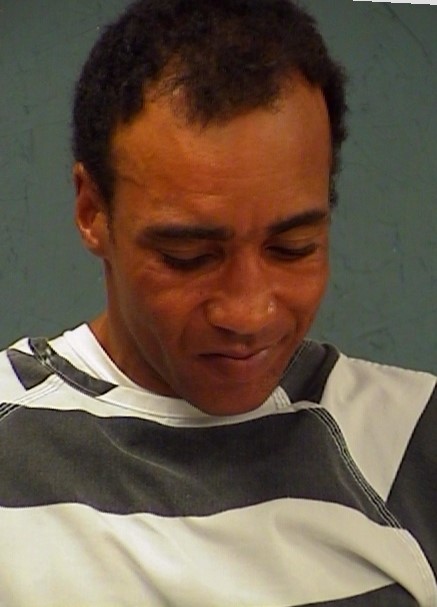 Sulphur Springs Police have identified the man accused of assaulting a woman, taking her car, engaging in a vehicle then foot pursuit with police Wednesday afternoon as 47-year-old Terence Ramon Beachem of Sulphur Springs.
Beachem was arrested at 1:41 p.m. Aug. 28 on Helm Lane at Kadi Lane by Sulphur Springs Police Sgt. Jameison Hawkins and Sgt. Brandon Mayes for burglary of a habitation with intent to commit another felony, evading arrest or detention with a vehicle and unauthorized use of a motor vehicle, according to police reports.
Police were reportedly dispatched during the noon hour to the 300 block of West Park Street just, where someone was reportedly heard screaming for help in a residence, the officers alleged in arrest reports. Initial police reports were that a loud noise that sounded like a gunshot was also reported.
While en route, officers received information that the suspect, Beachem, had assaulted the homeowner, then stole her vehicle, a maroon Toyota Camry.
Officer Hawkins reportedly spotted the car and attempted to stop it at the E-Z Mart store on Helm Lane at East Shannon Road. Beachem allegedly took off in the woman's car when the officers turned on the lights on his patrol vehicle. Beachem allegedly wrecked the car in the nearby Quail Ridge Apartments parking lot and fled on foot.
After a search, Beachem was located and taken into custody. Police Wednesday reported he had forced entry into the residence where he was found.
Instead of being taken directly to jail, Beachem was reportedly transported to the hospital to have medical treatment for injuries that occurred during the West Park Street disturbance.
Police alleged the man had assaulted the West Park Street homeowner. He allegedly kicked in the back door of her residence, and choked her and punched her in the face and head area multiple times with a closed fist, Hawkins and Mayes alleged in arrest reports.
Beachem was allegedly injured during the physical altercation, leaving DNA evidence at the West Park Street residence before taking off in the woman's car, a police detective reported Wednesday.
Once released from the hospital, Beachem was jailed on all three felony charges. He remained in the county jail Thursday morning. Bond was set at $100,000 on the first-degree felony burglary with intent to commit another felony charge, $50,000 on the third-degree felony evading arrest charge and $25,000 on the felony unauthorized use of a motor vehicle charge, according to jail reports.
The arrest marks the third time Beachem has been arrested and jailed locally this summer, and fifth time since July of 2018. He was arrested for public intoxication on Aug. 18, and PI and possession of drug paraphernalia on Aug. 24, 2019, according to jail reports.
Beachem was arrested on July 5, 2018, for public intoxication and criminal mischief; and on Aug. 12, 2018, for aggravated assault of a date, family or household member with a deadly weapon, criminal mischief, evading arrest or detention, and violation of parole.
The August 2018 charges stem from an incident in which Beachem allegedly rammed the car his girlfriend's son was driving downtown, then lost control of his vehicle and left Main Street, causing a large amount of damage to Celebration Plaza, officers alleged in Beachem's 2018 arrest reports.
Jail records show Beachem has an extensive criminal history dating back to 1989 that includes prior burglary, unauthorized use of a vehicle and assault arrests.