Texas Heritage National Bank President Dwyatt Bell appeared on the KSST Good Morning Show along with Mario Villarino, Hopkins County Agri-life Extension agent and talked about the annual Ribeye Roundup competition. The 2019 event will be held on Saturday October 5 on Celebration Plaza. The event will consist of educational programs about ranching, team competition in cooking ribeye steaks, a sit-down outdoor dinner at 6:30 pm, and a free concert for everyone by Texas musician Mike Ryan. Tickets are $25 each are available at Texas Heritage National Bank, 215 North Hillcrest Drive in Sulphur Springs, or at texashnb.com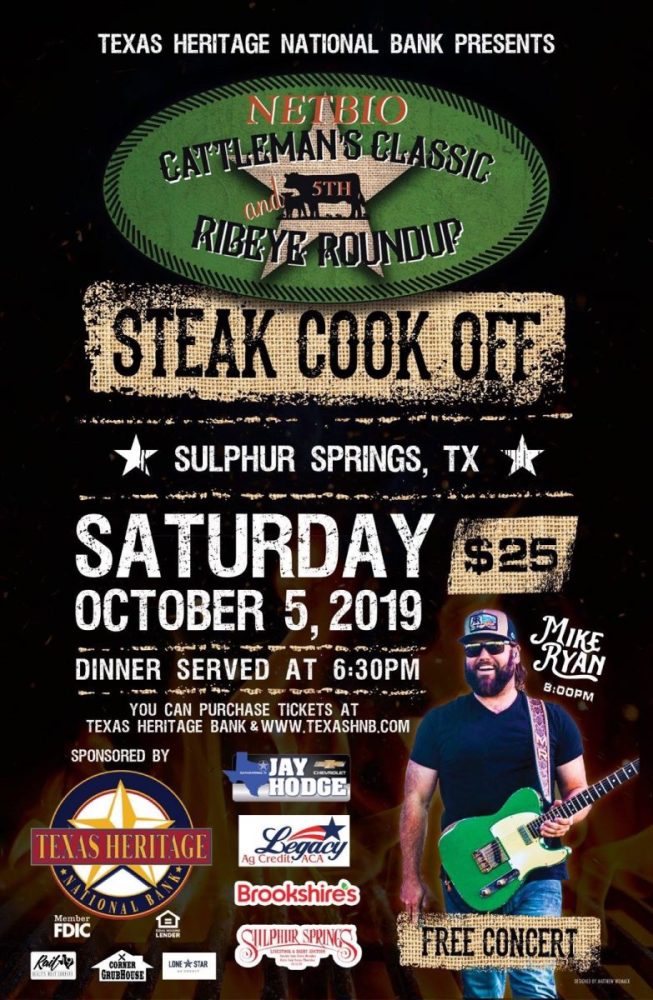 Come to Celebration Plaza during the afternoon of Saturday October 5, Hopkins County Beef Day, to learn more about the dietary and economic advantages of raising and consuming beef, as well as the historical aspects of the industry. You are encouraged to visit the "Cattle Trail" series of interesting teaching stations arranged around Celebration Plaza, free to visit. There will also be an area for hors d'oeuvres and wine pairings. Prior to the dinner hour, competition will get fired up as the ribeye cooking teams (Open and Restaurant) select their steaks and begin preparing the beef for the 6 pm and 6:30 pm dinner seatings. Judging will be done by an elite panel involved in the beef industry. After dinner, winning teams will be announced with prestigious awards and $6,500 total in prizes, and the event will wrap up with the concert. This year, a Children's Burger Cooking contest for ages 5-15 has been added.
According to Bell, the annual fundraising event benefits the NETBIO organization which serves beef cattle ranchers in 50 counties throughout Northeast Texas. The North East Texas Beef Improvement Organization was created 21 years ago by a group of independent cow/calf producers and agribusiness representatives working together to enhance the beef industry in Northeast Texas. NETBIO works in conjunction with the Texas A&M Agri-Life Extension Office. NETBIO was developed in cooperation with the Sulphur Springs Livestock Commission, a special premium stocker and feeder calf sale where producers can offer their pre-conditioned calves in load lots. NETBIO sales are held several times each year providing an improved market for beef cattle raisers with small to large operations.