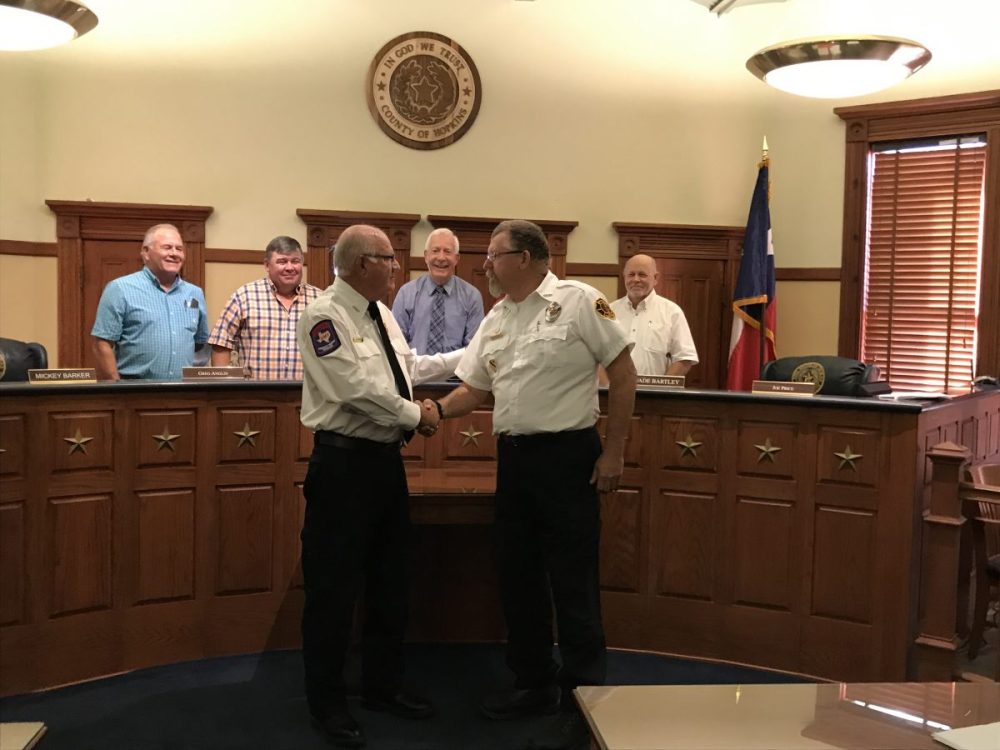 A handshake between North Hopkins Volunteer Fire Department Chief Bobby Harris and South Sulphur VFD Chief Jim Rich marked what Hopkins County Judge Robert Newsom called a "historic moment" in county history.
The two departments have agreed, with approval of Hopkins County Commissioner Court, to merge their departments to better maximize the resources of both departments.
There are still several details to work out in regard to the combining of the two stations, including some financial matters. The new North Hopkins-South Sulphur VFD plans to add a substation in the near future to house part of the apparatus and give the area a second station from which department members can more quickly respond to calls in the north and western portions of Hopkins County as needed. The court appointed Harris as chief of the newly combined department.
The combined department and additional station should also help lower ISO ratings, which should mean lower insurance rates for many residents within 5 miles of each station.
"Bobby and I have a good working relationship, which makes this possible with the tight funds and available volunteers," said Rich.
"This is for the residents. Jim and I want to help our community. If we do our part together, we can pool our resources in the community and pool different resources," said Harris.
That spirit of cooperation and potential for more efficient and productive use of resources were the motivating factors for the commissioners court to unanimously passed a resolution in favor of the combining of departments, according to Newsom.