August 16, 2019 – The 20-year-old man who allegedly fled from Cumby police to Royse City, where he was arrested inside of a Walmart, has been identified as Jordan Isaiah Cockrum.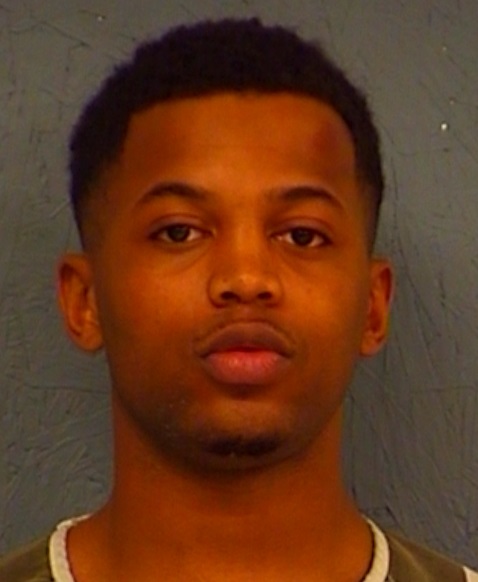 Cockrum was transported Thursday evening to Hopkins County jail, where he remained Friday morning in lieu of $2,000 bond on a resisting arrest charge, $35,000 bond on an aggravated assault with a deadly weapon charge and $15,000 bond on an evading arrest or detention with a motor vehicle charge, according to jail reports.
According to Cumby Police Officer Zack Steward, he first noticed the blue Chrysler 200 traveling at a high rate of speed as it passed him on Interstate 30 west at FM 499, where he was sitting stationary Thursday, Aug. 15. Steward alleged the vehicle showed on his radar to be traveling westward at 100 miles per hour. He advised dispatchers at 9:52 a.m. that he was trying to catch up to it to stop it.
The vehicle stopped at the 107 mile marker on I-30 west. Steward reported he approached the car from the passenger's side and received identifying information for the driver, identified in arrest reports as Jordan Cockrum.
Steward reported asking Cockrum to step out of the car and to stand behind it. He reported receiving permission from Cockrum to search the car. Steward alleged finding a black and white fanny pack with money and a silver snub-nosed revolver pistol inside of it in the car.
The Cumby policeman alleged Cockrum began to resist when he attempted to place handcuffs on him to detain him as a safety precaution. Cockrum allegedly gained access to the fanny pack, swinging it at and striking Steward on the right side of his face.
Steward alleged a Taser was deployed and the driver re-entered his car and fled in it. The Cumby officer reportedly advised dispatchers he was pursuing the car.
At 10:11 a.m., Steward told dispatchers money was being thrown out of the vehicle he was pursuing at the 104 mile marker on I-30 east, and people were picking it up. Officers responded to aid in collecting the tossed items as evidence, according to sheriff's reports.
Other officers along Interstate 30 were reportedly alerted and became involved in the pursuit. The vehicle crashed in Royse City, in the area of I-30 and Erby Campbell Boulevard, and Cockrum ran into the Royse City Walmart, according to Cumby and Royse City police reports.
Royse City police, Rockwall County sheriff deputies and Texas Department of Public Safety Troopers set up a perimeter around the area. Walmart employees and citizens were evacuated from the store.
With assistance of a police canine, officials searched the store and found the suspect hiding inside. Cockrum was arrested and taken to the near by jail, then later transported to Hopkins County jail, where he was booked for aggravated assault with a deadly weapon, resisting arrest and evading arrest or detention with a motor vehicle, according to arrest and police reports.