Many adults will recall working hard to earn a gold star on paperwork. Texans who haven't renewed their driver's licenses or state ID cards since 2016 will receive a gold star from Texas Department of Public Safety if they do so before Oct. 1, 2020.
Those who don't renew before Oct. 1, 2020, could be barred from boarding domestic flights and federal buildings, per the REAL ID Act of 2005.
And, that's just one of the more recent laws which affect people's driver's licenses.
REAL ID Act
Congress passed the REAL ID Act to strengthen the security of state-issued cards to reduce identity fraud and terrorism. The card is designed to include additional security features, and more security and protection of personal information during the issuance process.
What it means for Texans is potentially having to renew your license or ID card sooner than anticipated and producing additional documentation when doing so. The REAL ID Act requires for issuance of an ID card or driver's license proof of identity, date of birth, Social Security number, lawful status and primary residence address; all from verified documents.
Since October 2016, when Texans renew driver's licenses and state IDs, the new card is issued with the REAL ID star on them, according to Texas Department of Public Safety.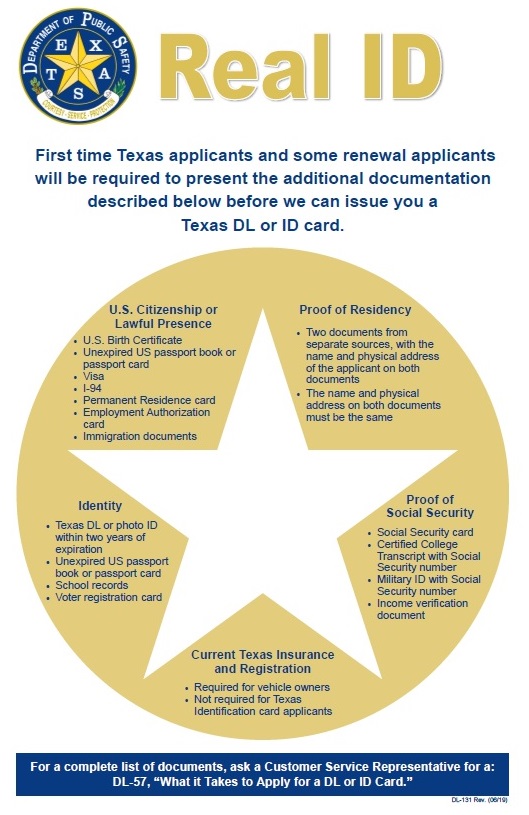 Card holders will be allowed to renew their Texas driver's licenses or ID cards up to two years in advance of expiration date, according to a letter being mailed by Texas Department of Public Safety.
All active Texas drivers' licenses and identification cards are valid until the expiration date shown on the card, and can be used for state-related ID purposes such as driving, banking and voting. However, if the card doesn't have that gold start on it by Oct. 1, 2020, the Transportation Security Administration doesn't have to allow the card holder to board domestic flights or enter secure federal facilities.
Driver Responsibility Program Repeal
The repeal of the Driver Responsibility Program could mean fewer fees for some drivers and potentially getting their license back sooner. The program ends on Sept. 1 (this Sunday).
All surcharge assessments will be waived and no future surcharges will be assessed after Sept. 1. However, drives will still be responsible for any other suspensions, fines or fees on your driving record.
Surcharge payments must be made and individuals owing them will be held accountable through Sept. 1. They are waived afterward. All other fees still apply. Individuals whose driving privileges are currently suspended for surcharges have to wait until Sept. 1 to file for renewal at a driver's license office.
DPS will no longer assess DRP points for moving violations. Any previously assessed points will be removed from individuals' records. However, drivers should note any suspensions that resulted from surcharges while DRP was in effect will remain on their driving history.
The repeal also does not wipe out failure to appear surcharges.
Visit the DPS website for more information about the DRP repeal and how it impacts drivers and their license.
The House Bill repealing the DRP stipulates that to help build the designated trauma facility and emergency medical services account previously funded through the DRP surcharges, additional fees will be assessed at the state level.
Motorists will pay $20 more for state traffic fines, with 1 percent of the service fee less going to municipalities and counties. All motorist will pay more in insurance fees to the Automobile Burglary and Theft Prevention Authority, with 20 percent of that amount going to the fund. People convicted on alcohol driving offenses will pay an additional fine.