The merchant members of the Downtown Business Alliance invite you to celebrate Sulphur Springs at the Brick Street Vintage Market coming up on Saturday September 21, 2019. Find out all the exciting details below!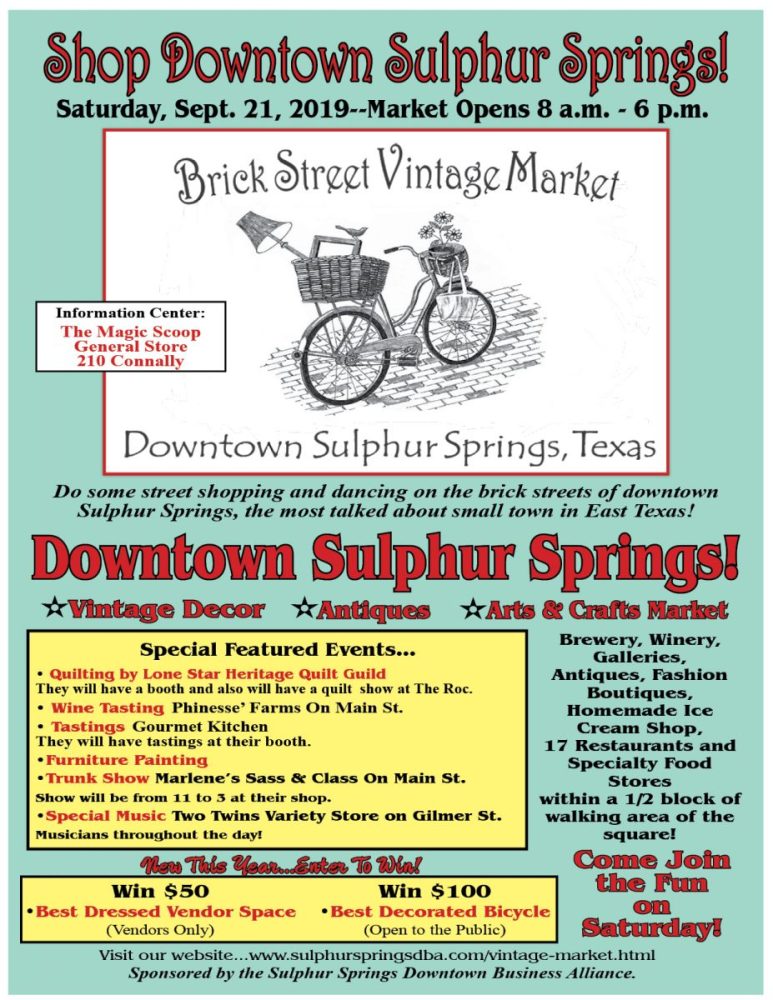 The one-day Brick Street Market will be open on Saturday September 21, 2019 to offer street shopping, tastings, trunk showings, live music and an arts, crafts, antique and vintage decor market. In fact, Brick Street Market invites all local residents and out-of-town visitors to discover and enjoy the fun demonstrations as well as the local brewery, winery, galleries, retail and boutiques, and 17 different specialty food shops, restaurants, cafe's, coffee shops and ice cream shops located within a half-block of Celebration Plaza, downtown Sulphur Springs! Brick Street Market is an annual outdoor event put on by the Downtown Business Alliance. Maps and other printed information will be available at the Information Center located inside The Magic Scoop General Store at 210 Connally Street.
There will be a Best-Decorated Bicycle Contest which is open to the public. The prize is $100! Just bring your decorated bicycle and enter it! More vendors are also needed, and there is a $50 prize for Best Decorated Vendor Booth. If you would like to be a vendor, please contact sulphurspringsdba.com/vintage-market.html to sign up and pay booth fee. Many other surprises await visitors in the form of coupons, discounts and gift bags. For exciting details, go to sulphurspringsdba.com.
In addition to the shopping aspect of Brick Street Market, visitors are encouraged to take in the annual Lone Star Heritage Quilt Show going on nearby from 9am til 3pm on Saturday September 21 at The Roc, 115 Putman Street. (also open Friday September 20 from 9am til 5pm) Located just 2 blocks from Brick Street Market, it's in pleasant walking distance. Also, while visiting downtown Sulphur Springs, feel free to see the historic Hopkins County Courthouse and Veterans Memorial Park, the Open Water Fountain Park and the famous Glass Restrooms. Your invitation is also the slogan of the Downtown Business Alliance, "come to Sulphur Springs for the day, the night or the rest of your life!"