Not only will Cumby Independent School District students still be able to enjoy a free breakfast and pre-kindergarten students free lunches too this year, but all Cumby ISD students will have more choices when they go through the line for lunch.
Recognizing the importance of quality meals to students' learning development, Cumby ISD administrators were given approval to enter into a partnership with FoodService Peeps to improve the school meal program, by offering more options to temp students' appetites.
"FSP brings many years of experience and expertise in managing Child Nutrition programs. FSP will be working to identify opportunities to improve our Child Nutrition Program to better serve our students body, teacher, parents and administrators," CISD Superintendent Shelly Slaughter stated in a letter to parents of CISD students.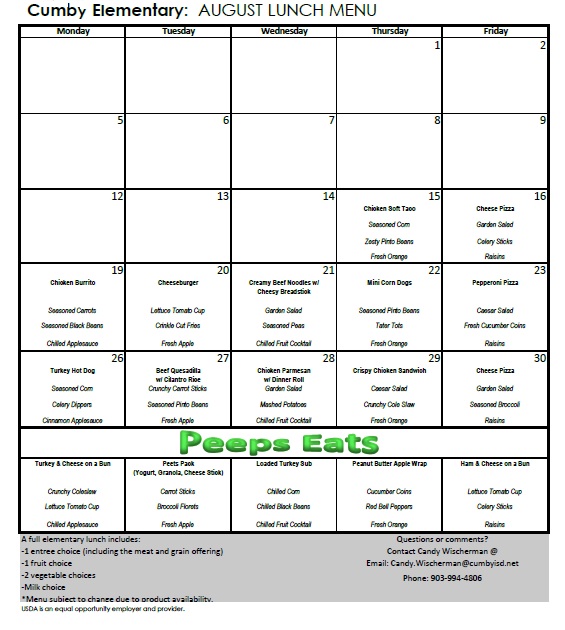 All full elementary menus include one entree choice with meat and grain, one fruit choice, two vegetable choices, and a milk choice.
For instance, Monday, Aug. 19, the main lunch menu for elementary and junior high students includes a chicken burrito, seasoned carrots, seasoned black beans and chilled applesauce. The Peeps eats also offers an alternate menu of turkey and cheese on a bun, crunch coleslaw, lettuce and tomato cup, and chilled applesauce.
High school students on will have a choice of one entree with meat and grain offering, two fruit choices, two vegetable choices and milk. They will have chef's choice, pies, grilled, fresh grabs and garden sides to choose from. For Monday, Aug. 19, their options will be chicken stir fry with Asian brown rice, an egg roll and green beans; cheese pie (pizza); a grilled chicken wrap with chips and salsa, and lettuce and tomato; a chef salad with croutons and crackers; and a salad with cucumber coins, carrot sticks, raisins and chilled peaches.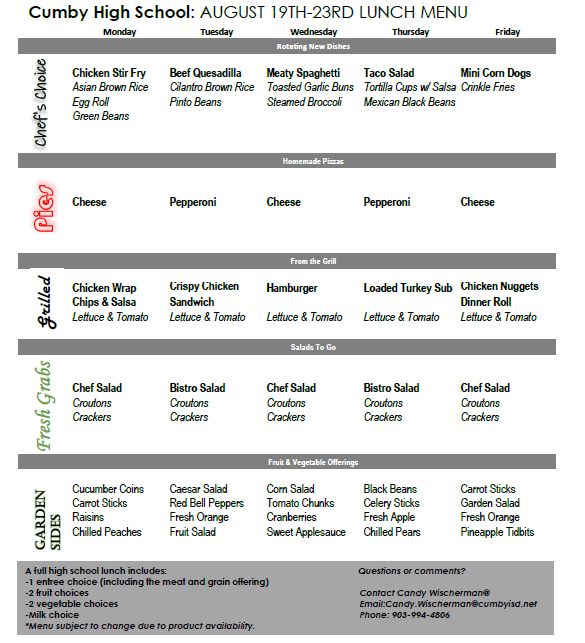 Lunch prices for 2019-2020 for junior high and high school students will be $2.40. Lunch for elementary students, with the exception of pre-k kids, will be $2.15 this year. However, some students may qualify for free or reduced lunch prices through the National School Lunch program. Those who qualify for reduce meals will pay on 40-cents for lunch, and free pay no fee.
Any parents who have yet to complete and return a National School Lunch Application for their students are urged to do so as soon as possible to "avoid any unnecessary hardship on your students."
"It is critical that all parents complete the National School Lunch Application since it will provide additional streams of federal funding to Cumby ISD," Slaughter noted.
Cumby ISD also implemented a "Charge Policy of up to $ $20.00," effective as the Aug. 15 start of classes for all students.
Adult lunch prices this year will be $3.75 and breakfast $1.50.
The campus will, however, be closed to all outside food vendors and deliveries as part of new safety initiatives to strengthen overall campus security, according to Slaughter.