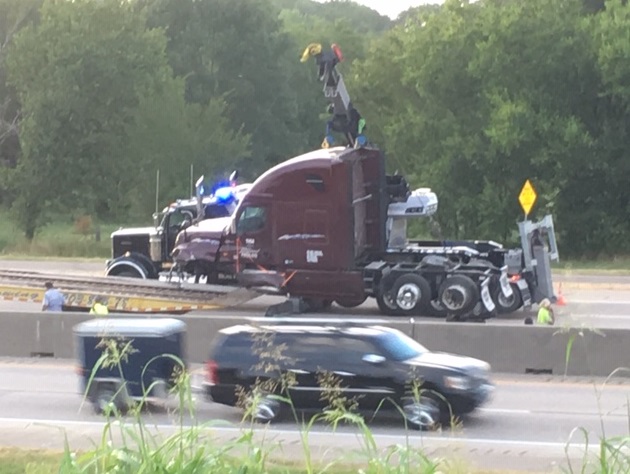 Traffic on Interstate 30 between Sulphur Springs and Cumby was hampered Monday afternoon following a series of crashes and vehicle issues in Brashear. While no life-threatening injuries were reported, traffic was impacted along that stretch for more than 5 hours as law enforcement, firefighters, EMS personnel and tow truck drivers worked at each site.
According to sheriff's reports, an eastbound 18-wheeler crashed into the wall between the east and westbound lanes of traffic on I-30 around mile marker 118 near FM 3385, just before 2:30 p.m. July 29, and emergency responders didn't clear that crash until about 5:25 p.m, according to reports. That's after a vehicle about 1:30 p.m. Monday requested a tow truck at the 120 mile marker on I-30 west, where a vehicle became disabled, likely due to a broken belt.
Additional crashes were reported to be spin-off of the 18-wheeler crash, according to sheriff's reports.
A two car crash was reported at the 119 mile marker of westbound I-30 about 3:40 p.m. Monday, partially blocking the right lane of traffic; emergency officials remained at that site until about 7:45 p.m., reports noted.
At 4 p.m., a crash at the 118 mile marker on I-30 east required additional firefighters to respond as an axle reportedly needed to be cut to remove a vehicle. Crews remained at that location until until about 7:30 p.m., according to sheriff's reports.
Another two-vehicle crash was reported at about 4:50 p.m. near mile maker 119 on I-30 west. That one took only until about 5:30 p.m. to clear the roadway, according to reports.