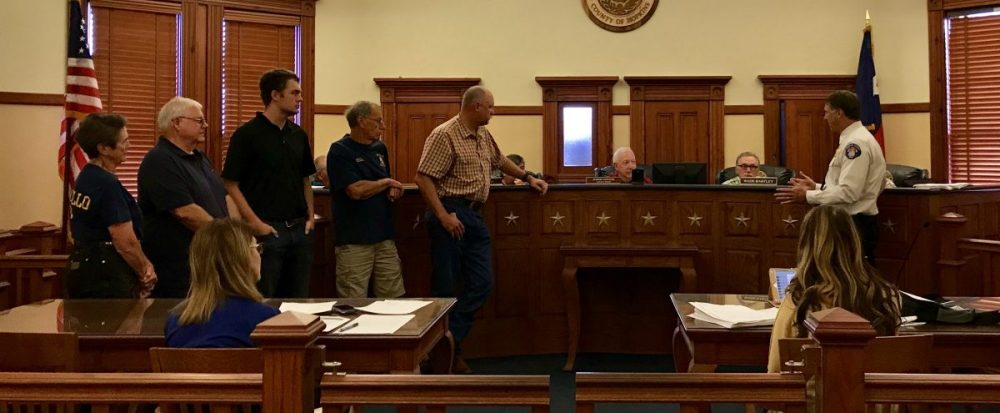 Saltillo Volunteer Fire Department was recognized by Hopkins County Commissioners Court and Fire Chief Andy Endsley for 43 years of dedicated service to the community.
"One thing about Saltillo, you can always depend on them coming if you have a call in their area. They will be there," said HCFD Chief Endsley. "They are a very valuable asset to the county, to Hopkins County Fire Department."
The court and fire chief, as part of Hopkins County Fire Department's year-long 20th anniversary celebration have opted to recognize a different volunteer fire department each month.
"We are coming back and celebrating all the volunteer fire departments because with out them, we wouldn't be where we're at today. Saltillo is a key part of this whole system at work here in Hopkins County. It's a great system. Hats off to each and every one of you," Endsley told the Saltillo VFD members present in Hopkins County Commissioner Court Monday morning to receive a framed proclamation honoring the department.
Precinct 3 Commissioner Wade Bartley thanked Saltillo VFD, which he said sets a good example for all departments in the manner in which they conduct themselves.
"You do a great job, and I appreciate you being in Precinct 3," Bartley said.
Endsley said one of the things he's enjoyed most about the HCFD's year-long celebration and monthly recognition of volunteer departments is getting to "learn so much about the backstories about all the volunteer departments."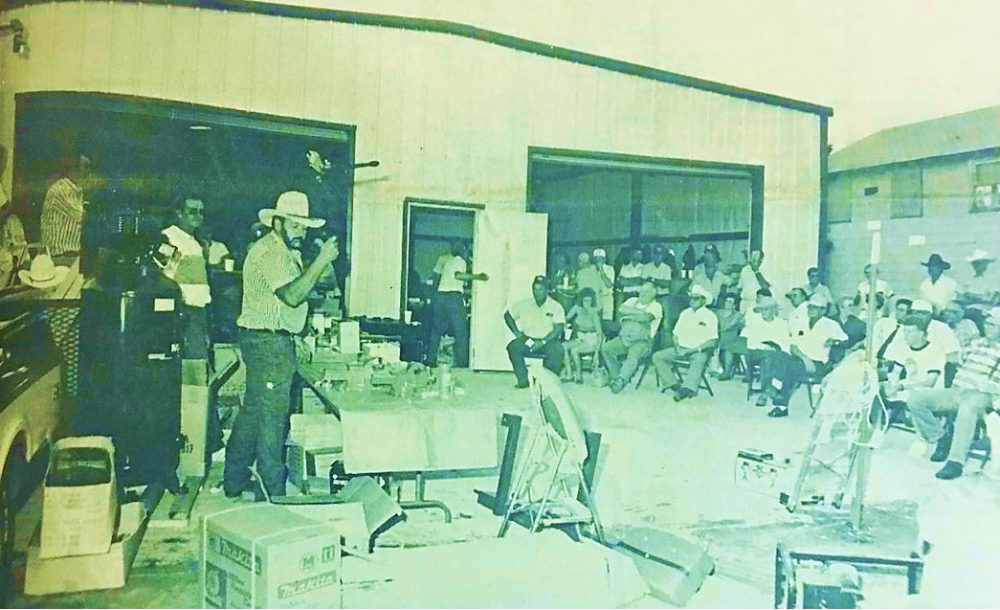 Saltillo VFD's story began in May of 1976. It was organized by Kerry Garmon, who served as president; Wendele Skeen who served as the department's first fire chief; and Bob Goswick and Timmy White, who served as the volunteer firefighters. However, it was originally named East Hopkins Volunteer Fire Department and later become known as the Saltillo Volunteer Fire Department. The department's first known fire apparatus was a 1976 Ford truck which was housed at the Saltillo School.
The property for the department's current location on U.S. Highway 67 was donated by Howard Collins, Matt P. Gibbs and Mollie White. The community in 1990 was involved in the construction of the 1,600-square foot, two bay building, according to the proclamation and VFD members.
In January 2006, the Patricia and Al Williard family provided a bay area at the end of their mechanic shop to form a substation in Weaver, providing a quicker response time for calls in the western part of Saltillo VFD's district.
At present, the department has three apparatus and 12 members, including President Tommy Winstead, Chief John Brian Beadle, Assistant Chief Mike Matthews, Secretary/Treasurer Dutch Vallaster, and firefighters Robert Sexton, Earl Gregory, Trey Thompson and Bruce Thompson supporting three fire apparatuses, according to the court proclamation.
"It's just amazing the hard work and dedication of all of our citizens that put into these around our communities they love and care for," said Endsley.
"It's a community effort and it takes everybody, especially in these rural areas," said Beadle. "It's everybody — a lot of them that aren't here today, just members of the community that help. It takes us all. We appreciate it."
Hopkins County Commissioners Court in issuing the proclamation urged "all citizens to applaud the outstanding efforts of the Saltillo Volunteer Fire Department, to recognize the dedication in their perseverance to provide protection for each citizen and their property and, offer heartfelt appreciation for the servanthood of each one."