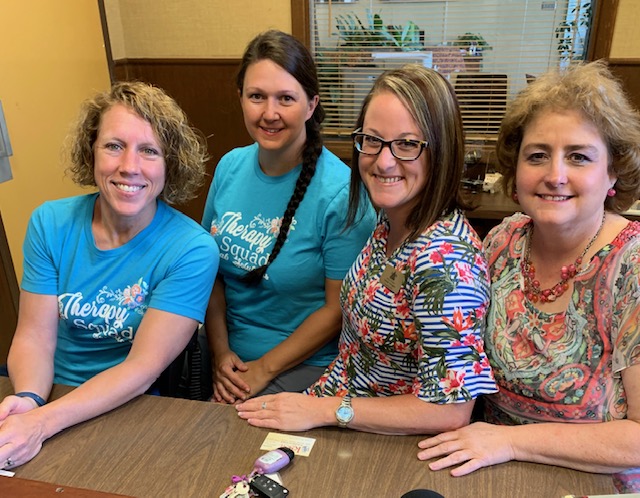 For local sufferers of Parkinson's Disease, their caregivers and loved ones, a Parkinson's Support Group is now being formed which will meet once a month at the Sulphur Springs Senior Citizens Center at 150 MLK Drive. These will be scheduled in noon hour meetings on the third Tuesday of each month, from 11:30 until 12:30. Center Director Karon Weatherman stated "Several different support groups which benefit the local senior population already meet at the Center, and when I got a request for a Parkinson's support group, I put the word out to the medical community. Angels Care Home Health stepped up, and I'm excited that this segment of our seniors population may now be better served". During a KSST Good Morning Show interview, Karon supplied more information on Parkinson's Disease, and Jennifer Scroggins introduced listeners to two professionals who make speech and movement therapies available locally which may offer improvement or slow the progression of some major impairments affecting Parkinson's sufferers.

According to mayoclinic.org, Parkinson's disease is a progressive nervous system disorder that affects movement. Symptoms start gradually, sometimes starting with a barely noticeable tremor in just one hand. Tremors are common, but the disorder also commonly causes stiffness or slowing of movement. In the early stages of Parkinson's disease, your face may show little or no expression. Your arms may not swing when you walk. Your speech may become soft or slurred. Parkinson's disease symptoms worsen as your condition progresses over time.
10 Symptoms of Parkinson's Onset
Tremors
Muscle Rigidity (Stiff Muscles)
Slowed Movement
Change in Posture
Weakened Facial and Throat Muscles
Freeze Gait
Small Handwriting
Trouble Sleeping
Constipation
Excessive Sweating
Parkinson's most often affects persons age 50 and older, but not always. A well-known case is that of actor Michael J. Fox who was age 31 when he was diagnosed. Although there is no cure at the present time, Parkinson's symptoms often respond to exercise and therapy. Angel's Care Home Health will be sponsoring the meetings. At the initial meeting on August 20, 2019, Angels Care Home Health will invite therapists with Rehab Solutions to educate how Therapy and Exercise can benefit those with Parkinson's Disease,and to better educate their caregivers and family members.
If you would like to learn more about Parkinson's Disease or learn how
to cope with it join us at the Senior Citizens Center on the 3rd Tuesday
of each month from 11:30 – 12:30. Refreshments will be served. Please let your friends and family know about this new Support Group!