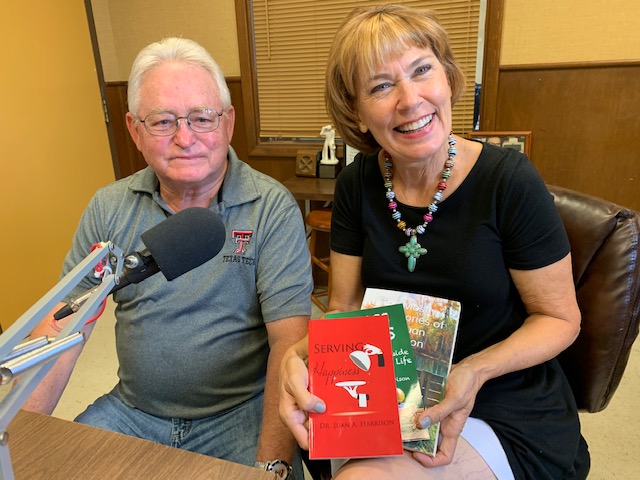 For forty-plus years, Juan Harrison has been an educator, and his teacher's heart still finds happiness in reaching out to, encouraging and assisting others. In fact, his first two books are entitled "Serving Happiness" and "Class Rules: A Principle's Guide to a Principled Life". Now, his third recently-published work, "Mostly True Tales" reveals wisdom and humor in the interwoven daily lives of people and real-life happenings in small-town communities such as Hopkins County. , the place he chose to make his family home. The book has 110 brief, easy-to-enjoy chapters on topics such as laughing at oneself, patriotism, forgiving others and ourselves, practical help with loneliness, finding what matters most in life, praise for grandparents and the importance of serving others to experience true happiness. Many, but not all his readers are older citizens and women age 55 plus and individuals who prize country humor and time-tested values.

Harrison's three large-print soft-bound books are available on Amazon at $10 each, on Kindle and are on the shelf at some Barnes and Noble stores. You can also purchase copies on Saturday July 20, 2019 at 6 pm at the Reilly Springs Jamboree, where Dr. Harrison will share some humorous anecdotes with the audience. The Jamboree is held on the third-Saturday monthly at the Reilly Springs Community Center, 109 CR 1439 in southeastern Hopkins County. Admission is $10 person for the country and gospel family entertainment in the historic venue.
Click Here to view the video story.
With an humble start to life, Dr. Juan Harrison was born on a farm in East Texas in 1945. His early struggles and the encouragement of his mother helped him become the first in his family to graduate from college. He received his doctorate degree in Education from Texas A and M University following military service. For the past 42 years, he has worked as a teacher, coach and elementary school principal, and was honored in 2012 as Hopkins County Educator of the Year. He published his first book "Serving Happiness"in 2015. He resides in Sulphur Springs with his wife Sheri, a 20-year elementary school teacher. They have two sons, Ryan and Clay. In addition to writing, Dr, Harrison posts a column on Facebook each Friday at 1 pm and has over a thousand followers of his weekly stories of encouragement. To invite Dr.Harrison to speak at your school, church or organization, send an email to [email protected]