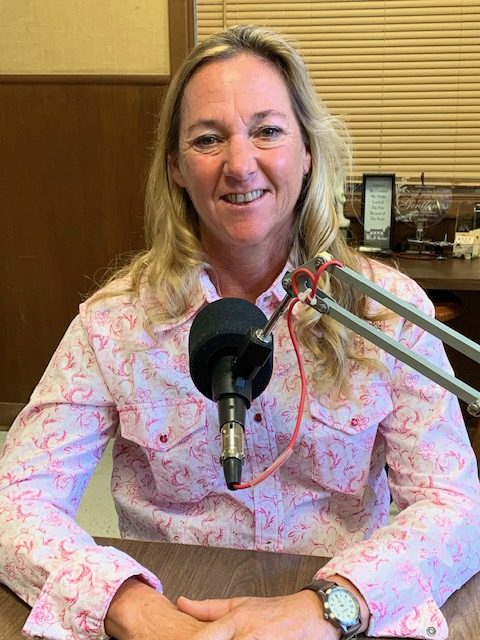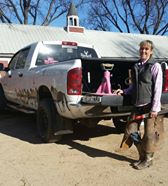 Elizabeth Bass Pettit has recently moved to Hopkins County and she brought her established career skills with her, trimming and shoeing horses. Admittedly, it's thought of as a man's industry, but there is the exception to every rule, and she is that exception. Eli has made her living for the past 30 years caring for possibly the most dangerous part of a horse, it's hoofs. Eli came here from Colorado, so getting acclimated to the Texas summer heat and humidity was one of her initial challenges. However, she feels that every day is an exciting adventure offering something new. "I love the smell of horses and the gift they give humans just by being horses. Even touching and petting them is therapeutic for humans of all ages. In my work as a farrier, I get that bonus as well as ensuring the health of their feet, an all-important part of horses' well-being and comfort".
Being a horse lover and then becoming inspired by the calm work of a farrier she watched at a friend's barn, Eli decided she would like to try horseshoeing herself. She attended and graduated from the Oklahoma Horseshoeing School and opened her business, Diamond E Horseshoeing. In time, she established a career in the Denver area where she gained a reputation that got her a lot of referral business. "I work on the horse, but I work for the client. That establishes a trusting and caring relationship with them and for their extended family, their horses. That relationship eventually reaches out to their friends and even to their kids as they grow up, competing and enjoying the pleasures of horse ownership. I enjoy being called back to work on their favorite mounts and new ones they acquire. And truly, the basis of my success has been that relationship of trust that exists between horse owners and their farrier. And they get over the fact that I'm a woman after they see my work!"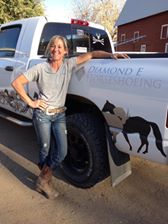 When she says that every day at work is an adventure, Eli means that she never knows what she will encounter when checking a horse's hooves. It's common to expect that the clients' horse or horses will be caught and tied up when she arrives, and hopefully sprayed for flies so the horse can stand still comfortably. Then she goes for the hoof, one at a time, inspecting and cleaning the interior with a pick. If the horse has a limp or is favoring a foot, the reason may be found during the regular inspection. It could be a rock or even a nail causing the discomfort. And simply trimming an overgrown hoof to the proper level can correct the horses step. Eli explains "some clients keep their horses shod, and others never put a shoe on a horse. It depends on the kind of work the horse is expected to do and what kind of surface they live on. Today, there are actually over a thousand different horse shoes on the market, made of various materials from steel to lightweight metals, plastics and even rubber. With all the equine performance sports today, horseshoeing has really become a science".
Eli is the daughter of Hillis Bass of Hopkins County and can be reached through her Diamond E Horseshoeing facebook page and at [email protected]