Bringing business to local merchants is part of the vision of the Downtown Business Alliance. Knowing that the Bright Star Quilt Guild's two-day 'Quilt Show' at The Roc brings a volume of visitors to Sulphur Springs annually, DBA members have designed an attraction to further enhance 'shopping local'! Brick Street Market, an outdoor vintage market, is set for Saturday September 21, 2019 and designed to also draw visitors to our downtown restaurants, boutiques and shops as well as to the Celebration Plaza area. Everyone, including we who live here, will love this one-day event! Here are some highlights of the July DBA meeting hosted on July 9, 2019 at Hope Smith Interior Designs.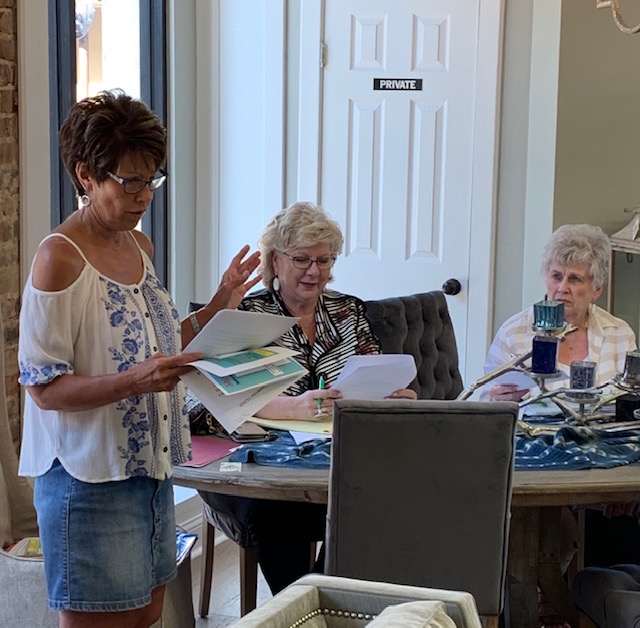 Judy Heilman, chairman of the Brick Street Market committee, reported that 57 vendors have already signed up, and that maximum vendor capacity is 65. If you want to claim space for a vendor booth of antique or vintage items, register quickly… remaining 10×10 spaces are $35. This year there will be lots of giveaways and prizes, and the first 100 shoppers who register at the Hospitality table will get a goodie bag of items. There's a new Ole Bicycle Decorating Contest for individuals and business owners with a $100 cash prize. Also new is a cash prize for Best of Show Vendor Space Decor. Judy added, "start watching for signs around town and posters on windows of businesses announcing Brick Street Market, and tell your friends!".
DBA member Danna Bain gave a report on the Highway 11 Treasure Trails and Buffalo Girls Flea Market set for October 11-13 in Winnsboro and in Sulphur Springs. Whether in town or along the Hwy 11 roadway east through the country, this is an excellent opportunity for downtown merchants to take merchandise 'to the people' who will be attending and shopping at these popular Fall retail events. Contact her at Danna's Florist, 438 Gilmer Street.
During the monthly DBA meeting, newly elected President Jason Tulley thanked everyone who has assisted him so far in his new role. Outgoing president Billie Ruth Standbridge also received his appreciative thanks for her excellent organizational skills while in office. Jason also reminded members that another big downtown event, the Heritage Square Antique Car Show, is coming up on Saturday November 2 and that members as well as volunteer will be needed to help in various capacities. There are numerous interesting and beneficial annual events put on by the DBA.
If you are interested in attending a meeting or becoming a member, meetings of the Sulphur Springs Downtown Business Alliance are held
on the 2nd Tuesday of each month at 5:30 pm at Hope Smith Interiors​,115 Gilmer Street​, downtown Sulphur Springs, TX. Visit sulphurspringsdba.com.
The purpose of the Downtown Business Alliance is to develop and maintain a working partnership with city and county governments as well as other advisory boards dedicated to the revitalization of Downtown Sulphur Springs, to provide support for all merchants and property owners and to encourage community pride in the Downtown Area, to recreate the charm and relaxed atmosphere of yesteryear, allowing our local citizens and visitors an enjoyable and diverse place to shop, dine and conduct business.