A gathering of about three dozen local officials, business representatives and community members joined Karen Neola at 49 Pioneer Parkway Monday morning to welcome her to Sulphur Springs and officially break ground on the site where she is expected in less than a year to begin production of her gourmet pet food products for pets.
Neola started My Perfect Pet after two of her dogs became severely ill 12 1/2 years ago, then lost Hunter. This was followed 2 months later by one of the largest pet food recalls in history.
The California business woman said she didn't set out intending to start a business. She didn't trust packaged pet food anymore, and wanted to make sure her babies were safe by controlling her pets food, by making it herself.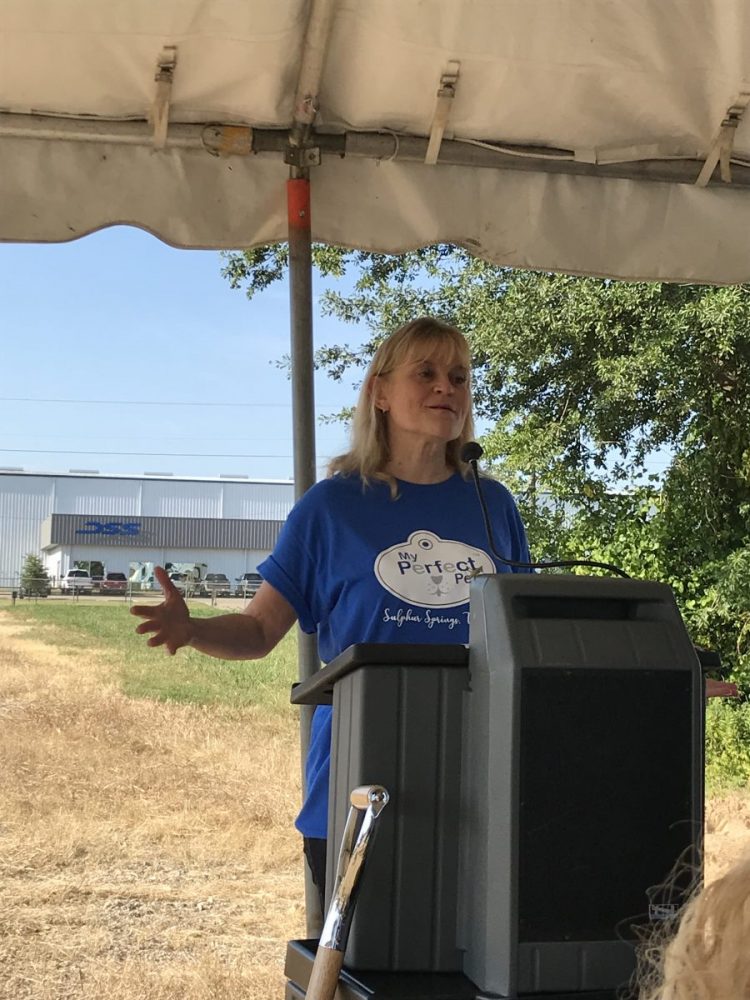 She said she decided if she was going to make it, it'd have to be perfect, like her pets, hence the company name My Perfect Pet. She began doing research to make sure pets dietary needs, appetites and pallets are met. In fact, she says she is still very dedicated to educating people about the various needs of their pets so that their diet is safe and healthy.
Only meat approved safe for human consumption will do for her pets and the My Perfect Pet production, Neola said. Meat is cooked at the minimum FDA prescribed temperature for food safety. The vegetables are added raw and whole for added nutritional value, and no preservatives are added. The food is frozen into bars, shipped frozen and distributed for retail sale.
The process started in Neola's own kitchen and grew into first a nonprofit, then transitioned into a business offering 10 different blends for dogs (including low glycemic and low phosphorus blends) and three blends for cats. Due to the costs of shipping frozen products across the country, Neola began looking for a more centralized location.
She admitted Sulphur Springs was one of several places she was considering. However, the Sulphur Springs location was chosen not only because of it's more centralized position in Northeast Texas, but for a few other reasons as well.
Neola said the attentiveness of the Sulphur Springs-Hopkins County Economic Development Corporation staff and board over the last 2 years as she's been considering her options made a big impact. They not only were always ready to answer any question she had, but often followed up on visits and questions, remaining in regular contact with her.
She complimented Mike Minton and the folks at Midwest Regional Bank, who are helping provide the financing that make the Sulphur Springs My Perfect Pet location possible.
Neola too complimented the community, which has been very welcoming. She said she'd returned on more than one occasion, without alerting the EDC of her presence, to look around and meet people to get a true feel for the community. She complimented Sulphur Springs on being "so welcoming" to a Southern California visitor, noting what a "friendly community" it is, one she feels she and her four-legged "child" Sweetheart would feel comfortable calling home.
During her visits, Neola even met a few other business people from California who will be My Perfect Pet neighbor's in the industrial park, and made a fast friend of another Southern California native who now calls Sulphur Springs home.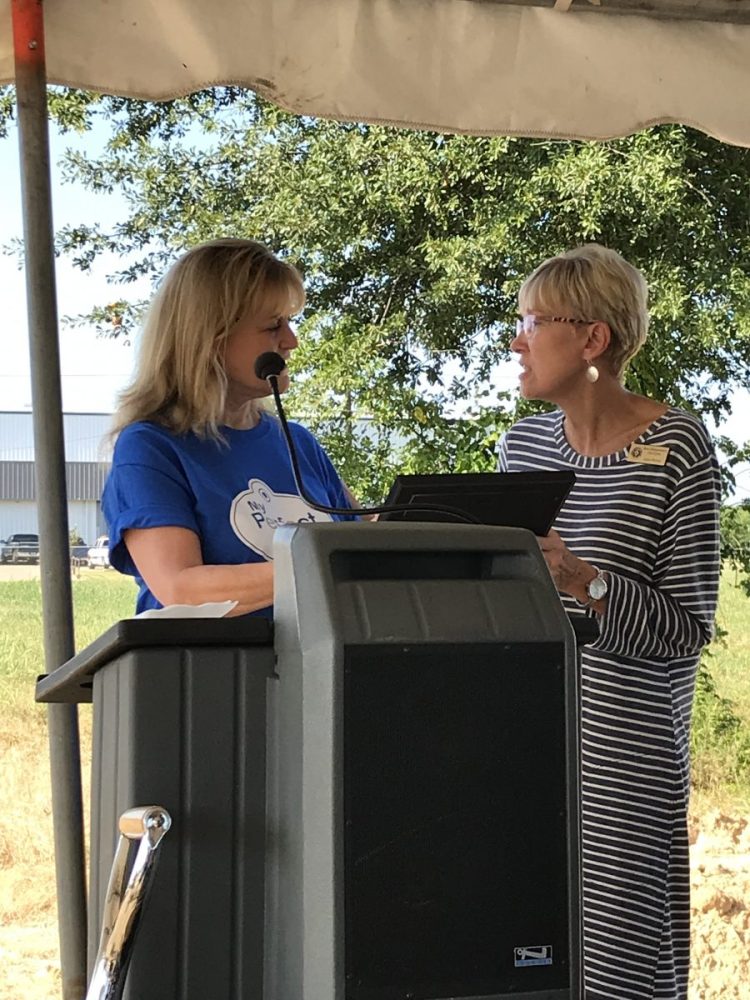 Adding to the welcoming at Wednesday's groundbreaking were congratulations sent from three state elected officials to welcome her to Texas. Many in attendance wore blue t-shirts with the My Perfect Pet logo to show support for the business.
The EDC worked with Neola for about 2 years before Neola committed to growing her business in Sulphur Springs. The operation in California contains a maximum of 15 employees; the Sulphur Springs production is geared toward reaching that goal at least as well.
Once all of the necessary permits have been attained, construction will begin on the nearly 20,000 square foot building, which will include insulated concrete that won't crack in the cool temperatures needed for freezers to store the gourmet pet food once it's ready. The construction process is expected to take 7-9 months, which would put the start of production expected in spring 2020.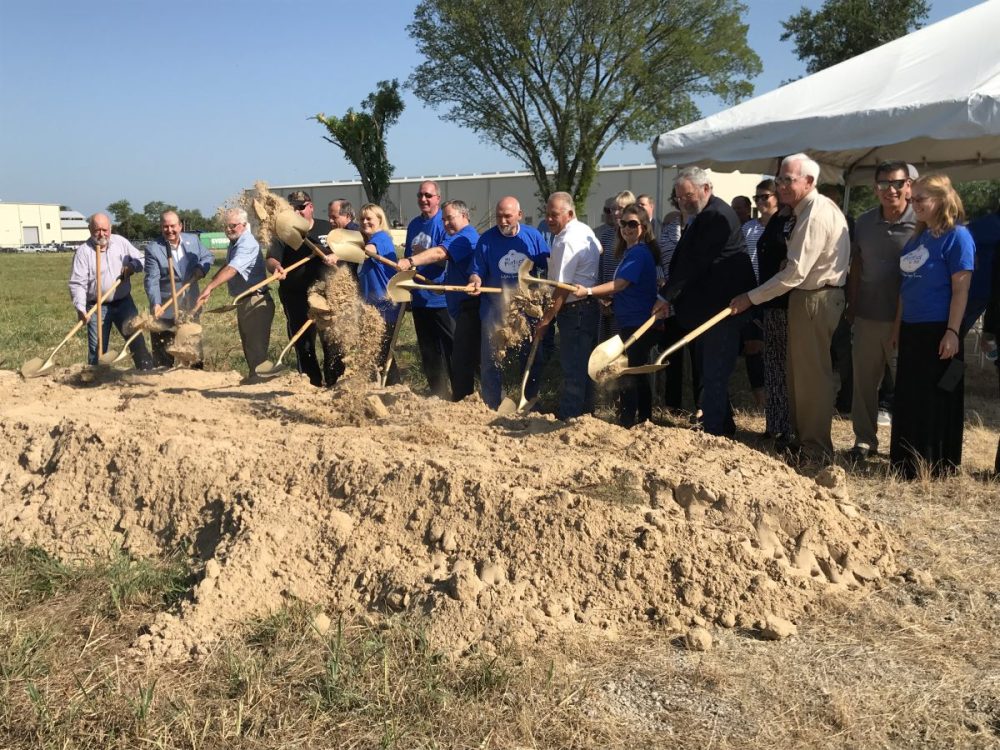 Currently, the closest retail outlets that offer My Perfect Pet products are in the Dallas area. However, orders for the gourmet pet food can be placed online at www.myperfectpetfood.com, and once the business is up and running, Neola says she hopes to be able to make it available in area retail outlets as well.
However, Neola says local resident can test the product for their pets by stopping at the EDC building on Industrial Drive in Sulphur Springs. Neola has provided some samples of the gourmet dog food products, which are being stored in a freezer at the EDC. Those whose pups like the food can purchase it at a special price while supplies last. She said she hopes to have some cat food samples available at the EDC in the future there as well.