Sheriff's Office Recognized For Assistance To Community
Bountiful blessings are served up each week at the Dinner Bell by volunteers, sponsors and patrons.
Each Tuesday a group of dedicated volunteers from First United Methodist, St. Philip's Episcopal and other churches gather to chop, stuff, dress and otherwise prepare what is often more than 100 pounds of vegetables and meats. They are then joined Wednesday by more community members, who dedicate their time to help cook and serve lunch to Dinner Bell patrons.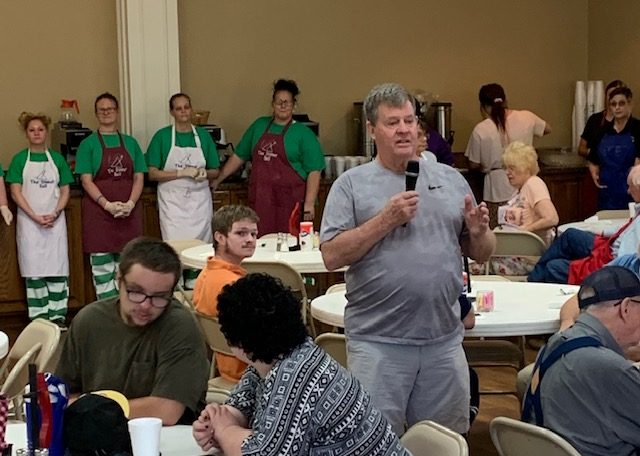 "We're happy to do it. It's a wonderful thing to be involved in," said Judy Gilreath with Dinner Bell.
People from community businesses and organizations too get in on the blessing by helping to sponsor the costs of food for the weekly meal and helping serve those who partake of it.
"If you want to help, we want you," said Gilreath.
This week, Dinner Bell Chair Jimmy Jones extended special thanks to Hopkins County Sheriff Lewis Tatum and the sheriff's office for "all the assistance given to the community." One of the many ways that's done is through the sheriff's office's trustees program.
Jones expressed appreciation to the county employee and jail trustees in the program for their help each week at Dinner Bell, as well as the sheriff and staff for providing it.
Male trustees, under the supervision of a county employee, arrive early each week to set up tables for Dinner Bell patrons, eat with them, then take down and store the tables and chairs so they're returned to order for other church activities. This week, Dinner Bell volunteers were also joined by a group of female trustees, sheriff's office staff and emergency management personnel, who were excited to have the opportunity to help out serve.
"They are a service to us. Thank you, sheriff's office, for providing this service to us," said Jones said prior to the July 24 meal.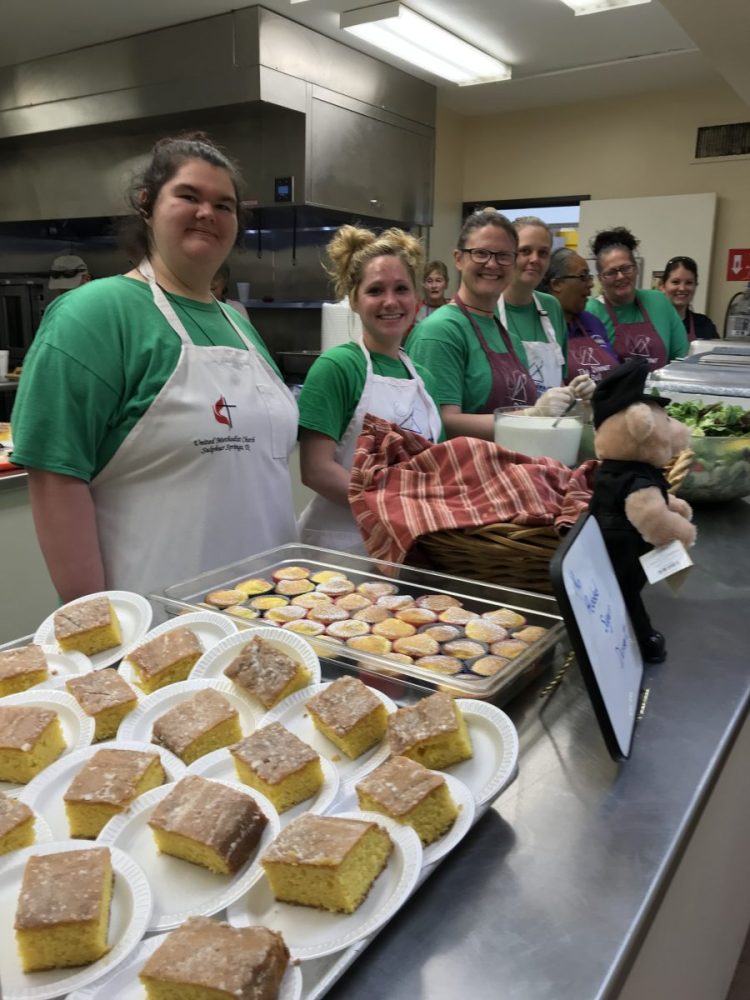 Anyone or business interested in volunteering or sponsoring a Wednesday Dinner Bell meal is encouraged to call 903-885-2185.
The Dinner Bell ministry was started to help combat hunger in Hopkins County by providing fresh, hot, nutritious meals to anyone in need of a lunch on Wednesdays. The first meals were served on Feb. 1, 2012.
On average, 175 plates are served to people of all ages, from children to elderly, who visit FUMC's Fellowship Hall each Wednesday at 11:45 a.m. This week, 205 plates of food were served at Dinner Bell.
Usually, 25-30 of the meals are put in take-out containers and delivered by volunteers to FUMC church members who are home bound. The rest are served on-site.
No one is turned away, and patrons who want seconds can go back through the line again.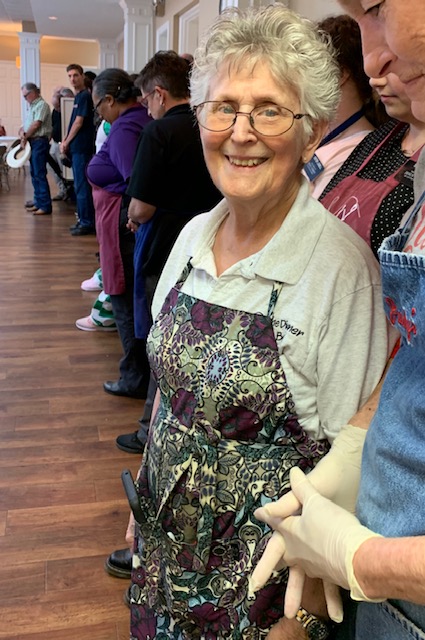 "There's no questions. If you walk in the door, we're glad to see you," Gilreath said.
Volunteers greet and welcome all equally. And, anyone who arrives and is identified as handicapped or in need of assistance are helped to and served their meal at their table.
Donations are accepted for the meal, but there is no fee or other requirement for the a plate of food — just show up when Dinner Bell opens, take a plate and eat.
A blessing is said prior to the meal and prayer requests are taken from among the gathering for whatever needs are voiced.
And, no food is wasted. If there's any food left over after all patrons are served, it will be packaged up and taken to Lil 4's where it will be used to children who attend.