Hopkins County Commissioners Court and Fire Chief Andy Endsley recognized Pickton Pine Forest Volunteer Fire Department Monday for their dedication and continued service in the county.
"The Hopkins County Commissioners Court urges all citizens of Hopkins County to celebrate the outstanding efforts of the firemen of the Pickton-Pine Forest Volunteer Fire Department, to recognize the dedication in their perseverance to provide protection for the citizens of Hopkins County and their property and, offer sincere appreciation for the servanthood of each one," Hopkins County Judge Robert Newsom read from the proclamation presented to Pickton-Pine Forest VFD members at Monday's Commissioners Court meeting.
The recognition is part of Hopkins County Fire Department's year-long 20th anniversary celebration. All of the volunteer fire departments that respond along with the crew from HCFD's Station 20 will be recognized, one each month in order by department number.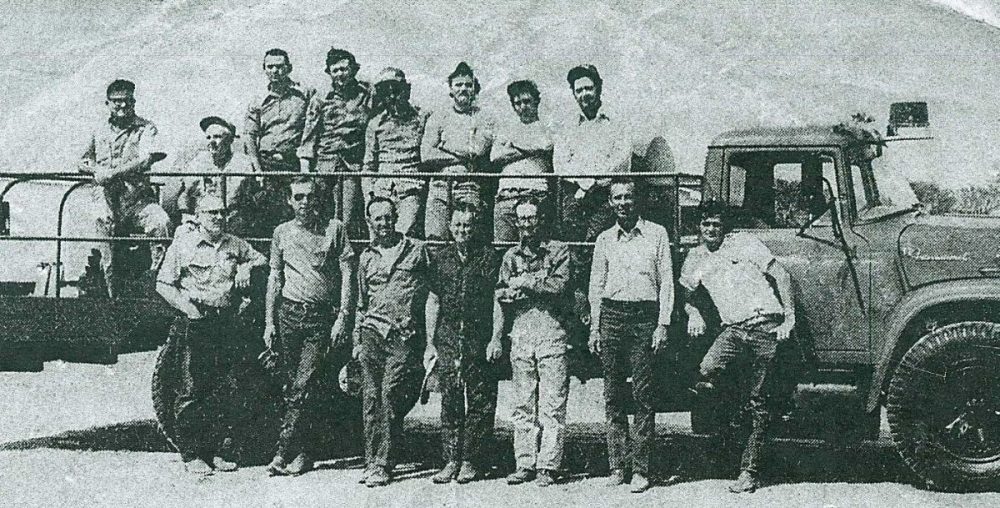 Precinct 2 Commissioner Greg Anglin, who has been a member of the department for many years, said to him, the volunteer fire department, since he was a kid in Pine Forest, symbolizes the whole community coming together. He also played a recording, obtained from KSST's History and Heritage Files compiled by Bill Bradford prior to 2014, featuring four members who sought funding for a much-needed new truck.
The department was founded in 1976. J.W. Crouch,Weldon Watkins, Archie Highfield, Newman Bradford, Clyde Hill, Sonny Robinson, Joe Pat Jordan, Ray Harris, Noble Bain, Calvin Bain, Mike McClure, Tommy Castle, Randy Anglin, Bobby Bain and Harold Hill were 15 of the forty-man crew, who built the firetruck following organization of the department.
Some more recent milestones for the department have included the purchase of a tanker in 2003 thanks to a FEMA grant, and the addition of a second fire station in 2012.
Today, the PPFVFD members utilize five fire apparatus to continue serving and protecting the community and Hopkins County. Those members include Tanner Childers, Mike Lageschaar, Jonathan Barth, Tode Johnson, Greg Anglin, Trey Thompson, Cody Raleigh, Dylan Smith, Heath Highfield, Taylor Pickering, Billy Bryant, Mark Sustaire, Tracey Hankins and Beth Hankins.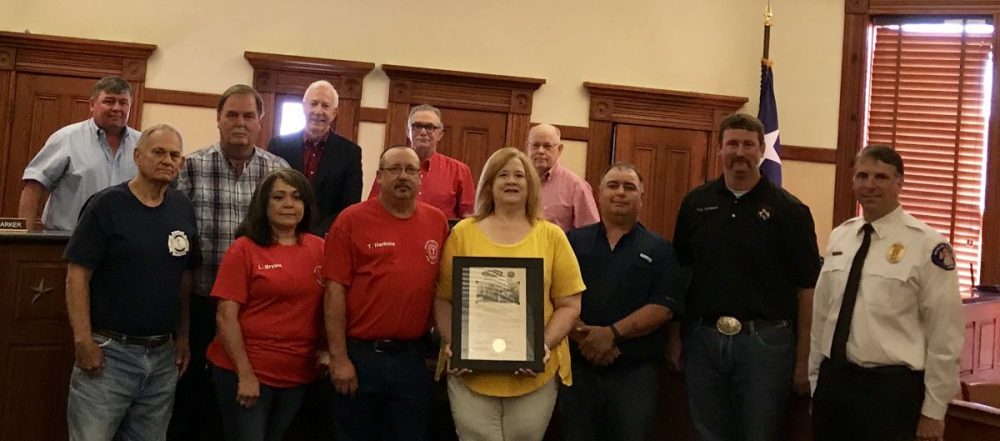 "I'm super proud of our department and our group. They do an excellent job," Anglin said.
"Thank you to Pickton-Pine Forest. What an integral part your are to our county fire department. We couldn't make it without you. You take care of that end of the county in such a great aspect. People don't understand how well you take care of that end. Although you come anywhere you're asked, without any kind of hesitation you're there at a moment's notice," Endsley said. "You've always got someone coming. We do appreciate Pickton-Pine Forest. We're just glad to be able to honor you."
Endsley also extended thanks to the PPFVFD members and commissioners court "who built up what we have here today." He noted that several Pickton Pine Forest residents and VFD members are also members of HCFD, including Thompson, Lageschaar, Raleigh and Blake Jordan.
PPFVD member Beth Hankins noted one of the members, pictured in the group photo take with their old truck after it was built, was an integral part of the PPFVFD. In fact, Joe Pat Jordan's dedication to PPFVFD is recognized on the Fallen Firefighters Memorial in the capital.
Joe Pat Jordan not only was part of the department from inception, but continued to be active in the department until his death in July 2008; Jordan, 71, had a heart attack shortly after leaving Station 7 in a fire truck while en route to vehicle crash with an entrapment on July 2, 2008. He died two days later.
Burke Bullock, former Precinct 2 commissioner, too expressed appreciation to the department. He noted that living in a community 25 miles from a hospital, he's very appreciative and feels safe knowing PPFVFD members are within close proximity to respond in minutes to assist in emergency situations.