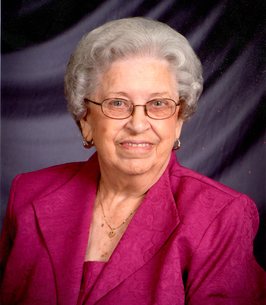 Juanita Dykes, age 89, passed away on Saturday, June 15th, 2019 in Winnsboro. She was born on July 29th, 1929 in Oklahoma to the late John Luther and Mamie Mae Connor Bullard.
She was a graduate of Winnsboro High, a retired secretary and an active member of Walnut Street Baptist Church. A loving mother, she and her husband raised two children together.
She was preceded in death by parents; husband of 68 years, Olan Dykes and 9 siblings. She is survived by, son, Kevin Dykes of Winnsboro; daughter, Deena Brand and husband, Steve of Tyler; brother, Andrew Bullard of Winnsboro; sisters, Mary Francis Nicholson and Doris Smith of Winnsboro; and grandchildren, Sarah Brand, Brandon Dykes and Matthew Dykes.
Visitation will be held on Tuesday, June 18th, 2019 from 2:00 pm to 3:00 pm at Beaty Funeral Home 816 W. Broadway Winnsboro, TX 75494 with a Graveside Service to follow at Smyrna Cemetery with Rev. David Taylor conducting and Kevin Dykes, Brandon Dykes, Matthew Dykes and Steve Brand serving as pallbearers.
The family would like to give a special thanks to the caregivers at Autumn Wind Independent Living and Skilled Nursing Facility in Winnsboro and the Hospice of East Texas Staff.
In lieu of flowers, memorial contributions may be made to Hospice of East Texas, 4111 University Blvd Tyler, Texas 75701 or to a charity of your choice.