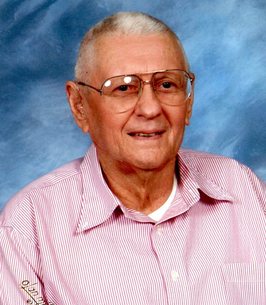 Chester A. McCallum, Jr. joined his Heavenly Father on June 19th, 2019. Chester was born on March 5, 1930 in Bernice, Louisiana to Chester A. McCallum, Sr. and Lorene Gray McCallum. He graduated from Bernice High School in 1948 and married Monelle Bowen in December of 1951 and were married until her death in November 1998.
In his early years he worked for Salley Wholesale and Arkla Gas before going to work for Kerr McGee where he stayed until he retired in 1996. Chester also broke and trained horses for the Wick Lawrence family as well as for numerous friends. His love for horses resonated and he shared the love with all who had a moment to listen. His special love was his trick horse CoCo, who he trained to do many amazing tricks.
Chester lived in Bernice all of his life, attending Pisgah Baptist Church where he served as a Deacon for many years. Chester was a Shriner and also a 32nd Degree Mason and member of Bernice Lodge #239.
In 2001 Chester left Bernice and moved to Mineola, Texas, where he married high school classmate, Dora Jean (Johnson) Prince and they were married until her death in June 2014. Chester became a member of New Hope Missionary Baptist Church in Mineola, Texas where he also served as a Deacon.
Chester had a love for horses, bird watching and people in general. He loved having visitors and especially loved his visits from long time friend, Mike Fletcher, who grew up down the road from Chester in Bernice and moved to Wood County where he Pastors Spur on Ministries near Quitman. He loved to talk about how two people from Bernice ended up in Mineola, Texas.
Chester is preceded in death by his parents, Chester A. McCallum, Sr and Lorene Gray McCallum; sister, Josie Tubbs; former wives, Monelle Bowen McCallum and Jean Prince-McCallum; and son, Randy Prince.
He is survived by his children, Kathy McCallum Spears and husband Jack of Dubach, LA; Art McCallum and wife Sharlet of Carthage, TX; Honorable Judge Jay McCallum and wife Deanna of Farmerville, LA; and Thomas Prince and wife Sandy of Mineola, TX. He is also survived by nine grandchildren, fifteen great-grandchildren and three great-great grandchildren along with several nieces and nephews. Special thanks to dear friend Mike Fletcher and wife Darlene; and the wonderful staff and caregivers of Traditions Hospice/Health Care.

Visitation for friends and family will be held on Saturday, June 22, 2019 from 1:00 pm to 2:00 pm at Beaty Funeral Home in Mineola, TX. Funeral services will begin at 2:00 pm following the visitation. Interment will be at New Hope Cemetery east of Mineola, TX.