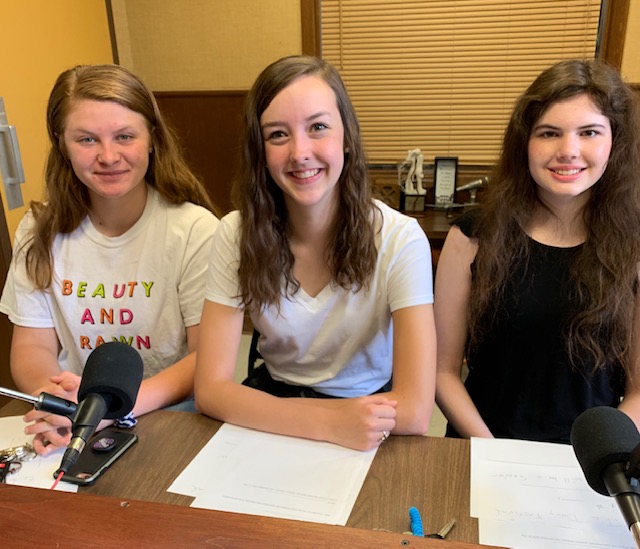 Deep into late-night rehearsals for the exciting Queen's Pageant on Saturday June 15, 2019, the nine Dairy Festival contestants also turn out for early-morning radio interviews on KSST's Good Morning Show. These activities follow a busy first week which had them milking cows, going up in hot air balloons and riding in the parade on a float she helped to build! On Wednesday June 12, we met charming Contestants #4, #5 and #6 !
Sable Erdmeir became a Hopkins County resident as a fifth grader, and credits her grandmother Debbie Young for introducing her to the excitement of Dairy Festival early on. At Sulphur Springs High School, Sable participates in Volleyball, Track and Cheerleading and was named 2019 MVP in Powerlifting. After high school, Sable wants to attend the Police Academy and seek a career in Emergency Management Dispatch. For her talent presentation at the Pageant, Sable will present a monologue on powerlifting and demonstrate a 350-lb. deadlift. You can also watch for her in a very feminine purple iridescent mermaid-style evening gown.
Ashlynn Bimmerle moved to Sulphur Springs during her Middle School years. She has also been a dance student for most of her life. She now participates in competitive dance and teaches part-time at Sulphur Springs Center for Dance. Ashlyn's talent presentation will be a musical theater dance to 'Forget About the Boy' from "Thoroughly Modern Millie". At Sulphur Springs High School, Ashlyn serves as Vice President in National Honors Society and takes Health Science Technology classes. Her career goal is to be a Pediatric Nurse Practitioner. Look for her in a stunning white sparkling gown when she is presented at the Dairy Festival Pageant.
Callie Harvey became a student at Sulphur Springs High School when she entered ninth grade. She was drawn to Dairy Festival because it is fun, and offers her new experiences within the community. She plans to become a Veterinarian, getting her degree through Texas A and M University at Commerce and College Station. Callie has been an artist since childhood, having shown her paintings in acrylic during student contests at the Tyler Museum of Art. During the talent portion of the Dairy Festival Pageant, she will demonstrate her talent by speed-painting a portrait of a Brown Swiss cow to the music of Chris Tomlin's 'Whom Shall I Fear'. Callie will model a classic fitted dress in sparkling maroon during the evening gown competition.