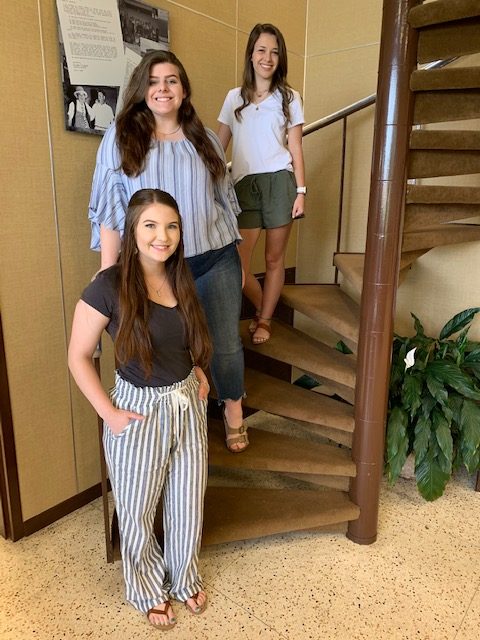 Following the energizing opening week of the Hopkins County Dairy Festival, the nine contestants for the 2019 crown are now ready for new challenges. They are wrapping up ticket sales, preparing for the talent presentations, working each night in rehearsals, and getting ready to appear onstage in full evening wear. During the KSST Good Morning Show on Tuesday June 11, we met the first three contestants; Katie Brown, Carol Nabors and Sadie Conner, each of whom seek to be a model representative for Hopkins County as Dairy Festival Queen.
Carol Nabors , a Senior at Como-Pickton High School, had never milked a cow, yet took the first-place trophy at the Milking Contest! She will present a Magic Showcase as her Talent selection, and according to Carol, she just learned to do magic tricks a few weeks ago and now loves it. Her parade float had a theme of "The Cow Jumped Over the Moon" and her dog, in costume, portrayed a character on her float. Carol is Cheer Captain at her school and is active in FFA, FCCLA, National Honors Society, is on the AB Honor Roll and in the top ten percent of her class. She has her sights set on training as a Physical Therapist Assistant, and intends to begin classes at North Texas Community College in Fall 2020. Carol's parents are Barry and Amanda Nabors. During the Pageant, look for Carol in a red and silver sequined gown.
Sadie Connor feels that the Parade was the best part of the first weekend of Dairy Festival. Her float's theme, "Dancing in the Moonlight" featured a huge disco ball and a dancing cow. Though never having milked a cow before, Sadie placed third in that contest. Look for Sadie in a neutral gray bedazzled gown with a train at the Pageant. For her talent presentation, she will perform "Only Us" from the Broadway musical 'Dear Evan Hansen' . She will be a Senior this Fall at North Hopkins ISD where she is a dual-credit student and participates in FCCLA and Beta Club. Her plans are to attend college to pursue a career in the nursing field. Her parents are Dr.Todd and Leah Connor.
Katey Brown loves to dance! She has been in dance instruction for 15 years, and will perform a tap routine to"Boogie Woogie Bugle Boy" at the Pageant. Her most cherished Dairy Festival event so far is the hot air balloon ride because it was so peaceful. Her least favorite was the cow milking! Her family helped with her float's construction, and it's theme was a "Blue Moon" 1950's milkshake shop. Katey is an assistant instructor at Sulphur Springs Center for Dance. Future plans include attending Texas A and M University at College Station. Look for Katey in a blue and gold sparkling evening gown at the Pageant. Having attended many Dairy Festival Pageants, Katey looked forward to the time when she could enter. Her parents are Chris and Lezley Brown.