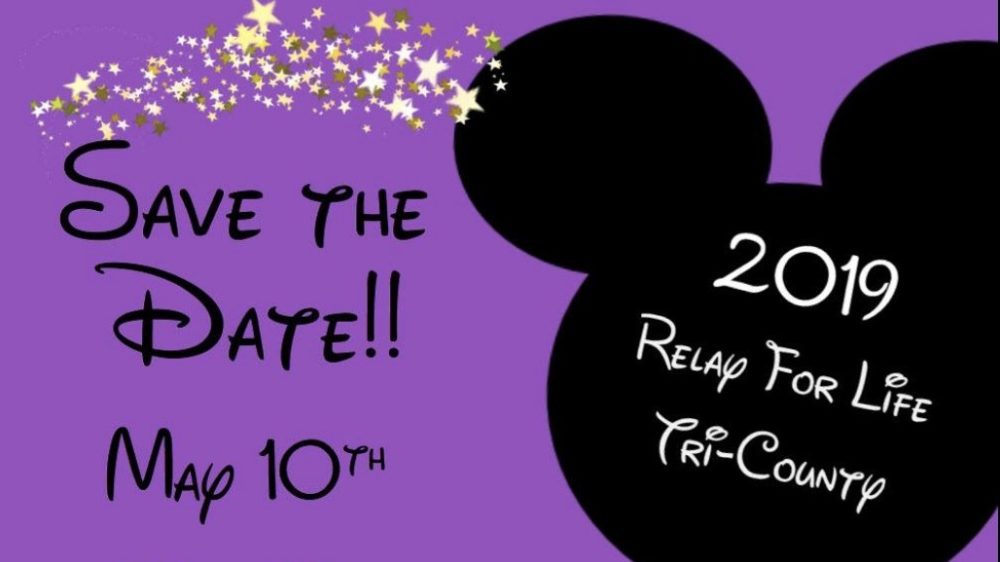 Relay for Life Tri Counties-Texas will be held Friday, May 10, rain or shine — just at a different location and with an abbreviated schedule.
With predictions of rain for the next 48 hours, RFL Committee members Thursday afternoon made the decision not to cancel this year's big event, but to move it about a block off Celebration Plaza inside The ROC, 115 Putman St.
Event Chair Gina Giguere said they decided to err on the side of caution, so people won't have to be out wet in cooler temperatures Friday night. This year's RFL will also end at midnight as opposed to 2 a.m.
Cancer survivors who have not picked up their purple survivor shirts can do so at the ROC starting at 2 p.m.
Teams will be able to set up starting at 2 p.m. as well. Teams who need electric power are reminded to bring power strips and power cords.
Entertainment will begin at 6 p.m. and continue until about 11:30 p.m., when things begin wrapping up with the Glow Parade, Fight Back and Closing Ceremonies. The final ceremony is "a time to commit to take action and help lead the fight for a world free from cancer," to celebrate accomplishments and unify for work yet to be done.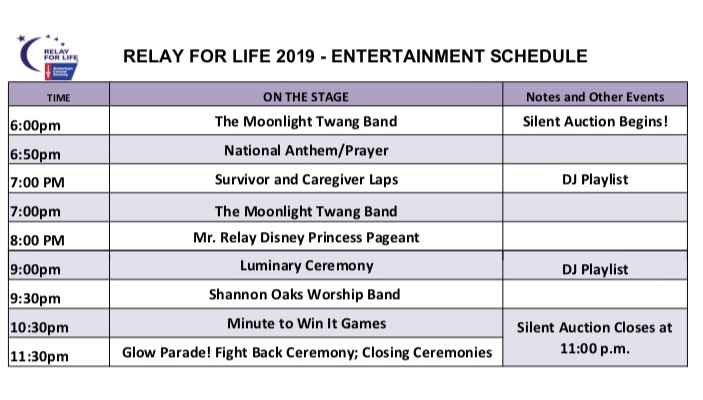 As is custom, the National Anthem will be sung, followed by a prayer around 6:50 p.m. Friday, May 10. Two very special events each year include the survivors and caregivers laps, which start at 7 p.m., and the luminary ceremony which begins at 9 p.m.
All cancer survivors are welcome to participate in the opening lap; many community members find the parade of individuals are applauded as they pass for their courage and battle with cancer. Anyone who is or has ever battled cancer is considered a survivor, whether the day of diagnosis or decades in remission, and all are invited to participate in RFL at no charge.
The luminary ceremony is held as a symbol of hope for a cure, with each light shining in honor of a life touched by cancer. They may be dedicated to a loved one lost, someone currently battling, or anyone who's overcome cancer. Often, they are decorated with names and messages for the people they're dedicated to. A moment of silence is held to remember the loved ones the lights are dedicated to.
A special area will be set up to show love and support to cancer fighters, with snacks, fellowship and encouragement at no charge for survivors.
Community members from Hopkins, Franklin and Wood counties are welcome and encouraged to stop by The ROC throughout the night, to visit with RFL teams and to show support for cancer survivors, battlers and caregivers.
A silent auction will begin at 6 p.m. and close at 11 p.m., with funds going to the American Cancer Society.

Among the night's entertainers will be The Moonlight Twang Band and Shannon Oaks Worship Band. Special activities will include at 8 p.m. a Mr. Relay Disney Princess Pageant, in keeping with the night's "
This year's theme is "Wish Upon A Cure" Disney theme, according Giguere. at 8 p.m. and Minute to Win It Games.
Those who want to help can do so by supporting RFL teams as they raise funds for the American Cancer Society for patient care programs, spread awareness and help fund research for a cure. Stop by RFL Tri Counties-Texas Friday and make donations at the various team "campsites" inside The ROC; donate online to a specific individual, team, the event or ACS; make luminary donations; or donate at the event.
As of 4 p.m. Thursday, 164 participants on 20 teams had raised $24,147.02 of $50,000 goal for ACS.
For additional information, call Gina Giguere at 903-573-2064, Holli-Von Sawyer at 903-348-6752 or Dubb Williams at 903-243-6165.