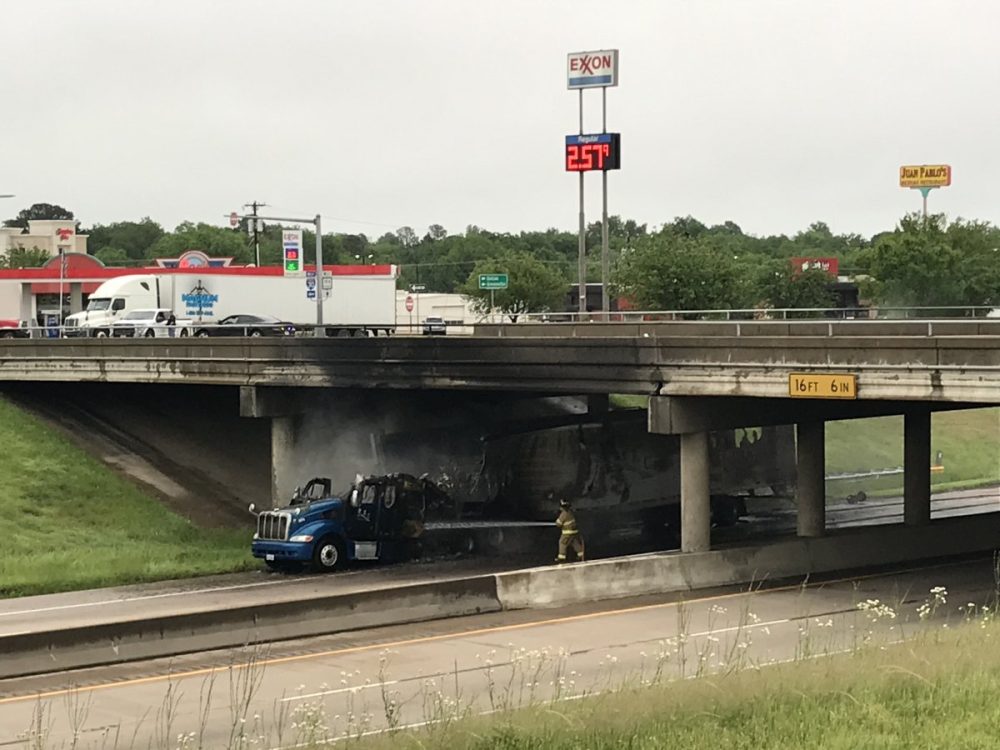 As of 10:30am Thursday morning, work continued on the cleanup of the tractor/trailer fire under the Broadway Street Overpass at I-30. Fuller's Wrecker was on the scene with massive equipment to get the Interstate back to normal. One lane of traffic had reopened on Westbound I-30 but traffic was still backed up for miles in that direction. The Broadway crossing remained closed.
Motorists are urged to avoid the area of the South Broadway Street bridge and service roads Thursday morning. The overpass is closed due to a truck fire under the bridge earlier in the morning
An 18-wheeler reportedly caught fire and was fully engulfed in the westbound lane of Interstate 30 when it stopped under the South Broadway Street overpass Thursday morning, according to Sulphur Springs Police Capt. Jason Ricketson.
No injuries were reported to have resulted from the crash.
Motorists and residents reported seeing heavy plumes of smoke covering the area around 7:15-7:30 a.m. Thursday. The blaze was under control by about 8 a.m.
The South Broadway Street bridge remains closed indefinitely until Texas Department of Transportation officials can evaluate the integrity of the bridge, which may have been compromised by the heat of the blaze, according to Ricketson.
Westbound traffic on I-30 is being routed onto Industrial Drive prior to the bridge, and other traffic instead of crossing the Broadway bridge being routed down Shannon Road and Industrial Drive. Traffic was heavily congested in the area as people began driving to work and taking kids to school, backing up at times for more than a mile to the next exits.
Police are asking local motorists when possible to avoid the area service roads and area around the bridge, to find alternate routes of travel at this time to the traffic.