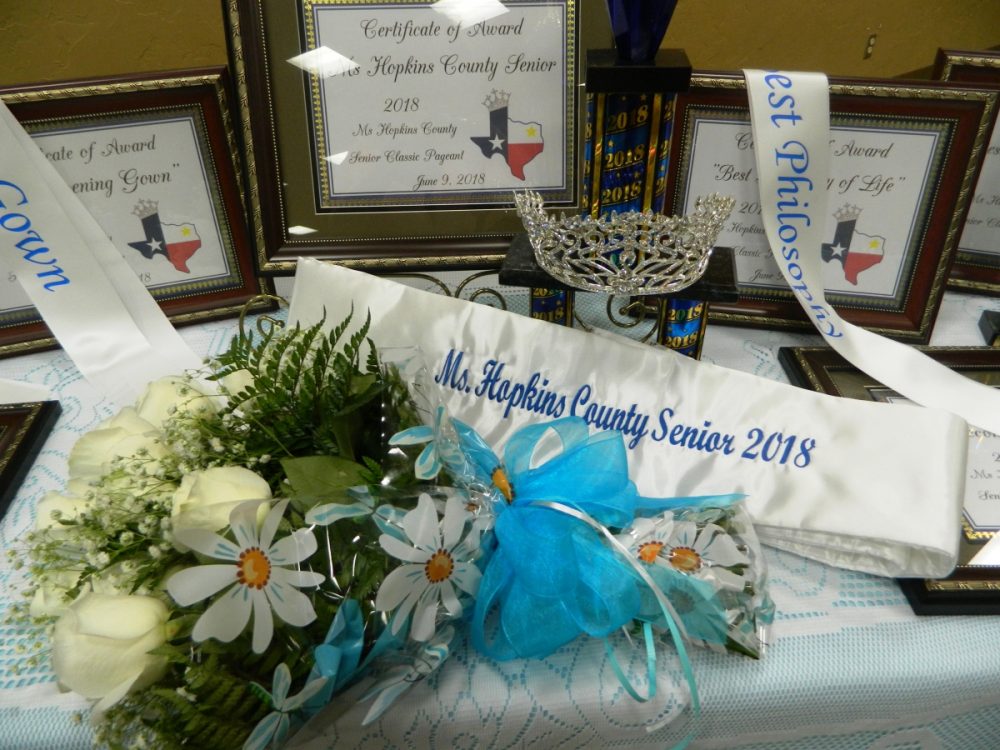 Karon Weatherman, Director of the Sulphur Springs Senior Citizens Center, has a soft place in her heart for the local senior population, and she fully demonstrates that daily. Along with providing a pleasant location for fellowship, recreation and nutritious hand-prepared lunches, Weatherman has also created numerous public events to honor Hopkins County's most seasoned residents. The most glamorous is the Ms. Hopkins County Senior Classic" Pageant. How and when did this successful pageant begin? Nine years ago at the request of Peggy Wagner, then Director of the Ms. Texas Senior Classic Pageant, Karon put out a call for local ladies over age 60 who would volunteer to help her celebrate the "changing face of aging" by appearing in a beauty pageant. From that first year, lovely and talented senior women have stepped forward "out of their comfort zone" to perform talent, express their philosophy of life and appear in evening gown competition before an audience. Karon also treats the contestants to an "afternoon tea" prior to the pageant where they can meet and visit with one another as well as participate in a full rehearsal.
The nine contestants for the 2019 crown are: Jan Massey, Nancy Bolton, Valerie Ross, Majel Reddick, Linda Pickle Hill, Marjean Allen, Pam George, Jan Gray and Elizabeth Wilburn. Former "queens" Ina Gore, Patsy Crist, Lavonne Elam and Stella Bagley will also appear. Returning emcees are Enola Gay Mathews and Chuck Roy. Following the competition, the judges scores will determine two runners-up, the talent, congeniality and evening gown winners. A new honor, the Memorial Leadership Award, will be given in honor of the late Clydene Fielden, Ms. Sr. Classic 2014. Finally, reigning Ms. Hopkins County Senior Classic Mary Ivey will crown the new 'queen' who earns the right to advance to the Ms. Texas Senior Classic Pageant this summer.
The event will begin at 6 pm on Saturday June 1, 2019 in the Banquet hall of the Hopkins County Civic Center. Admission is free to the public, and attendance is encouraged to show support for the contestants and to enjoy the variety of talent. There will plenty of photo opportunities for families of contestants, and videotaping is also permitted.