Fire alarm systems, Tasers, maintenance guidelines, county road standards and procedures, a management provider for a hazardous mitigation grant program, and a Northeast Texas Rural Transportation board appointment were among the items Hopkins County Commissioner Court approved during their regular meeting Monday.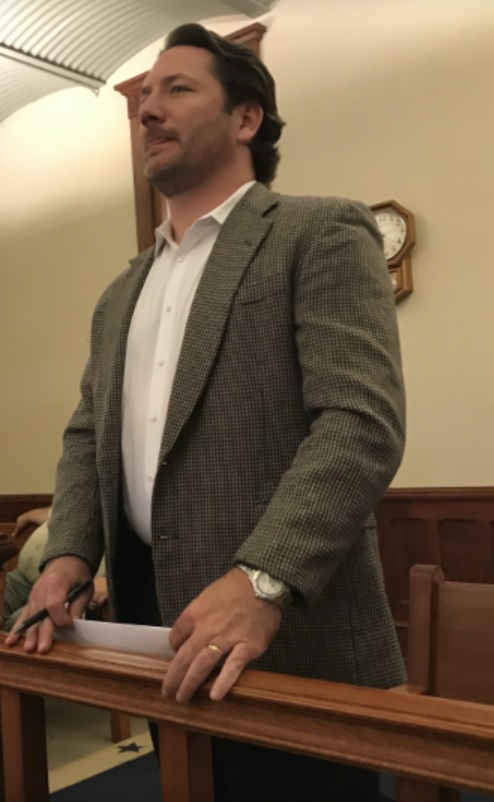 Rail Representation
Appointed to serve on Northeast Texas Rural Rail Transportation District Board of Directors was Neal Barker.
Newsom reported Barker to have "a lot of background in this area."
"Thank you for this opportunity. I have personal interest in these rural rails and districts that formed to preserve the rail right-of-ways around Texas for commerce and commuter lines, things like that," Barker said. "I am honored to be able to represent you on the board, to find out what's best for Hopkins County, what's best for the whole rail line, and report back to you, and try and do your wishes."
Tasers
Approved Monday was a no-interest 5-year contract with Axion Enterprises Inc. for 10 Tasers for jailers, to be paid out of budgeted allocations with $2,000 down this year. This will provide 10 new devices for jailers to use; the ones currently in use are hand-me-downs from the patrol division, according to Hopkins County Sheriff's Chief Deputy Tanner Crump.
Fire alarm systems
Also approved was a contract with Fire Troll for fire alarm systems for the county clerk's office, courthouse and annex buildings. The county will pay a one-time free of $1,588 this year, which includes installing of needed monitoring equipment and an annual fee, then $360 a year per building each year afterward. Fire protection systems for the new district clerk and district attorney's offices and courthouse will be discussed at a later meeting, according Hopkins County Fire Chief Andy Endsley.
Road Rules, guides, repairs
The Commissioners Court also approved Rural Transportation Maintenance Guidelines For Hopkins County Roads For 2019-2020, County Road Standards and Procedures; and adopted a resolution designating GrantWorks as the management service provider for the Texas Hazard Mitigation Assistance Program application and project implementation.
Essentially, the documents update the guidelines for county roads that were passed in 2015-16, during a previous FEMA event. The county has Class 3 roads, and the types of materials used in their construction and maintenance. The standards are needed when applying for FEMA grants, and include county-wide averages for time and costs of repairing roads. In this case, the county has applied for funding for road damages caused by flooding in September and October; the funding would be used to return the roads back to pre-weather condition, explained Beth Wisenbaker, who is working on the FEMA projects on behalf of the county.
The county is also reapplying for hazardous mitigation grant funding for three projects in Precinct 1 and one project in Precinct 3. GrantWorks will serve as management service provider at a rate of $8,000. If the county receives the grant, 75 percent of that cost would be refunded in the grant, according to Wisenbaker.
Included in the application will be generators for all 12 county fire departments, including the substation in Brashear and Pickton-Pine Forest, as well as for a few of the rural water districts. These would be used in the event of a disaster. The information is included in the county's hazardous mitigation plan as a critical infrastructure need, which will save an additional $2,500 benefit cost analysis fee per unit, according to Wisenbaker and Endsley.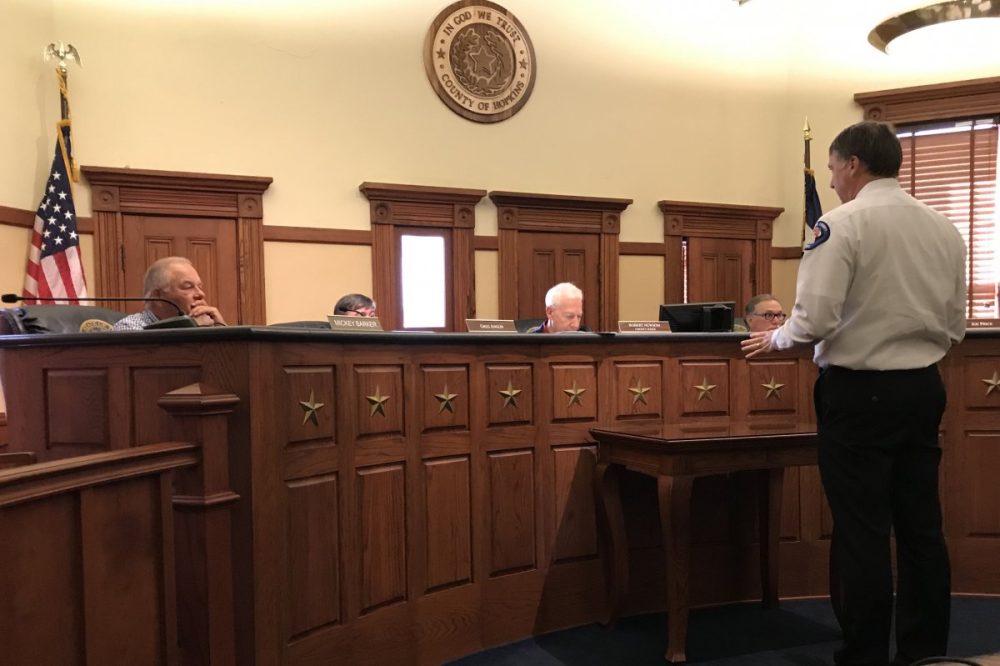 Budget Amendments
On the recommendation of County Auditor Shannah Walker, the commissioners approved three amendments to the county budget: $96,131.06 in financing was moved to the fire department's personal protective equipment fund to cover purchased safety gear; $169,500 from Alliance Bank moved into the Precinct 4 budget to finance a motor grader; and a $1,200 donation made last year by Yvonne McDaniel moved over into this year's budget for purchase of cameras for environmental enforcement purposes.
The donation will provide 4-6 new cameras to be put up in trees and poles in efforts to catch environmental violations. The cameras currently in use are on loan from Ark-Tex Council of Governments, and would be returned. The new cameras also will have Bluetooth which will allow officials to access and download information from them remotely, instead of officials having to climb to access the device in the tree or pole to remove the card and either replace it or download it, then return it to the camera, according to Endsley.
Fire protection agreements
Hopkins County Commissioners Court opted to table discussion and consideration of proposed fire protection agreements for the volunteer fire departments, with the notation that it could be discussed during executive sessions. The commissioners following executive session for potential personnel discussion opted to taken on action on the item.
Commissioners were slated to attend the monthly meeting of volunteer fire departments at 6:30 p.m. Monday in the training room at Hopkins County Fire Station/ Intermodal Facility, 286 Texas Street.
Miscellaneous
Also approved during Monday's meeting were requests from Farmers Electric Cooperative to construct electric power distribution facilities across County Road 2342/Spring Creek Circle, just south of County Road 2322; and to set an electric power pole in the county right-of-way on County Road 4772, west of County Road 4766.