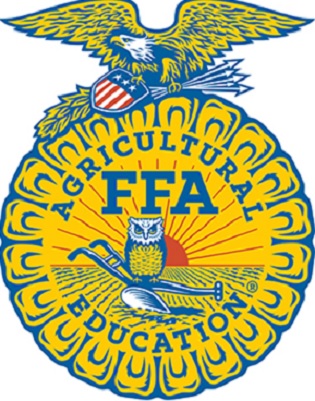 Several students were recognized earlier this week during the annual Sulphur Springs High School FFA Banquet for their successes and hard work.
SSHS FFA had eight Leadership Development Teams and 16 students competing n a number of invitational contests as well as district and area contest in the fall. Those teams included:
Greenhand Quiz Team – Cash Vititow, Hannah Sells, Brooklyn Burnside, and Beau Bankston
Chapter Quiz- Breanna Sells, Peyton Miesse, Haylie Berrett, and Elida Miller (Placed 3rd at district and 11th at Area)
Greenhand Creed- Beau Bankston
Chapter Creed- Savannah Allen (Placed 3rd at district and Advanced to Area where she placed 5th)
Ag Advocacy- Elida Miller, Maurie Flecker, and Jasmine Vargas
Skills- Madison Maynard, Haylie Barrett, and Alli Fite (Placed 2nd at District and 8th at Area)
Radio Broadcasting- Annie Horton, Jace Mayers, and Savannah Allen
And Job Interview- Jatavius Williams
During the spring semester SS FFA had four teams with 16 students competing in many invitational and area career development events.
The Forage Team consisted of Cash Vititow, Beau Bankston, Chace Mitchell, and Griffin Crawford.
The Vet Science Team consisted of Haylie Barrett, Trevon Washington, Aliyah Abron, and Callie Harvey
The Livestock judging team consisted of Savannah Allen, Annie Horton, Breanna Sells, and Hayden Daniel. Savannah Allen was rated the second highest individual out of 206 at the area contest.
The Dairy Cattle judging team consisted of Elida Miller, Noah Hemby, Maurie Flecker, and Jace Mayers. Elida Miller placed third overall out of 103 and Noah Hemby placed 10th overall. The team placed third at area and advanced to the state contest, where they placed 23rd overall. The team was awarded their State Qualifying Certificates at the annual chapter banquet.
In addition to LDEs and CDEs, SSHS FFA members also participated in ag mechanics shows and welding contests
At the State Fair, SSHS placed 3rd in class with a Western bench.
SSHS FFA members took to the Houston show and competition a John Deere man lift built by George Greenway and Haydan Keller, and a hay dump trailer built by Cameron Zahn, Kaleb Mills and Noah Hembythat placed fifth in its class.
Students too were awarded Proficiency Awards for excelling in different areas of agriculture.
"They can either own their own business or work for someone," FFA Chapter advisor John Holland said.
Proficiency Awards were presented as follows:
Agricultural Education: Savannah Allen
Agricultural Mechanics Design and Fabrication- Entrepreneurship: Cameron Zahn
Agricultural Mechanics Design and Fabrication- Placement: Haydan Keller
Agricultural Services- Entrepreneurship: Savannah Allen
Agricultural Services-Placement: Jace Mayers
Agriscience Research- Animal Systems: Elida Miller
Beef Production- Entrepreneurship: Savannah Allen
Beef Production- Placement: Breanna Sells
Dairy Production- Placement: Elida Miller
Diversified Livestock Production: Jace Mayers
Goat Production- Jace Mayers
Sheep Production- Entrepreneurship: Annie Horton
Sheep Production- Placement: Oliver Yanez
Swine Production- Entrepreneurship: Jace Mayers
Star Greenhand- Cash Vititow
Star Chapter Farmer-Production: Savannah Allen
Star Chapter Farmer- Agriscience: Elida Miller
FFA Member of the Year: Savannah Allen
Officer of the Year: Elida Miller
Honorary FFA Members: Debbie Stribling and Dannie Johnson
Billy Connor Commemorative Award: Haylie Barrett