Sulphur Bluff High School and Junior High students were honored for that academic achievements during the annual wards program held in the school gym.
Seniors were awarded scholarships and the top students were recognized.
The top five 8th graders this year are valedictorian Brandt Forester; salutatorian Alice Bondurant; third Jack Phillips; fourth Taylor Wallis; and fifth Molly Kelley.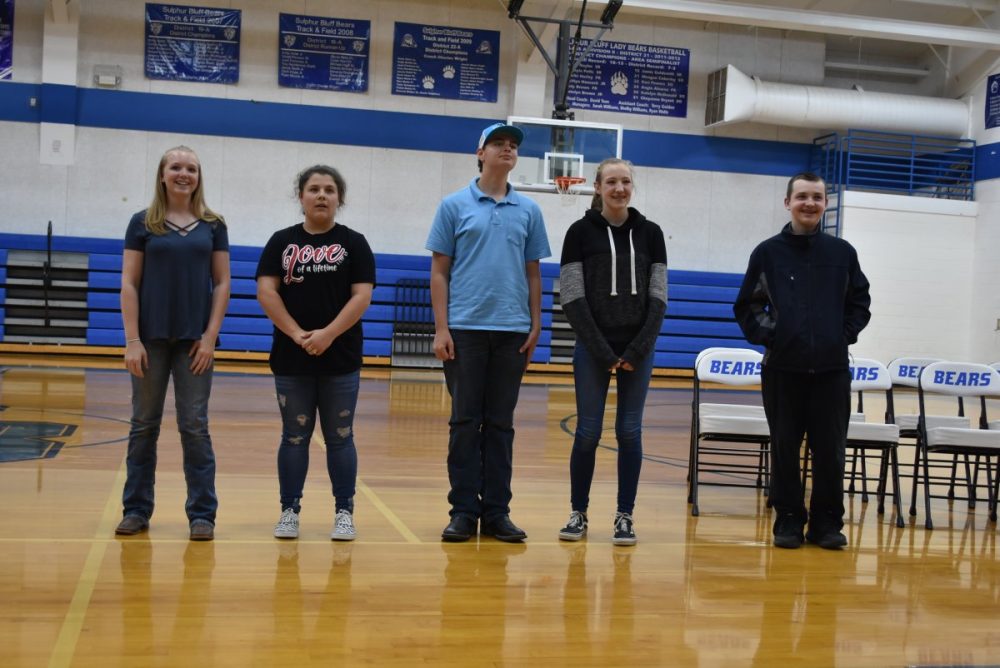 Top seniors are Harrison Fite, valedictorian; Hanna Lexi Reyes, salutatorian; Kiersten Brown, third; Hunter Carpenter, fourth; and David Rosas fifth.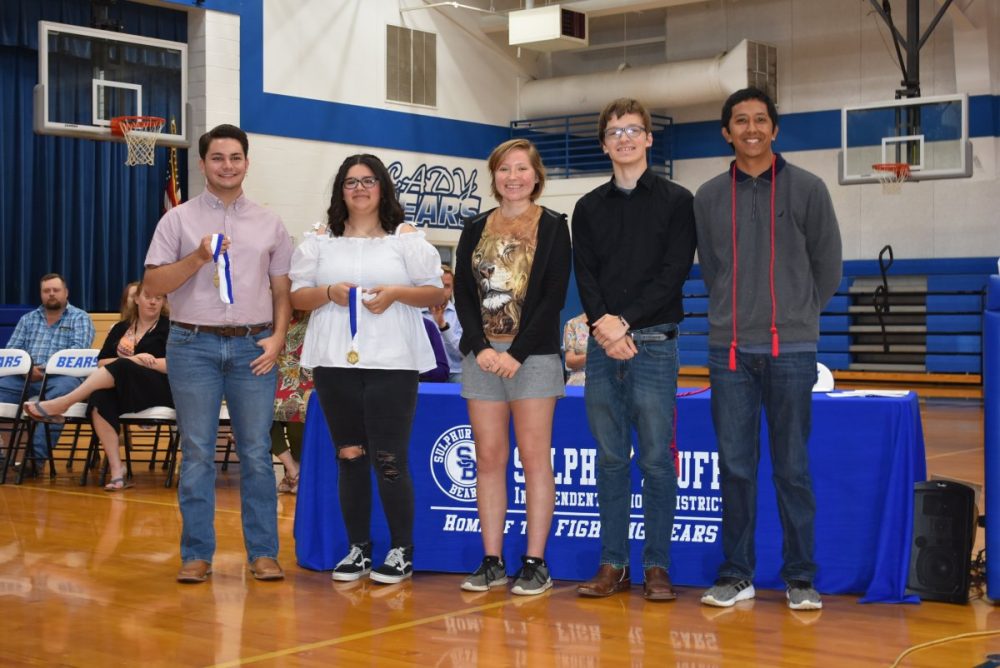 The SBHS Senior Class of 2019 which numbers 26 was noted by Superintendent Dustin Carr to be the largest class graduating from the school in the school's history, dating back to 1949.
Together the seniors received more than $111,250 in scholarships.
Harrison Fite amassed more than $77,750 in financial aid to apply toward his college education. As the top student in his class, 100 percent of his first year of tuition will be paid to a state university.
Fite was admitted to Texas A&M University-Commerce Honors College, which will cover the rest of his expenses his first year; and all of his fees, housing and tuition for the next three years; this award is estimated at $72,000.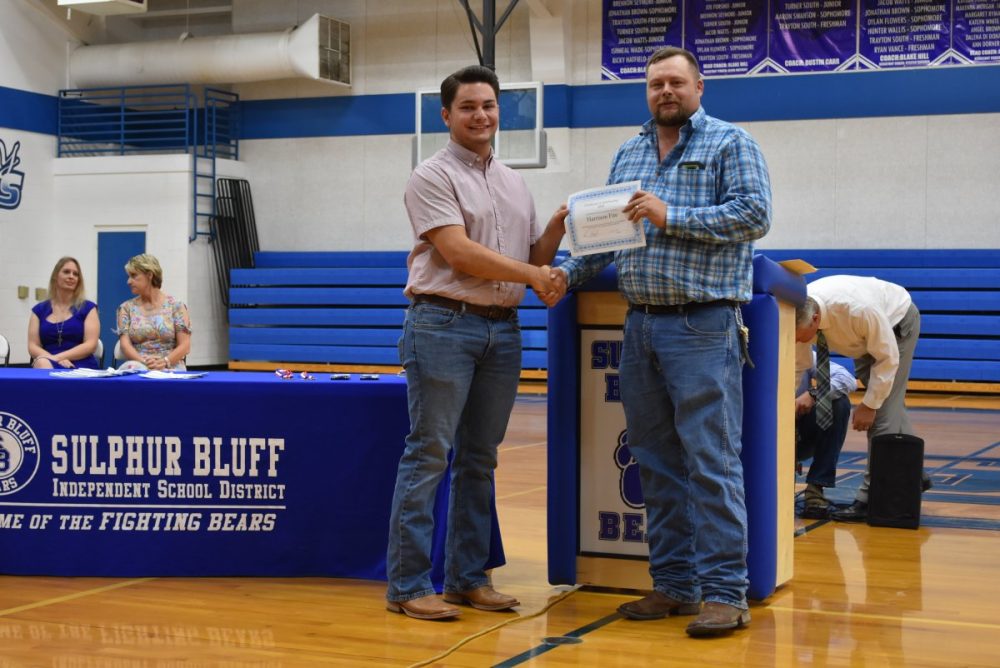 Fite too was awarded the $500 Clay Mitchell Memorial Scholarship, a $2,000 Sulphur Bluff Education Foundation Scholarship and the $2,500 Sulphur Bluff Masonic Lodge Scholarship.
Clay Bartley also presented, on behalf of Sulphur Bluff Masonic Lodge, also presented Dewitt Brookins III with the Mirabeau B. Lamar Award of Excellence for his dedication to the school system.
Typically, two $250 FFA scholarships are awarded to graduating seniors each year. However, Fite was the only applicant this year, so the total amount of $500 was awarded to him by Sam Stanley on behalf of FFA.
Janie Vandiver awarded $250 FCCLA Scholarships to Maddie Goodwin and Harrison Fite.
Receiving a $32,000 Bright Star Scholars award from the John and Deborah Gillis Foundation was Casey Bass. The scholarship is for four consecutive years, an, if he completes his master's degree in less than four years, may be applied to graduate school.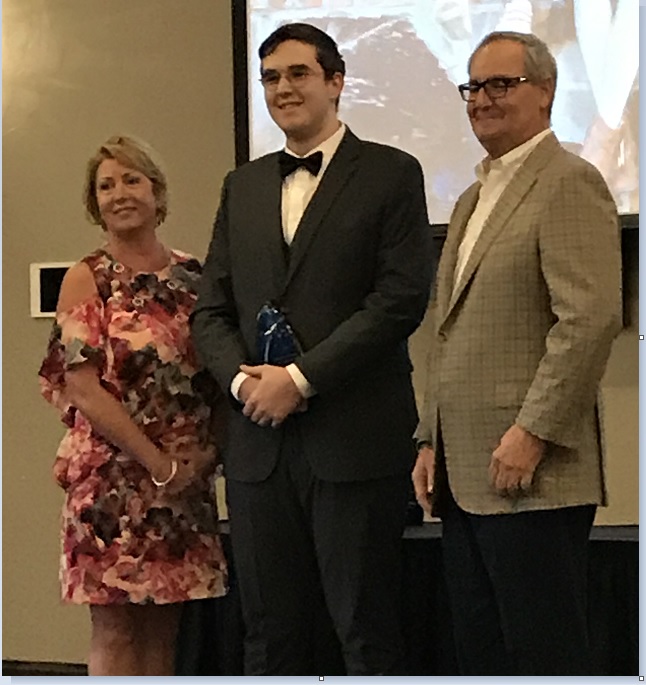 MaKenna Morgan and Kaylon Hume both were awarded scholarships to play softball for Bryant & Stratton College; the dollar amount of this award was not announced. However, it was noted that the award will cover costs of their tuition and fees.
Morgan also was awarded a $500 Hoccheim Insurance Scholarship.
Caitlin Weatheread was the recipient of a $2,000 Bruce Fielden Memorial Scholarship, given in memory of the late educator. Fielden dedicated 48 years to education, including serving as a principal and superintendent at Sulphur Bluff ISD. He continued to be a supporter and advocate for Sulphur Bluff school after his retirement.
Receiving Rising Lone Star Awards were Brandon Newell and Caitlin Weatheread. These awards from U.S. Congressman John Ratcliffe are given to students who provide selfless service, unsung heroes who exhibit outstanding leadership or service in their schools and communities. Recipients have been nominated by their principals, administrators or counselors.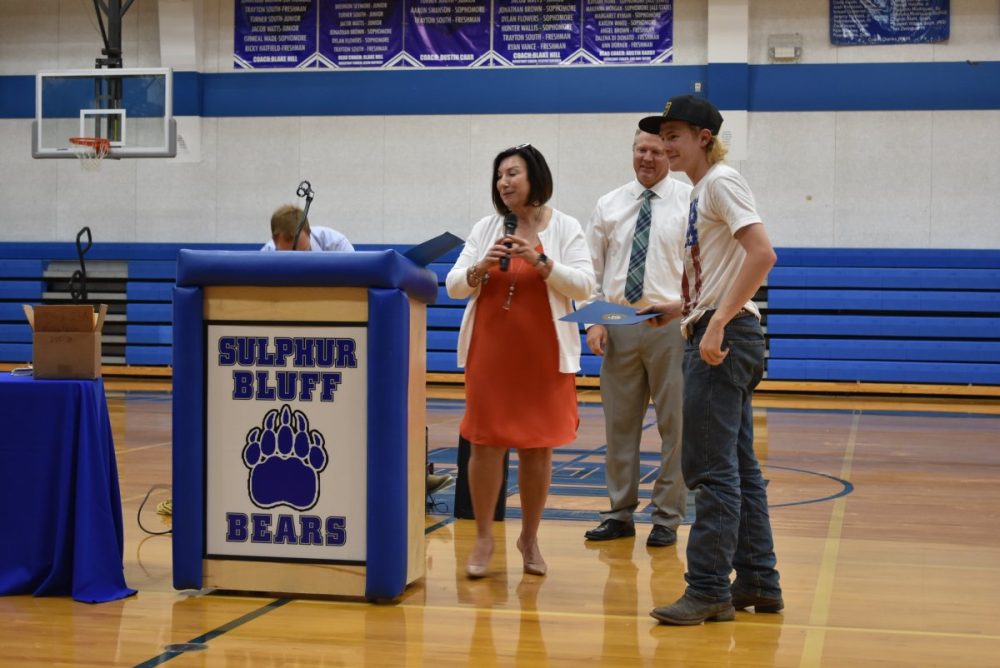 Red Cords Honors were bestowed to seniors who've donated blood or had an adult donate to their credit at least twice to Carter BloodCare. Seniors get to wear the cords at graduation. Students in Beta Club also were recognized, with seniors receiving the traditional yellow stole to wear at graduation. Adult Jamie Fite was honored for giving blood 21 times at the school's blood drives.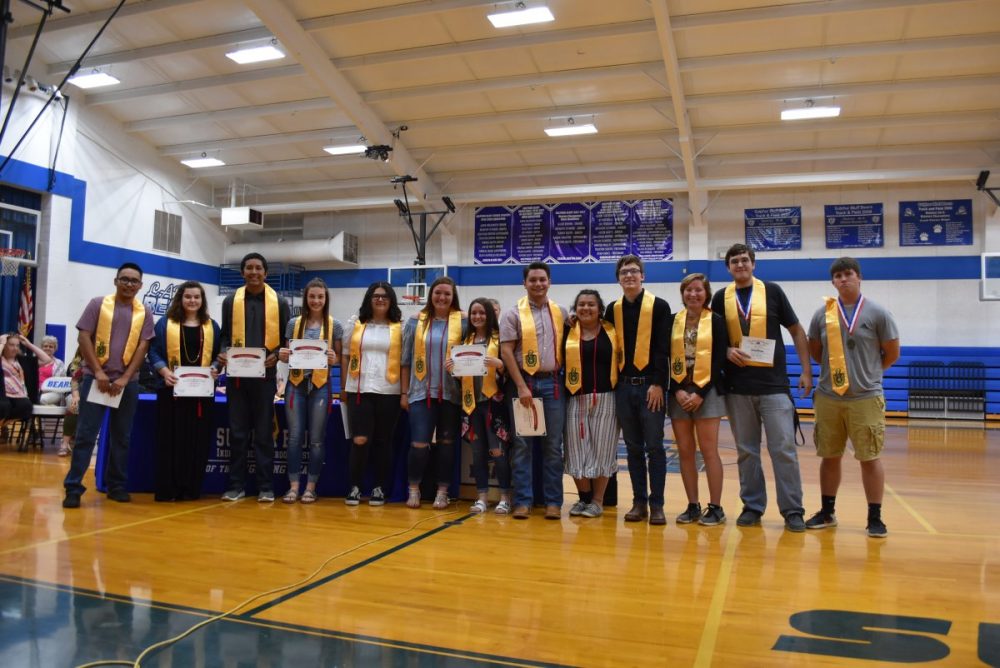 Sulphur Bluff Junior High and High School students who participated in UIL were recognized and those who placed received medals. Students who were on the A and AB Honor Rolls and had Perfect Attendance received certificates noting the achievement. Class awards were also handed out at Friday's awards program.