A budget calendar, recognition of two community supporters, a copier contract, contract with Region VIII Education Service Center and Spanish language arts and reading instructional materials for kindergarten through fifth grades are among the items addressed at the Sulphur Springs Independent School District Board of Trustees meeting this week.
Community Supporters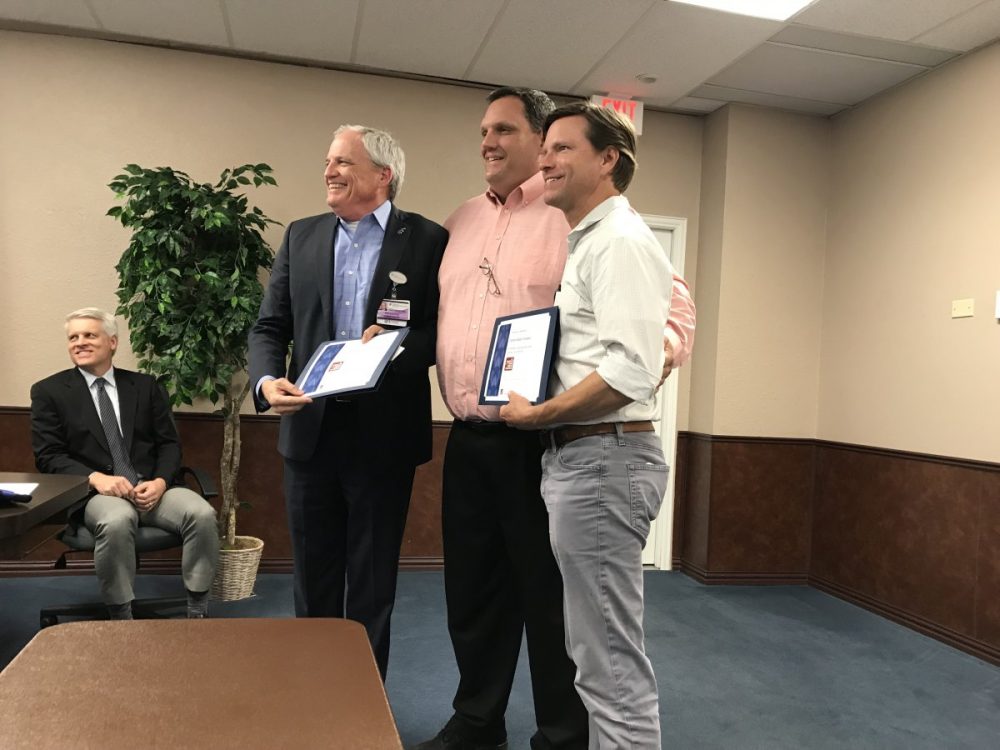 Superintendent Michael Lamb presented Texas Association of School Boards Recognition Program certificates to Ryan McKenzie and Paul Harvey for Grocery Supply Company and CHRISTUS Mother Frances Hospital's support of SSISD and the community.
Lamb explained that SSISD issued its first certificates at a previous board meeting to businesses that entered and helped with the district's summer golf tournament.
That same week, GSC and the hospital came through in big ways for the boys basketball team that competed for the state title.
"Ryan and Grocery Supply called. They helped some of the families get to San Antonio that might not be able to do that otherwise. And, the hospital called and wanted to pay for the bus that the boys took. We are very appreciative for both of those," Lamb said.
CHRISTUS Mother Frances Hospital-Sulphur Springs CEO Paul Harvey accepted the certificate for the hospital and Grocery Supply Company COO Ryan McKenzie accepted for GSC.
Top Students
SSISD Board of Trustees President Robbin Vaughn presented plaques recognizing Carissa Carter as the valedictorian and Maddie Millsap as salutatorian of Sulphur Springs High School Senior Class of 2019.
Budget Calendar
Business Manager Sherry McGraw presented the school board with dates for budget workshops this summer in readiness for adoption of a district budget.
The first budget workshop is planned during the regular June 11 school board meeting. A preliminary budget will be presented with revenue based on new template, estimated tax values and estimated student counts. Expenditures will include campus requests and estimated payroll increases, but employee turnover will not be entered in budget at this point. Any new expenditures will be added.
A second budget workshop will be held during the next regular school board meeting on July 8. Revenue in this preliminary budget will be based on the new template, estimated tax values and 2018-19 student counts. Expenditures will include campus budget requests, payroll increases, employee turnover and any new expenditures.
The district will not have certified tax values until July 25. Those numbers will be used to create a final draft of the budget, which McGraw anticipates presenting along with the tax rate to trustees for adoption at their Aug. 12 board meeting.
Trustees would then be asked at a special noon board meeting on Aug. 23 to approve an amended 2018-19 budget to reflect all changes made over the last year.
Contracts
SSISD's contract with Advantage Copy Systems expires on May 31, so bids were sought for the service. Only two bids were received. Advantage Copy Systems bid was for $10,389 per month, for three years, with an overage fee of $0.005 per black and white copy and $0.047 per color copy that exceeds the 8 million per year copies allowed. CPI Imaging's bid was for $9,998.07 per month with no additional charges for overages.
Trustees approved the lower bid submitted by CPI Imaging, as recommended by District Technology Coordinator Rodney White. Trustee Kerry Wright abstained from voting due to a conflict of interest.
Trustees also approved contracted service agreements with Region VIII Education Service Center, as recommended by Assistant Superintendent Josh Williams.
"Each of these packages provide training and resources in different areas we practice here at the school and take advantage of," Williams said.
The overall cost increased by a just over $4,000. That includes about $2,400 for DBA Services, which schools are required to buy for use in the business office. The Safe Schools and Healthy Students package went up by about $2,000, Williams said.
Williams said he send the list to every pertinent director to look at and see if there are things that could be beneficial, then consideration is given to adding those options to the package the district purchases annually.
The board approved a Region VIII ESC contract for $111,821, to be paid in two semi-annual payments.
Instructional Materials
Also approved as recommended by the Instructional Materials Adoption Committee and SSISD Director of Curriculum and Instruction Lisa Robinson were the Benchmark Taller/ Benchmark Workshop materials for Spanish language arts and reading classes for dual language students from kindergarten through fifth grade.
Robinson said the materials adopted for reading in English do not have a direct Spanish correlation. Benchmark Workshop, however, is structured in the same way.
"This puts hundreds of authentic Spanish books in each classroom and the lessons are tied with those for the teachers to let them use to teach. It's very similar to what we purchased on the English side.
In kindergarten and first the literacy does take place in the native language, the Spanish-speaking students will be taught to read with the SLAR materials and the English-speakers in English.
In second through fifth grades students receive instruction in both languages.