Sulphur Springs High School seniors Thursday night received more than $3.3 million in scholarship offers and other awards.
Several students were the recipient of more than one award, some received offers from more than one institution, others received large awards or multiple awards from their chosen school.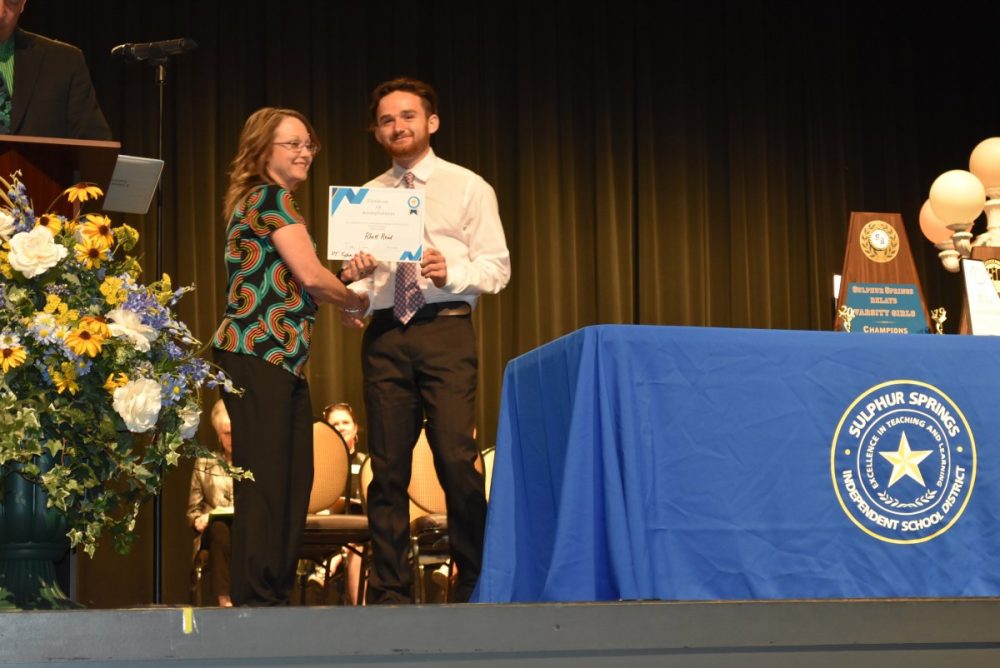 Rhett Reid has been offered a $4,0000 Academic Achievement Award from the University of Texas at Tyler, a $24,000 University of North Texas Excellence Scholarship and a Texas Tech Presidential Scholarship.
Alexis Whisenhunt was offered a $20,000 Oklahoma State University Merit Scholarship.
Felipe Alba received a $116,000 National Scholastic scholarship from the University of Houston.
Madison O'Kelly was offered a $45,000 scholarship from The University of Kansas.
Receiving $11,000 Presidential Awards from TAMUC were Felipe Alba, Austin Dodd, Gracie Moore, Kaitlyn Ferrill, Tessa Holt, Pacen Edwards and Skylar Shumate.
Dodd also was the recipient of the $32,000 Mary Bonham Foundation award.
Wendy Harrington was awarded a $50,000 Regent Scholarship and an $11,000 Presidential Scholarship from TAMUC, two of four scholarship offers which total $89,000. Harrington also was offered a $24,000 University of North Texas Excellence award and a $4,000 Emerald Eagle award.
Shumate also was offered a $4,000 Tarleton State University Scholarship; and along with Brooke Harden, Felipe De Jesus Alba Marin, Autumn Tanton Neighbors and Zoe Wilson received a $2,500 SSISD Education Foundation Scholarship.
Texas A&M University-Commerce extended offers to several SSHS students.
Lainey Whittle, Marina Botello and Carissa Carter each received an $80,000 TAMUC Honors Scholarship. Botello too was offered an $11,000 Presidential Scholarship from TAMUC.
Brooke Harden received a $4,000 Charles Calvin Holliday End Award and a $5,000 TAMUC Blue and Gold Scholarship. She also was awarded the Sulphur Springs Soccer Association award, $2,000 Hi-King Klub scholarship,
Landry Tyson received a $4,000 TAMUC Leadership Award and a $5,000 Blue and Gold Scholarship.
TAMUC $5,000 Blue and Gold Awards were presented to Daniel Moreno, Dalton Sears, Abbi Baier, Bailey Haggerty and Hector Tovara.
Diana Herrera was awarded an $11,000 TAMUC Presidential Scholarship and a $3,000 Texas State University Star Scholars Award.
Jace Thompson was awarded a $1,000 TAMUC Chip and Susan Harper Endowment. Thompson, Madelyn Ray, Felipe Alba, Brooke Harden and Katelyn Ferrell also received a $1,000 Lions Club Scholarship.
Jaci Glenn was offered a $11,000 Presidential Scholarship, a $1,000 Dyer Family Endowment and a $900 Endowment of Excellence award from Texas A&M; and a $1,000 Chip and Susan Harper Endowment from TAMUC.
Glenn received a $1,000 Landon Brody Dyer Memorial award, was presented a $1,000 Green Pond Baptist Scholarship by pastor Terry Bolton and a $500 Perry Bradley III award.
Madelyn Ray received a $500 Hopkins County Geological Society award. Ray, Kelsey Wallace and Jaci Glenn received $2,000 City National Bank scholarships given in memory of Melvanda Smith.
Caitlyn Williams was awarded a $500 Patsy Bolton Scholarship, a $1,500 Kiwanis Club award, a $500 Hopkins-Rains County Retired Teachers scholarship, an $8,000 Alliance Bank Scholarship, a $3,000 Baylor Preview Day Scholarship
Williams also received a $500 Hopkins County Dairy Festival Pageant award for being the second runner-up, Cameron Horton a $750 award as the first runner-up and Kaitlyn Ferrill $1,500 for being named the Dairy Festival queen.
Receiving $2,000 Rotary Club scholarships were Caitlyn Williams, Madelyn Ray and Carissa Carter. Peyton Baugh was awarded a $2,400 Rotary Club scholarship.
Caitlyn William, Darby Williams, Hunter Salverino, Isaac Lamb and Hayden Daniel each benefit from a Dial Study Club Scholarship, presented to children whose mothers are members of the club.
Zoe Wilson and Caitlyn Williams each received Allarea Black Memorial FCCLA awards. Wilson and Cassidy Winborn too received $100 Texas Association of Future Educators scholarships.
Zoe Wilson also was offered a $63,000 Baylor University Merit Scholarship and the $2,500 Jack Chubb Memorial Scholarship, in honor of the 1978-1990 SSHS principal who died in 2016, after serving several year on the school board.
Sulphur Springs Band Booster Club awarded Isaac Lamb a $750 Charley McCauley Memorial Scholarship. TheTop Band Honors Award in the amount of $375 went to Bryaden Fisher and Peyton Baugh.
Lamb too received a $20,000 Academic Scholarship and $10,000 Music Department Scholarship from Henderson State University.

Awarded $2,000 Grocery Supply Company Scholarships were Mariana Botello, Kaci Kelly and Jonathan Calhoun.
Peyton Baugh was also offered a $52,000 Award of Excellence from Oklahoma University and a $2,000 Engineering Excellence Scholarship.
Jennifer Lopez-Cervantes was awarded a $16,000 University of North Texas Eagle Excellence Award.
Lopez-Cervantes and Diana Herrera also were awarded $500 CHRISTUS Mother Frances Volunteer Auxiliary awards.
Herrera too received a $1,500 PF Bradley Jr. Scholarship.
Mason Burgin received a $4,000 Texas Tech Scholastic Success Scholarship and a $4,000 Texas Food and Fuel Association Scholarship.
Jacquelyn Bocanegra received the $3,600 Ceely Stout Memorial Scholarship, a $1,000 Vidya Srinivasan Memorial Scholarship, and was offered a Tyler Junior College Jack and Dorothy Fay White Scholarship.
Bocanegra and Autumn Tanton Neighbors received $1,000 Sulphur Springs Adult Leadership Alumni Association award.
Breanna Sells was awarded a $1,000 Mitchell Memorial Scholarship. She and Hayden Daniels also received a the Cecil Tucker Memorial Scholarship.
Receiving the $500 Judy Tipping Legacy Scholarship, an award voted on by school personnel and presented in memory of the late 40-plus year educator to a future educator, was Olivia Wood.
Bryce McQueen received the $1,000 Sulphur Springs Professional Fire Fighters Dependent Scholarship and a $1,000 FEC Electric award.
The $500 Sulphur Springs Professional Fire Fighters Association Scholarship was awarded to Kaleb Myles.
Coca Cola Scholarship for $1,000 each were awarded to Jace Burchfield and D'Angela Godbolt.
Ignacio Guerrero was announced as the University of Texas at Tyler Industry Choice Scholar.
Forward Cash Awards in the amount of $500 were presented to Tierra Rose, Carson Bridges and TaRayla Kelley. Bridges too received a $4,000 University of Texas At Tyler Academic Excellence award.
Kelley also benefited from a $250 Peggy Reynolds Dallas Morning News Scholarship and a $200 Columbia Lodge #81 Scholarship.
D'Angela Godbolt was the recipient of the $500 Junior Waverly Club award.
Danielle Godbolt and Lopez-Cervantes each benefit from a $2,000 Ford Drive to Dream Scholarship.
Taylor McElfresh was awarded a $1,000 Clayton and Graves award. McElfresh was also offered a $4,000 Texas Tech University Scholastic Success award.
Cameron Zahn was announced the recipient of the $500 Bobby McDonald Memorial Scholarship, while Ralea Seagraves received a $500 Faulk Company Scholarship.
The $2,000 Gerald and Glen Fry Scholarship in the amount of $2,000 went to Mason Gillem.
Madison Freeman was awarded a $1,500 Skills USA Scholarship from Texas State Technical College.
Madison Robertson was announced as the recipient of a National Society of High Honors Award.
Caleb Yanez received a $200 Auguste Escoffier School Of Culinary Arts award.
Carter Lewis was offered a $56,000 Abilene Christian University Barret Award for academic excellence and the Dr. Shae Ochoa Live Life Smiling Scholarship.
Eli Sellers was awarded a $16,000 University of Tyler Academic Achievement award, $16,000 Tyler Soules Business Department Scholarship and an $8,000 UT Tyler Honor College Scholarship.
Recognized for earning their Medical Assistant Certifications were Abbi Baier, Jacquelyn Bocanegra, Paiten Daniel, Gabriela Davila, Brinklee Driver, Wendy Harrington, Alyssa Jose-Lee, Jennifer Lopez-Cervantes, Daisyia Wies and Breanna Wooten.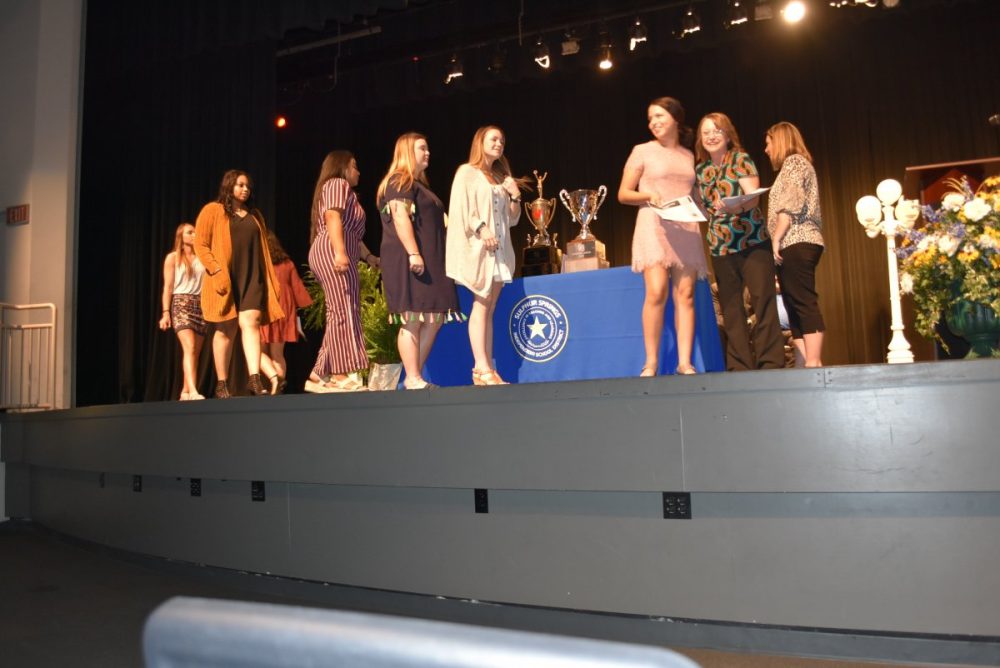 Students honored for as honor graduates for being in the top 10 percent of their class as well as UIL Scholars for participating in a UIL-sanctioned activity were Carissa Carter, Maddie Milsap, Felipe Alba, Peyton Baugh, Marina Botello, Mason Burgin, Chase Crouch, Austin Dodd, Pacen Edwards, Allison Fain, Kaitlyn Ferrill, Brayden Fisher, Jaci Glenn, Wendy Harrington, Diana Herrera, Tessa Holt, Cameron Horton, Jennifer Lopez-Cervantes, Taylor McElfresh, Gracie Moore, Autumn Neighbors, Madelyn Ray, Skylar Shumate, Sierra Smith, Allison Stephens, Landry Tyson, Lainey Whittle and Zoe Wilson.