More than $3.3 million in scholarships, military and other monetary rewards were presented to seniors at the Sulphur Springs High School Awards Ceremony Thursday evening, May 16, at SSHS Auditorium at Hopkins County Regional Civic Center.
Top graduates, UIL scholars, students who have earned Medical Assistant Certifications, Forrest Gregg MVP and James Cameron Fighting Heart Award recipients were also recognized during the program.
The exact total value of awards could not be figured because the amounts of some scholarships and awards were not announced at the event.
Several students received multiple awards, and some received scholarship offers from multiple schools and groups.
Chase Crouch, for example, will have his pick of at least five college. He was awarded a total of $366,000 in scholarship offers, including $20,000 from Colorado State University, $20,000 from the University of Wyoming Honors College, $82,000 from New Mexico State University, $120,000 from Southwestern University and $124,000 from Cornell College.
Valedictorian Carissa Carter and Salutatorian Maddie Millsap were each awarded Paris Junior College J.A. Love Estate scholarships for being the top students in their class.
The first year of Carter' tuition will be paid for her to attend any state university or college as the valedictorian.
Carter also received a $2,000 Rotary Club scholarship, an $80,000 Honors Scholarship and an $11,000 Presidential Scholarship from Texas A&M University-Commerce.
Millsap also received a $32,000 Bright Star Scholars Recipient scholarship from the John and Deborah Gillis Foundation, to be paid in increments of $4,000 per semester for up to eight consecutive semesters, and can be applied to graduation school fees, if she attains her bachelor's degree in less than the traditional four years.
Also receiving $32,000 Bright Star Scholars awards from the Gillis Foundation were Jennifer Lopez-Cervantes, Madelyn Ray, Rhett Reid and Landry Tyson.
Craig Johnson also presented Rotary Scholarships in the amount of $2,000 to Madelyn Ray and Caitlyn Williams.
Some of the biggest awards went to students enlisting in the United States military. Overall, an estimated $1,260,000 in benefits were awarded to seven seniors. U.S. Army SSGT Matthew Nix noted each is eligible to receive $150,000 in Post 9/11 GI Bill benefits for school as well as 150 free semester hours once they are out courtesy of the Texas Hazelwood Act.
Joining the U.S. Army to serve in the infantry are Mason Arnold and Cason Churchman, as a preventive medicine specialist is Angela Brown, and to follow his older brothers into the Rangers is Noah Sells. Recognized for their intended commitment to the U.S. Marine Corps was Colton Allen, who plans to serve in security forces; and to the U.S. Navy were James Evan Rushing and Haylie-Marie Whorton.
Tabbed to receive Sgt. Tanner Higgins Memorial Awards upon completion of basic training were Cason Churchman, a $300 award; Colton Allen, $700; and Sells, $1,000.
Students also received at least $383,000 in athletic scholarships.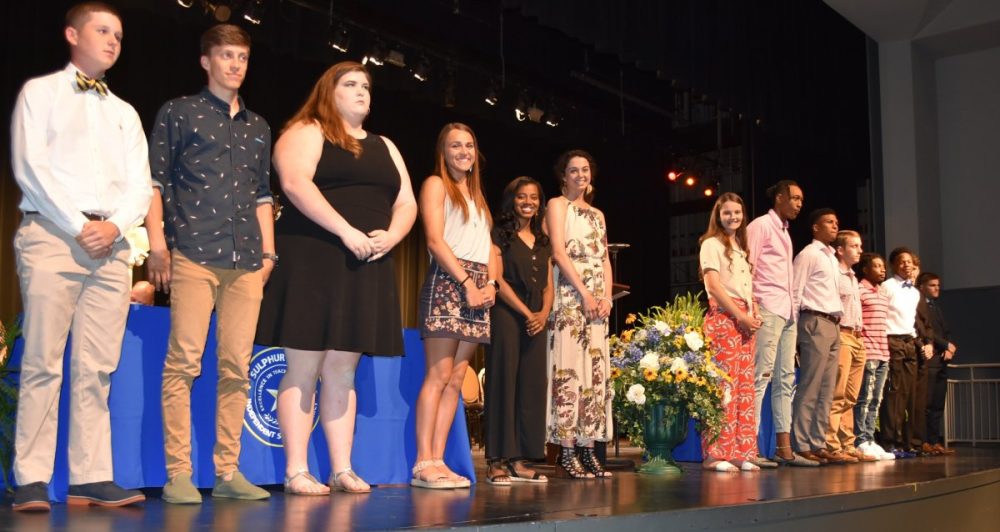 Awarded football scholarships were Austin Dodd and Landry Tyson to for Texas A&M University-Commerce, D'Corian Young Trinity Valley Community College, Damian Dugan Hardin Simmons, Jose Rodriguez Louisiana College, and Jermond Bryant-Amos and DQ Pitts RPA College.
Kaden Argenbright was awarded a baseball scholarship to play at Henderson State University.
Receiving basketball scholarships were Keaston Willis to play for Incarnate Word University and Xavier Cork Western Carolina University.
Autumn Tanton and Lexi Whisenhunt were awarded scholarships to play volleyball at Oklahoma Wesleyan University.
Receiving track scholarships were Sadavia Port for the University of Texas at Arlington, Abbi Baier for South Eastern Oklahoma State and Abbi Beggs for Indiana State.
Carter Lewis received a golf scholarship from the University of Texas at Tyler.
Dodd, Porter, Tanton and Landon Thornton were announced as the Forrest Gregg MVP Award recipients.
Baier, Willis, Tyson and Bailey Hagerty were named James Cameron Fighting Heart Award recipients.
Another special award presented at the program was the Helen Ewing Ditto True Grit Award. The $1,000 cash award is given to a student who exhibits true grit, positive traits, makes the most of what he or she has, and has a strong value system. Dylan Jester was nominated for the award by SSHS staff.
Alyson Vaughn was presented the Spirit of FCCLA Cash Award in the amount of $100 by Debbie Stribling.
These are only a few of the scholarships and awards announced Thursday night for seniors. Additional information and images from the program will also be posted at www.KSSTradio.com. Stay tuned to KSST radio and Channel 18 for programming saluting Sulphur Springs seniors.