Top honors in the Sulphur Springs High School BBQ Build Off Friday went to Rains High School ag students for their smoker and to Bland High School in the cooking contest.
Rains team accepts their first place awards at the SSHS BBQ Build Off.

The Rains ISD team with their first place barbecue smoker at SSHS BBQ Build Off.
The annual contest featured teams of three and four students from nine different high schools, including Sulphur Springs, Miller Grove, Rivercrest, Lone Oak and Commerce school district. Students demonstrated and honed their skills to construct a barbecue smoker, using the same materials provided by SSHS and their own tools and abilities, between 8 a.m. and 2 p.m. Two teams also brought an additional member, who cooked meat to be judged on site Friday.
Two of the Bland team members with their project; Bland won the cooking contest at the SSHS BBQ Build Off.

The Como-Pickton team with their second place smoker at the SSHS BBQ Build Off
Three community members served as judges, evaluating each barbecue smoker based on a form. Teams were awarded 50 points for complete their smoker, 10 for how it acts, 10 for condition, 15 points for welding quality, 15 for fit and form and potential 20 more points for any extra efforts and features they put into the smoker.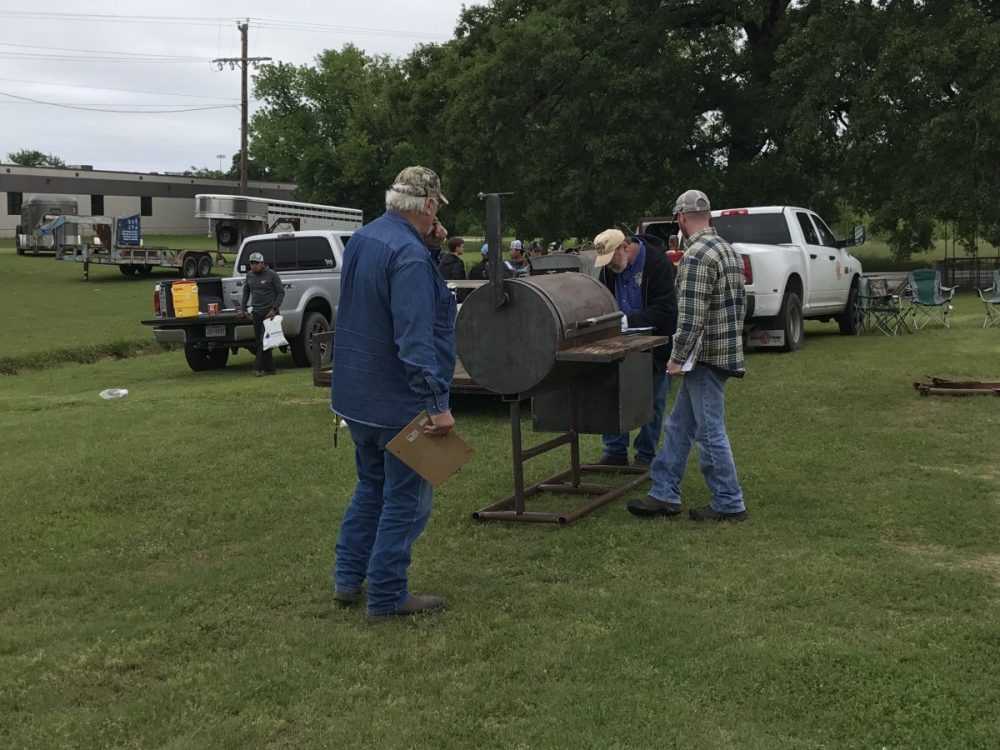 Shortly before 3 p.m., SSHS agriculture teacher John Luper commended all of the teams for their efforts. He announced the Bland team as the winner of the cooking contest. Honors in the build-off went to Rains County as the overall winners. Earning second place honors was the Como-Pickton team and third place went to the Greenville team. The judges also commended Commerce's team members were for their perseverance in sticking with the project even after taking the worst of the morning's rain.
The Greenville team accept their third place prizes

The Greenville team with their third place project.
Winners received a welding bag with a variety of tools and other useful welding items. Each team also got to take home their project.
The Rivercest Team with their project


The Commerce team with their project


The Lone Oak team with their project

The SSHS team with their project

The Miller Grove team with their project