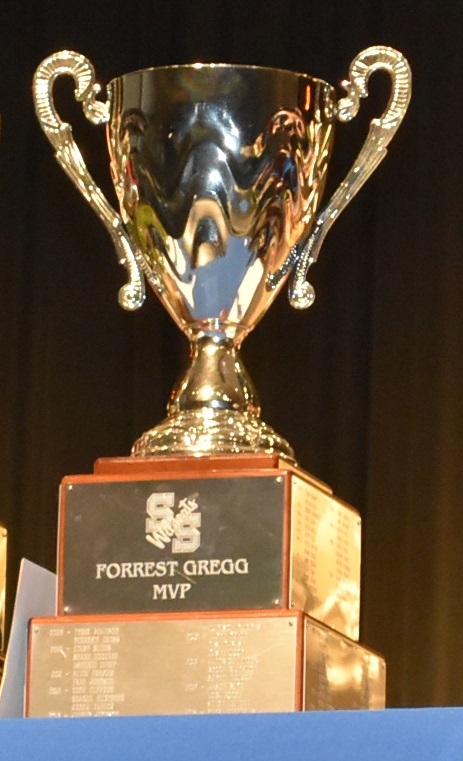 At the SSHS Awards Ceremony Thursday night, the annual Forrest Gregg MVP Awards and the James Cameron Fighting Heart Awards were announced for Lady Cats and Wildcats. Wildcats Football Offensive Coordinator Matt Young announced the Forrest Gregg MVP's. For the Lady Cats, winners were SaDavia Porter and Autumn Tanton and for the Wildcats, Austin Dodd and Landon Thornton.
Porter excelled in both basketball and track. As a senior Porter was named the district Defensive MVP in basketball. She has also been making a mark for three years in track. Porter excelled in the 100-meter dash, 200-meter dash and as a member of the 4×100-meter relay team. Porter finished sixth in the 100-meter dash at the State Meet last week. She holds the school record in the 100-meters and 200-meters and was a member of the record holding 4×100-meter relay team. Porter will run track in college at UT-Arlington.
Tanton excelled in volleyball and basketball. In volleyball, Tanton was twice named an All-State middle blocker, was first team all-district and was selected as the district Player of the Year. Tanton was also first team all-district in basketball. In the classroom, Tanton achieved Honor Graduate status and is in the top ten percent of her class. Tanton will play college volleyball at Oklahoma Wesleyan.
Austin Dodd was a standout in football and in baseball. He was called a dynamic play maker in football and an exceptional center fielder in baseball. Dodd was named first team football all district as a receiver and safety. He too is in the top ten percent of his high school class. Dodd will play college football at Texas A&M-Commerce.
Landon Thornton was a standout in cross country and track for the Wildcats. Thornton was a two time cross country MVP. He also ran at the state meet in cross country. Thornton went to regional in two events in track. Thornton will run cross country in college at UT Tyler. Thornton also ran for office competing for a spot on the Sulphur Springs City Council as an 18-year old earlier this month.